Mellow brings Ayurveda and sustainable beauty to a fun pop up in Goa this October.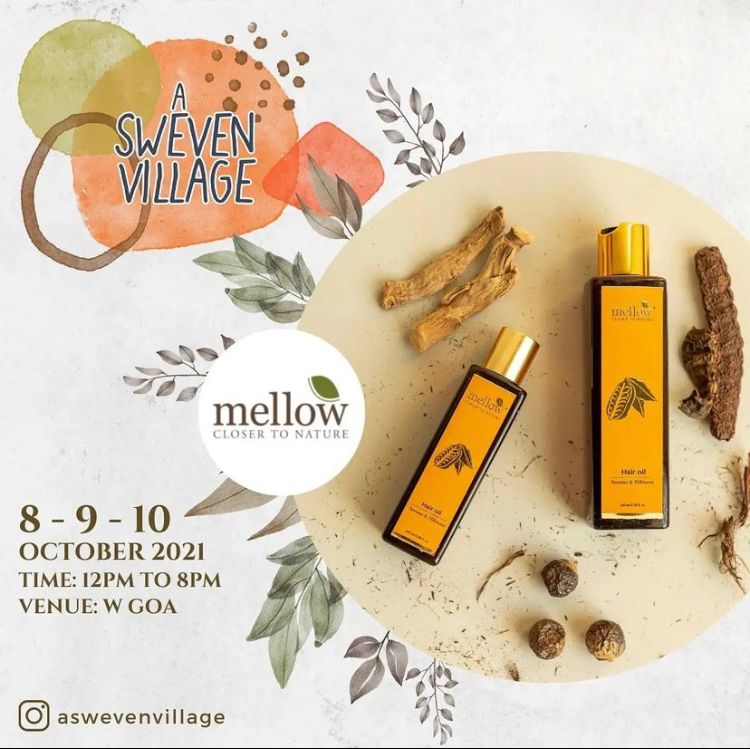 Goa, Oct 2021: A pop up show Titled A Sweven Village by Shveta Salve and Pia Trivedi will be conducted from 8th oct till 10th oct'2021 at W Hotel Goa. The event will also feature a line-up of exclusive products from hand-picked designer wear, a vast range of jewellery, home decor, beauty and skin care essentials from homegrown brands that aren't easily available in Goa.
One such skincare Brand participating in this year's event is Mellow. Mellow has a range of products in the skincare and beauty domain for all age groups, for both men and women. Their products are completely natural, herbal, inspired from Ayurveda and free from harmful chemicals.
Vaishali Sharda, CEO and second in command of Mellow, says "We are pleased to bring our exclusive range of beauty and skincare products for the people of Goa. We have successfully exhibited our collection in several pop-ups, launches and other interesting retail events where Mellow has received a lot of love. At Steven Village, we will be offering a range of sustainable, Ayurvedic and premium luxury products at an affordable price under a single roof."

"Goa is a very special place for me personally and we can't wait to showcase our brands to the people of Goa" Vaishali added.
Mellow will offer affordable, sustainable skincare for both, men & women. The brand will also unveil 3 of its must have essentials to gift this year's festive season.
Pia Trivedi added " We have around 22 brands ranging from clothing to beauty to Diwali gift options taking part in the pop up. We are following all safety protocols and expect a good response this year," says Pia..
Nearly 2,500-3,000 patrons are expected to attend the pop-up which will be held between 11am and 8pm on the 8th, 9th & 10th of October at W Hotel, Goa.
About Mellow:
Mellow blends the ancient wisdom of Ayurveda with the care of mother nature. At its core, they believe in the ancient wisdom that the body is a temple and to nurture our body with pure and natural products is an act of gentleness, love, and kindness. Mellow brings together the best of Ayurveda and modern science. The result is best-in-class, purest, and premium Ayurvedic products for all. The journey of Mellow is Sujata Sharda's love for her young daughter that led her on a journey of discovery across Vaidyas (Ayurvedic doctors), botanists, herbal experts to find solutions to her daughter's hair problem. After many souls searching, she made the first Sesame hair oil- the hair elixir which wasaninstant success! In 2008, Sujata Sharda laid the foundation of their first factory and thus Mellow was born. It has been13 years since and still, Mellow stands for artificial and chemical-free natural products till date. Apart from selling their products through their official website- mellow.co.in, they are also present on leading e-commerce platforms like Amazon, Flipkart, Smitten, and Qtrove. Their product range caters to all hair and skincare problems faced by all age groups.
Mellow continues to serve its customers through its natural product line inspired by Ayurveda. Their future plan includes taking the brands beyond India. They are very soon planning to launch on Nykaa, Sublime Life, Vanity Wagon, Amazon US, and UAE. They are committed to making Ayurveda accessible for all by bringing the best, purest, and authentic Ayurvedic products to the world.

Find Mellow at:
Mellow Official Website: www.mellow.co.in
Instagram: https://www.instagram.com/mellow_herbals/
Facebook: https://www.facebook.com/mellowherbals/
Pinterest: https://in.pinterest.com/Mellowherbals/