Minix Bond Smartwatch: Where Innovation Meets Personalized Elegance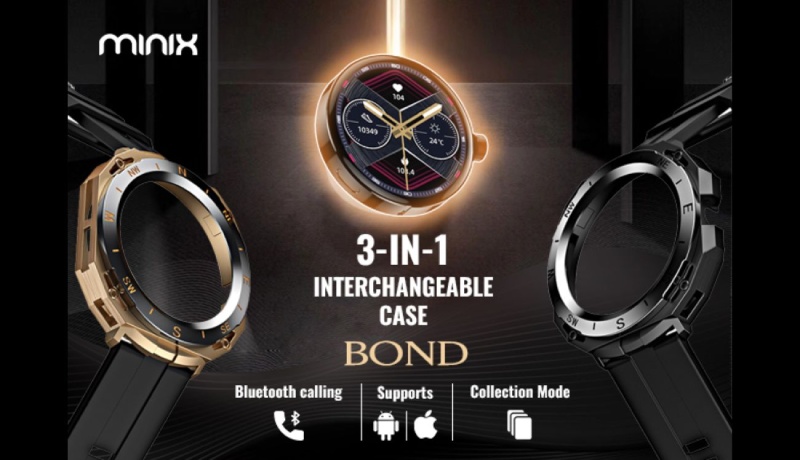 Redefining Timekeeping with a Perfect Blend of Aesthetics and Practicality
New Delhi (India), August 29: In an era marked by the incorporation of modern technology into our daily lives, the smartwatch sector has experienced an unparalleled spike in growth. What were once simple watches have now developed into indispensable companions, easily moving from hectic city streets to fitness centres and corporate boardrooms. This extraordinary convergence of technological progress and practical functionality has changed these timekeeping devices into multifunctional gadgets that are revolutionising our contact with the world.
The Minix Bond is a game-changing breakthrough that seamlessly blends beauty and functionality. A gorgeous 1.35-inch Alloy Display at its heart keeps users connected to their fast-paced life while also adding a touch of refinement to their regular wear. Aside from its aesthetic appeal, the Minix Bond has an IP67 water-resistance certification, which ensures its applicability in a variety of circumstances, from outdoor adventures to daily routines.
The Minix Bond distinguishes itself with its Exceptional Selling Point (ESP): three interchangeable watch casings. This brilliant function provides wearers with a seamless and versatile approach to personalise the appearance of the watch, effortlessly matching it to any event. Whether the occasion calls for formal elegance or casual versatility, the Minix Bond adjusts smoothly, providing not only functionality but also a distinct personal flair.
However, the Minix Bond's genius extends beyond beauty and functionality to include health and fitness. Its comprehensive health-tracking capabilities provide real-time insights, allowing users to meticulously monitor their health. With over 100 sports modes, it is tailored for active lifestyles and assists users in optimising workouts and reaching fitness milestones. The 1.35-inch Alloy Display's colourful and sharp interface improves the user experience, while the wireless magnetic charging function allows for speedy battery top-ups in just three hours.
The Minix Bond, on the other hand, represents a brand dedicated to innovation and personalised experiences. Minix, founded by Siddharth Gurjar, aims to effortlessly combine cutting-edge technology with exquisite design. As Gurjar puts it, "At Minix, our watches transcend being mere accessories; they stand as trusted companions accompanying you at every juncture of your journey." This continuous commitment to perfection is reflected in the watch's excellent customer evaluations and satisfaction rates, firmly establishing it as an authentic partner for consumers seeking a mix of elegance and utility.
Step into the smartwatch future, where the Minix Bond reinvents the fundamental nature of timekeeping. This clock expertly blends refinement and functionality, elevating every moment to something spectacular. Immerse yourself in the Minix vision and welcome a new era of innovation in which aesthetics and utility coexist seamlessly.
For more information please visit https://minixstore.in/product/minix-bond/ and https://minixstore.in/.