NPCI launches UPI AutoPay feature for recurring online payments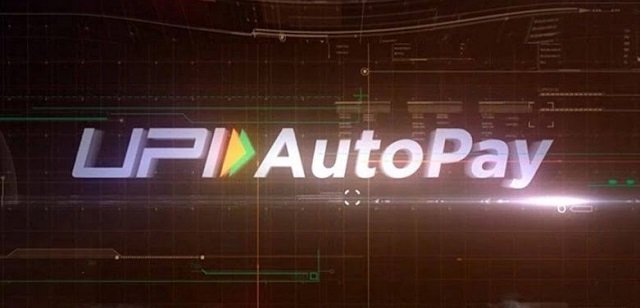 National Payments Corporation of India (NPCI), on Wednesday, launched its one-stop fintech payment solution- UPI AutoPay feature in India to ease recurring online payments in a virtual event of Global Fintech Fest.
UPI AutoPay feature is devoted to recurring payments and can be used for numerous money related purposes, for example, utility payments, booking bus pass, train tickets, paying DTH subscriptions among others. Clients can make e-mandate through their UPI ID or QR Scan for transactions up to Rs 2000. In the event of transactions above Rs 2000, the UPI PIN will be expected to verify the payment.
This feature permits clients to set an e-mandate for repetitive payments of up to Rs. 2,000 on the UPI platform. For recurring payments above Rs. 2,000, clients should execute each order with the UPI PIN. This UPI AutoPay feature can be used for recurring costs like mobile bills, mutual funds, and loan payments, paying for travel/metro payments, EMI payments, insurance, electricity bills, entertainment/OTT subscriptions, and numerous other online transactions.
Nandan Nilekani, Co-founder and Non-Executive Chairman of the Board, Infosys, stated, "This will act as an impetus to the momentum and volume of transactions that we are already seeing in UPI and allow them to reach the goal of 1 million transactions a day. We have long been planning a digital payments economy and we are now coming towards that with digital payments more than cash withdrawals. As we provide more and more such user-friendly services like UPI AutoPay we will see more and more adoption of digital payments. This is one of the national goals to increase the proportion of digital payments and reduce the amount of cash that we use in our economy."
He included that recurring payments on UPI were a proposal advanced by the Committee of Deepening Digital Payments which he had led.
"UPI AutoPay opens up an entire array of applications such as setting up your favorite streaming service with a repeat mandate or taking a bus pass a train ticket travel or paying for your dth or television media subscriptions, insurance and EMI payments and mandates on UPI AutoPay can be set up on weekly, monthly or yearly basis," said Praveena Rai, COO, NPCI.
The UPI AutoPay feature will auto-debit accounts for regular payments that have been pre-selected by clients. Eligible UPI-enabled apps will presently have a 'Mandate' segment, through which clients can make, affirm, change, pause as well as remove auto-debit command. NPCI takes note of that commands can be set for one-time, day by day, week by week, fortnightly, month to month, bi-monthly, quarterly, half-yearly, and yearly also. Clients should set an approved date for auto-debit in the 'Mandate' section and the cash will at that point be deducted automatically. NPCI notes UPI clients can make e-mandate through UPI ID, QR scan, or Intent.
As referenced, for amounts lesser than Rs. 2,000, clients need to validate their account through UPI PIN for one-time, and resulting regularly scheduled payments would be debited automatically. For an amount greater than Rs. 2,000, a UPI PIN validation will be required for every mandate.
Rajnish Kumar, Chairman, State Bank of India, said the recurring payment feature was being demanded by numerous organizations and will be an advantageous solution for clients towards their periodic payments.
NPCI has presented UPI AutoPay for banks like Axis Bank, Bank of Baroda, HDFC Bank, HSBC Bank, ICICI Bank, IDFC Bank, IndusInd Bank, Paytm Payments Bank, AutoPe-Delhi Metro, AutoPe-Dish TV, CAMS Pay, Furlenco, Growfitter, Policy Bazaar, Testbook.com, The Hindu, Times Prime, Paytm, PayU, RazorPay, among others. Indeed Bank, State Bank of India, and Jio Payments Bank will present UPI AutoPay soon. This feature hopes to facilitate the burden of making sure to pay regular bills every month from a UPI client.
UPI has gotten a famous decision for digital transactions in India. The India Digital Payments Report 2019 uncovered that UPI encouraged transactions worth Rs. 18,36,000 crores a year ago, up 214 percent from 2018.
"UPI is perhaps the fastest product to hit 1 billion transactions-a-month in 2019 since its inception in August 2016," the report said.