Pope Francis proclaims 21 new Cardinals from around the world to reflect cultures within the Catholic Church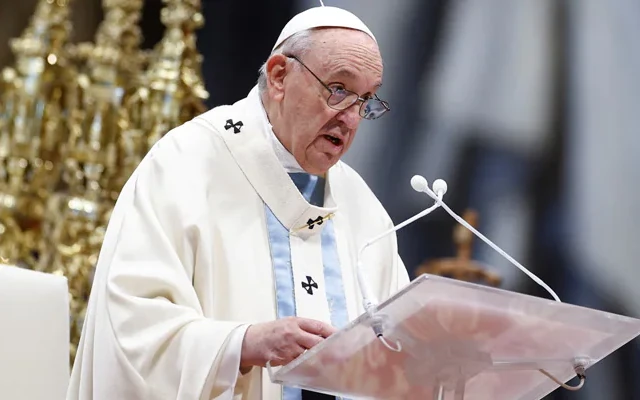 Pope Francis announces that he will make 21 new Cardinals at a Consistory on Saturday, 27 August. They represent the Church worldwide and reflect a wide variety of cultures, contexts, and pastoral ministries. Pope Francis said Sunday he will elevate 21 churchmen to the rank of cardinal in a ceremony at the Vatican this summer.
On Sunday, Pope Francis(pix) said he would name 21 new cardinals across the world at the end of August to reflect "a wide variety of cultures" within the Catholic Church.
The announcement of new appointments had been normal for a very long time because the number of cardinals qualified to participate in the appointment of another pope had fallen. Cardinals must be under 80 to participate in the vote.
Among the churchmen tapped by the pontiff to receive the prestigious red hat will be two prelates from India and one each from Mongolia, Ghana, Nigeria, Singapore, East Timor, Paraguay, and Brazil, in keeping with Francis' determination to have church leaders reflect the global face of the Catholic church.
Francis read out his choices at the end of his traditional Sunday greetings to the public in St. Peter's Square. At least 16 of the new cardinals will be younger than 80 and thus eligible to vote for the next pontiff in a secret conclave.
The pope said he will conduct the consistory, as the ceremony to elevate churchmen to cardinal's position is known, on Aug. 27.
Other new cardinals hail from France and San Diego, California, while three are prelates who currently hold top positions at the Vatican.
Among the new cardinals, 16 will be qualified to choose another pope in a conclave, since they are under 80 years of age.
Eight of the recently named cardinals are from Europe, six from Asia, two from Africa, one from North America, and four from Central and Latin America, the Vatican said.
It will be the eighth consistency under Pope Francis.
They include the United Kingdom's Arthur Roche and Lazzaro You Heung-sik from South Korea as prefects of two congregations in the Roman Curia and Spain's Fernando Vergez Alzaga as head of the Vatican's state administration.
They are joined by the Archbishop of Marseille, Jean-Marc Aveline, and another clergy from Europe, Africa, Asia, and North and South America.
The consistory – a formal meeting of the college of cardinals – on the admission of the new members is scheduled for August 27.
The Pope can select any ordained priest to be included in the college of cardinals.
With the composition of that body, a pontiff can impact the next conclave and thus the election of his successor since a pope is elected from among the cardinals.
After the death of long-time Cardinal Dean Angelo Sodano on Friday, there are currently 208 living cardinals but as of May only 117 of them are eligible to vote in the conclave.
Sixty-seven of them were elected by Francis.
After the Aug 27 ceremony to officially install them, known as a consistory, Francis will have appointed about 83 of some 133 cardinal electors, increasing the possibility his successor will be a man reflecting his position on key issues.
By then Francis will have appointed around 63% of cardinal electors, further expanding their presence in the developing world and again loosening the grip Europe had on the College of Cardinals.
The new electors include Archbishop Giorgio Marengo, an Italian who is currently the Catholic Church's administrator in Mongolia. The country borders China, where the Vatican is trying to improve the situation for Catholics.
Other cardinal electors come from France, Nigeria, Brazil, India, the United States, East Timor, Italy, Ghana, Singapore, and Paraguay. Three Vatican officials to be made cardinals in August come from South Korea, Britain, and Spain.
Archbishop Goh is the first Singaporean cardinal, his office said.
Wide-ranging group
Eight of the recently named Cardinals are from Europe, six from Asia, two from Africa, one from North America, and four from Central and Latin America.
Here is a list of the 21 men Pope Francis will introduce as Roman Catholic cardinals at a ceremony known as a consistory on Aug. 27.
Cardinal Electors under 80 will want to enter a meeting to choose the following pope after Francis passes on or retires:
Here are the names of all the 21 new cardinals:
Archbishop Arthur Roche (British) – Prefect of the Vatican Congregation for Divine Worship and the Discipline of the Sacraments
Archbishop Lazzaro You Heung-sik (South Korean) – Prefect of the Vatican Congregation for the Clergy
Archbishop Fernando Vérgez Alzaga (Spanish) – President of the Pontifical Commission for Vatican City State and President of the Governorate for Vatican City State
Archbishop Jean-Marc Aveline – Metropolitan Archbishop of Marseille, France
Bishop Peter Okpaleke – Bishop of Ekwulobia, Nigeria
Archbishop Leonardo Ulrich Steiner – Metropolitan Archbishop of Manaus, Brazil
Archbishop Filipe Neri António Sebastião di Rosário Ferrão – Archbishop of Goa and Damão, India
Bishop Robert Walter McElroy – Bishop of San Diego, California, United States
Archbishop Virgilio Do Carmo Da Silva – Archbishop of Dili, East Timor
Bishop Oscar Cantoni – Bishop of Como, Italy
Archbishop Anthony Poola – Archbishop of Hyderabad, India
Archbishop Paulo Cezar Costa – Metropolitan Archbishop of Brasília, Brazil
Bishop Richard Kuuia Baawobr – Bishop of Wa, Ghana
Archbishop William Goh Seng Chye – Archbishop of Singapore
Archbishop Adalberto Martínez Flores – Metropolitan Archbishop of Asunción, Paraguay
Archbishop Giorgio Marengo (Italian) – Apostolic Prefect of Ulaanbaatar, Mongolia.
New cardinals over 80:
Archbishop Jorge Enrique Jiménez Carvajal – Archbishop Emeritus of Cartagena, Colombia
Archbishop Lucas Van Looy – Archbishop Emeritus of Gent, Belgium
Archbishop Arrigo Miglio – Archbishop Emeritus of Cagliari, Italy
Fr. Gianfranco Ghirlanda, S.J. – Professor of Theology
Msgr. Fortunato Frezza – Canon of Saint Peter's Basilica