Palm Sunday 2020 Mass celebrated in a deserted church by Pope Francis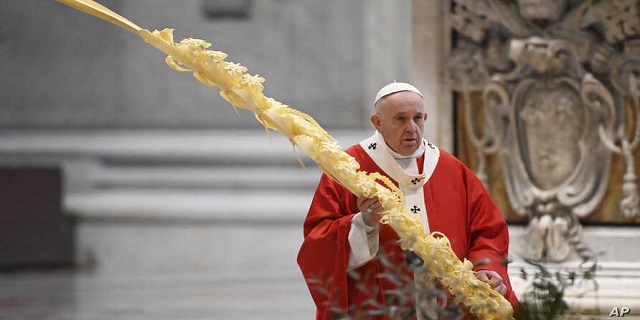 During a Palm Sunday mass held in a deserted church, Pope Francis advised youngsters not to be afraid to risk their lives for others during the coronavirus pandemic.
Normally celebrated outside before a huge number of tourists, Pope Francis rather talked in the presence only of a small handful of priests and nuns and a diminished choir, who all kept up a protected distance from each other.
Now, Pope Francis went to youngsters around the world. He reviewed that for as long as 35 years Palm Sunday had been dedicated to them in memory of the way that youngsters had invited Jesus on his entrance to Jerusalem.
"Dear friends, look at the real heroes who come to light in these days: they are not famous, rich and successful people; rather they are those who are giving themselves to serve others," Pope Francis said.
"Feel called yourselves to put your lives on the line," Pope Francis continued. "Do not be afraid to devote your life to God and others, it pays!"
Palm Sunday mass initiates the start of Holy Week, the most significant week the Christian ritualistic calendar which culminates in Easter, next Sunday, April 12.
Palm Sunday opens Holy Week paving the way to Easter, which this year falls on April 12. Among the usual events is the Good Friday Way of the Cross parade. This year, rather than the customary candlelit parade at Rome's Colosseum, the Way of the Cross will be directed by Pope Francis in St. Diminish's Square without the general population, with regards to Italian and Vatican anti-contagion ban on gatherings.
The Vatican has said there are seven instances of COVID-19 among the inhabitants or representatives of the minor autonomous city-state. The virus makes mellow moderate symptoms in a great many people, however for a few, particularly older grown-ups and the weak, it can make pneumonia and lead demise.