Princess Dyana Shiffaire Attends 19th Rubaru Mr.India 2023 As Guest of Honor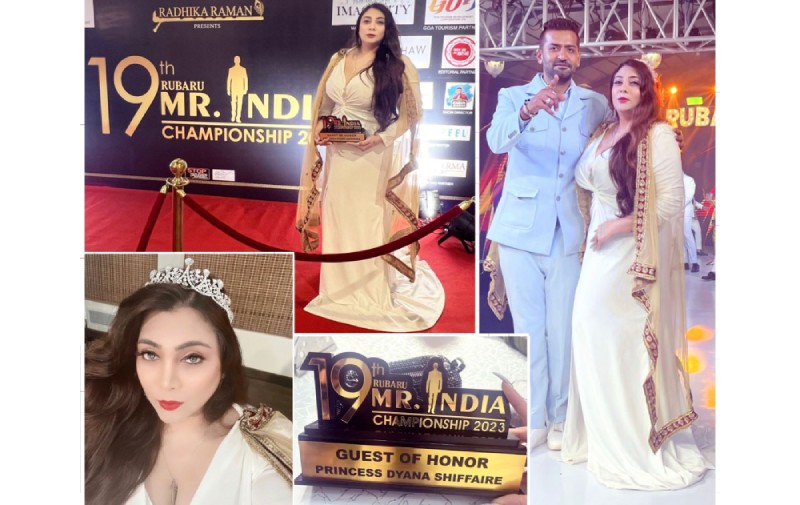 Crusader Princess Dyana Shiffaire, the living descendent of Princess Eschiva of Galilee and Tripoli, in her trip to India, attends the 19th Rubaru Mr.India 2023 as Honorary Guest. Organised by Mr.Pankaj Kharbanda & Mr.Manav Ranka.
Pageants have immense value as a person is Bestowed with a title which hence becomes their profile identity overnight transforming them into a Celebrity.
"19th edition of Rubaru Mr.India 2023, a Nationwide prestigious pageant was held in Goa at Bogmallo Beach Resort on 4th & 5th August. With LT Dr.Rita Gangwani (Grooming Expert) Show Director Karun Raman, Designer Vishal Thawani (Dapper & Dare), and Photographer Amit Khanna.
Princess Dyana Shiffaire who has been an integral part of various established Pageants over the years as Honoured Guest, judge panels and Sponsor was representing Truefitt & Hill with Mr. Avinash Abhichandani (Former International Top Model & Actor) as Gift Partner for the 19th Rubaru Mr.India 2023 witnessing the History being written down with Winners being Titled as Follows :
Shaswat Dwivedi ( Mr International )
Jason Dylan Bretfelean ( Mr.Global )
Anish Jain ( Mr.Universal )
Mukesh Ravi ( Mr Tourism India )
Chetan Jajani ( Mr West )
And many more sub-categorically winners.
Princess Dyana Shiffaire who has been titled " People's Princess " by Mumbai Global Awards & Red Magazine for her unconditional giving nature, panelled Member of Beauty with a Purpose, Free Probono Reconstruction Surgery for under privileged Kids with Birth Deformed Lips, Nose & Ears & children fighting cancer inspires the coming generation to be more kind for with Title comes great responsibilities.
The hardest part is maintaining and living up to others' expectations.
Papparazzy founded by Princess Dyana Shiffaire handles over 250 Beauty & Wellness International global Brands, According to sources she intends to launch an ultra-luxury brand segment in UAE around Feb 2024.
We wish all the very best to Princess Dyana Shiffaire for her future establishments.