Quino: Google Doodle celebrates Argentine-Spanish cartoonist's 90th birthday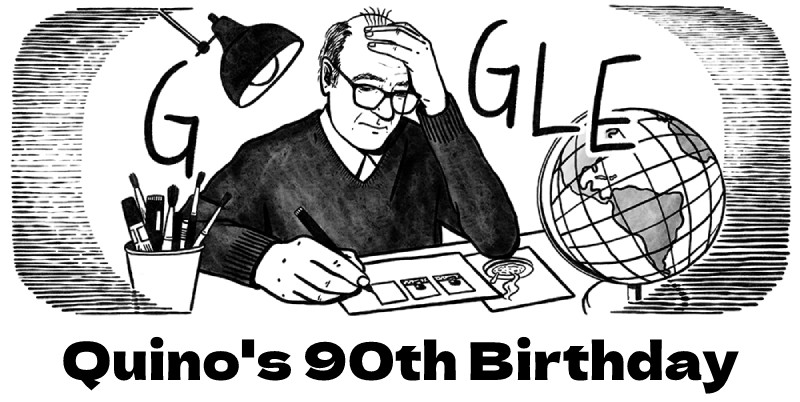 Google Doodle celebrates the 90th birthday of Argentine-Spanish cartoonist Joaquín Salvador Lavado Tejón, better known by his pen name Quino, on July 17, 2022.
Who was Quino?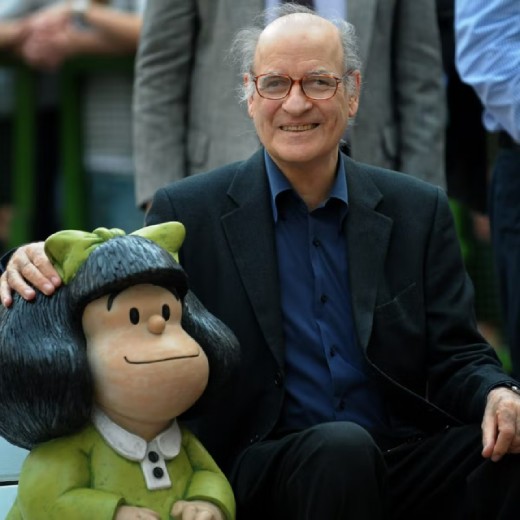 Joaquín Salvador Lavado Tejón, known worldwide by his pen name Quino, was born in Mendoza, Argentina, on 17 July 1932 to emigrant Andalusian parents from Fuengirola, Málaga. His comic strip Mafalda (which ran from 1964 to 1973) is popular in many parts of the Americas and Europe and has been commended for its use of social parody as a commentary on real-life issues.
The Son of pro-democracy Spanish immigrants, he grew up attempting to figure out his country's temperamental government and pro-democracy Spanish immigrants. His artistic desire was inspired by his uncle Joaquin, a painter and graphic designer. Quino got his nickname to assist with recognizing him from his uncle who had a similar name.
He got Spanish citizenship in 1990 and stayed a dual citizen of Spain and Argentina. In 1945, after the passing of his mom, he enlisted and began his studies at Escuela de Bellas Artes de Mendoza.
At age 12, Quino signed up for art school just to exit three years later when his father died. He moved to Buenos Aires where he dreamed of becoming a cartoonist. In the wake of satisfying his mandatory military service, Quino published his first cartoon in 1954. He spent the next decade sharpening his art and released a compilation of cartoons called Mundo Quino.
Because of Mundo Quino's success, he was commissioned to make a comic strip as a feature of an advertising campaign for a home appliance brand. In developing the campaign, Quino made Mafalda-a curious six-year-old Argentinian girl with a talent for seeing the world's injustices and befuddling her parents. The campaign was canceled, however, Quino clutched the cartoons.
In 1964, Mafalda appeared in Buenos Aires Weekly and quickly acquired popularity in Spanish-speaking nations around the world. The cartoon used child characters to give humorous, scathing commentary on authoritarianism, censorship, and inequality.
Mafalda caught Latin America's changing political scene until 1974 when Argentina's militant government started focusing on and keeping state adversaries. Because of the volatile political situation, Quino finished the comic strip and went into willful exile in Milan.
Until his retirement in 2006, Quino made cartoons while dividing his time between Madrid and Buenos Aires. While he didn't restore Mafalda, his later work followed a comparable tone focusing on themes of honor and the predicament of the working class told using dark humor.
Quino's cartoons have been translated into 26 different languages and Mafalda is as yet being printed today. In 2014, Quino obtained Spain's Prince of Asturias Award and France's Legion of Honor. His cartoons are sold online and in book shops around the world. After his passing, numerous Argentinians honored his life by leaving flowers at the foot of the Mafalda statue in Buenos Aires.
Quino won numerous international awards and honors throughout his career. In 1982, Quino was picked Cartoonist of the Year by fellow cartoonists around the world, and two times, he won the Konex Platinum Award for Visual Arts. In 1988, he was named an Illustrious Citizen of Mendoza.
In 2000, Quino got the second Quevedos Ibero-American Prize for Graphic Humor. In March 2014 he was awarded the French Legion of Honour. Additionally, the Colegiales neighborhood of Buenos Aires named their plaza Plaza Mafalda.
In May 2014, Quino was presented the Senator Domingo Faustino Sarmiento cultural award by the Senate of Argentina.
In 2014, Quino was awarded the Prince of Asturias award in praise of his work, 50 years after making the character of Mafalda. He got the prize from King Felipe VI of Spain on 24 October 2014 at a ceremony in Oviedo, Spain.
An asteroid found in January 1999 was named 27178 Quino after him.
Quino died on 30 September 2020 from a stroke, at 88 years old.
A portion of Quino's work lives at Vanderbilt University's Special Collections Library, as part of their Eduardo Rosenzvaig collection.
On July 17, 2022, Google featured a Doodle on its homepage for celebrating Quino's 90th Birthday.
Quino made the famous comic strip Mafalda. It gave a voice to Latin America amid political instability and censorship.
Today's Google Doodle celebrates the Argentinian-Spanish cartoonist's 90th birthday and is presented by Buenos Aires-based guest artist Azul Portillo.