Reasons Why Fixed Allowance for Teens is a Better Choice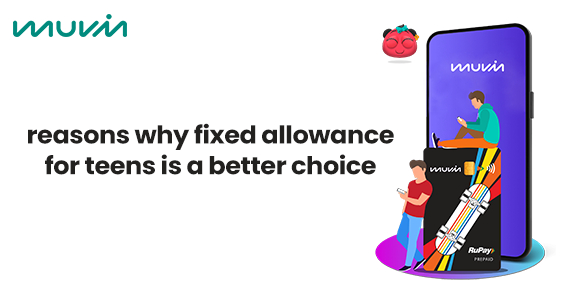 What is an allowance and why is it important? Every parent wants the best for their kids, no matter what. But the question is, what are you doing for it, are you taking the necessary measures to impart that learning to your kids in the proper manner?
Financial Freedom is a variable concept, differing from person to person. But the end goal is the same for all of them. The term pocket money has been in practice for a long long time now, but many Indian families still struggle to follow and adapt this concept and end up not imparting financial guidance to their children or creating awareness from a very young age.
It's unfortunate when we think about how some parents believe that giving pocket money to their teenage kids will tempt them to use it frivolously.
Pocket Money
Gone are the days when teens were given a few rupees weekly or monthly in cash, which they would spend or keep stashed physically somewhere in their rooms. Gen Z wants children's debit cards, they want to use all the services that grown-ups have the access to.
To enable this, children should ideally learn the concept of money management like savings and budgeting from a young age. This can only be possible when parents play a very active role in providing this essential learning to their kids. Parents should have a fixed allowance for their children every month to meet any expenses besides their essential needs.
Pocket Money Online is a term that perfectly suits millennial and Gen-X parents. Apps like muvin have removed the concept that your teens' money matters are cumbersome. They have made it simple enough for parents by making money fun and interesting for teenagers. It has unlocked unparalleled features and granted the most sought-after dream of all kids' i.e. to have their own card while still in school.
This also teaches your children the concept of money savings and money budgeting.
Money Savings-
It's very important that your child not only knows the fundamentals of money management but is also capable of managing it in the right way. This in turn also helps teach your child the value of money & why it is important to save and not just spend.
Financial responsibilities are one thing that should be well-implemented in the teenage years of every child.
Money Budgeting –
Budgeting is a real-life skill. The first step to budgeting is having fixed pocket money received at regular intervals, be it weekly or monthly. This sum can be different for families as the allocation is done based on the families' earnings and this is something controlled by the parents. Whatever that number is, use it as a guide for your spending and saving. If that total varies from month to month, stick to the smaller amount.
Fixed Pocket Money and why is it better than On-demand Pocket Money?
1- It teaches your child the financial responsibility of managing their finances once they start earning their own money.
2- It can be crucial in the professional age as managing pocket money at a young age is almost similar to managing fixed monthly salaries.
3- It will help them understand the concept of 'save now, buy later.
4- Learning money management is possible with the Pocket Money APP muvin, which allows a child to create a wallet in their name, mapped to their parent's KYC, making the child responsible for the management of their own money from a young age.
5 It is sensible to save before thinking of spending. Doing the opposite might lead to going over the budget with nothing left to save.
–
Conclusion
A great way to level up your kid's money management mindset is to get them a digital wallet through a pocket money app at a young age, ensuring that the transactions made are under the parent's direct supervision. This is seamlessly catered by muvin as children can make the transactions online or offline, similar to how an adult does with a debit card. With muvin, parents can use the app to monitor their child's day-to-day spending through their muvinCard.

Now, Pocket money online & children's debit cards is a new-age needs, which every smart parent must adopt now. Download the muvin app from the App Store or Play Store and gift your teenage child the concept of financial freedom.