Release of the "infamous" five-course Thanksgiving menu by Salt & Straw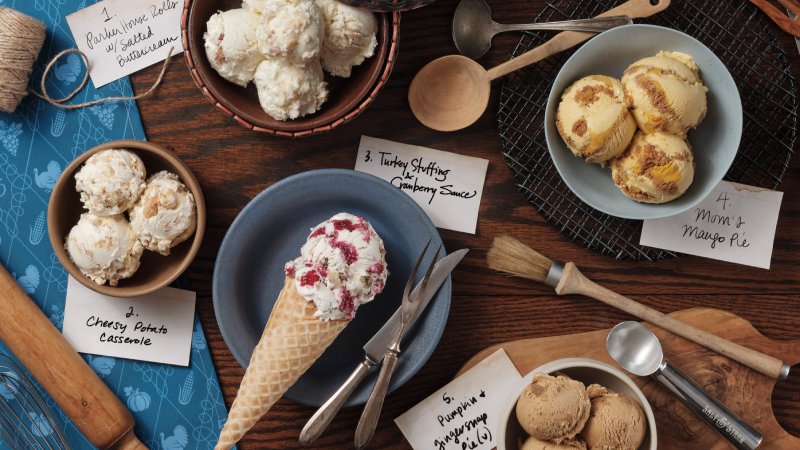 This year, thanks to Salt & Straw's bizarrely flavor-infused confections, Thanksgiving dinner arrived early.
This year's Thanksgiving lineup was unveiled on Friday by the Portland-based ice cream company. In contrast to an ice cream shop, the "infamous" menu consists of five dishes that are typically served at Thanksgiving dinner tables.
Of its new offerings, the company said, "Traditional holiday staples you wait all year for — roasted turkey with crispy golden skin, warm rolls slathered in butter, silky pumpkin pie — deconstructed and churned into a collection of flavors you have to taste to believe."
More details about what's coming soon are provided here.
Parker House Rolls with Salted Buttercream
Bread is one of America's favorite appetizers and is served as the first course in Salt & Straw's five-course menu. This flavor is a combination of sweet, salted butter ice cream and King's Hawaiian toasted and salted rolls.
Cheesy Potato Casserole
Potatoes are next on the menu, of course. Potato cheesecake, cornflakes, and salted vanilla ice cream are combined in the cheesy potato casserole.
Cranberry Sauce and Stuffed Turkey
"Turkey stuffing made with baked brioche bread pudding and turkey sausage that's cooked to a crumble with black pepper, rosemary, sage, and thyme" is the standout Thanksgiving flavor offered by Salt & Straw.
The ice cream is further mixed with cranberry sauce, brown sugar, and cinnamon.
Mom's Mango Pie
This option, which is based on a recipe from the mother of podcaster Hrishikesh Hirway, combines mango "mawa" with cream cheese and whipped cream. Bits of salty graham crackers will also be tasted by the customers.
Pumpkin & Gingersnap Pie
The sole vegan option for this year is fashioned after pumpkin pie, the traditional Thanksgiving dessert. Sea salt, allspice, coconut cream, Vermont maple syrup, and gingersnap pie with a "molasses-spiked" flavor are all included in the flavor.
Each of these seasonal flavors is available as milkshakes, pints, and scoops, according to Salt & Straw.