Baskin-Robbins to Launch Ice Cream with a Turkey Dinner Flavor, 2 Desserts with a Thanksgiving Theme, Including the Return of "Turkey Cake"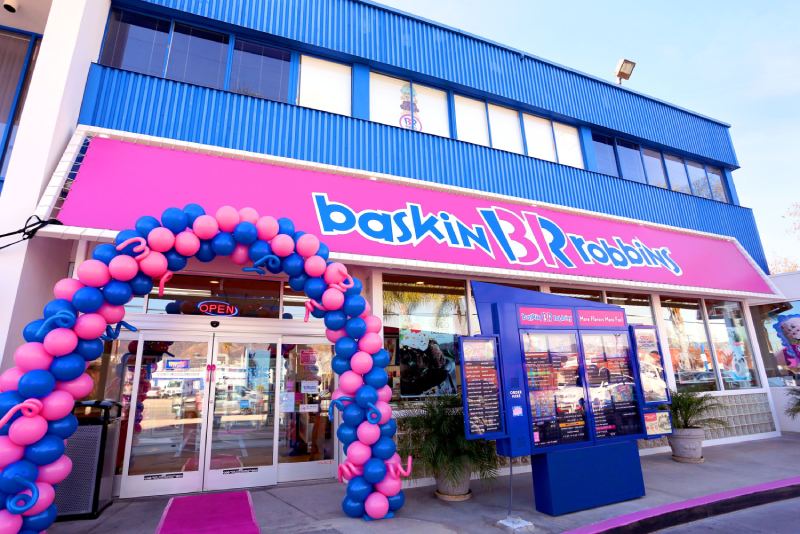 DiGiorno's revealed last week the release of an unexpected seasonal pizza: a pie with a "Thanksgiving" topping that is loaded with gravy, sweet potatoes, green beans, and cranberries. The good news is that every bite of this limited-edition pizza from DiGiorno tastes just like Thanksgiving. The bad news is that they sold out almost instantly.
To maintain the fall vibes, you might want to stop by your neighborhood Baskin-Robbins while you wait for DiGiorno's to replenish its online store. More Thanksgiving Pizzas will be available on Wednesday. Turkey Day Fixin's is the November Flavor of the Month, according to the Massachusetts-based ice cream chain. You see where this is going, don't you?
Thanksgiving is all month long at Baskin-Robbins thanks to its Flavor of the Month, Turkey Day Fixin's.
For the major holiday, the ice cream shop is also reintroducing the Turkey Cake.
What is Turkey Day Fixin's, then?
It consists of swirls of Ocean Spray cranberry sauce, sweet potato and autumn spice ice creams, and pieces of honey cornbread. All of your favorite savory and sweet sides, like cornbread, cranberry sauce, and sweet potatoes, come together in Turkey Day Fixin's.
You can get a scoop that tastes like the best-in-class side dishes for Thanksgiving for the rest of November. Turkey Day Fixin's is a rich combination of sweet potato and autumnal spices, served with bite-sized pieces of honey cornbread and swirls of Ocean Spray cranberry sauce. (In contrast to DiGiorno's, Baskin-Robbins is aware that this situation doesn't call for green bean casserole.)
"We continue to push the boundaries of flavor innovation at Baskin-Robbins and wanted to bring a unique scoop to the table that deliciously encapsulates all the sweet and savory flavors from your favorite Thanksgiving sides," Hannah Suits, Director of Brand Marketing for Baskin-Robbins, said in a statement. "Along with the return of our iconic Turkey Cake, these offerings are a delicious and innovative take on holiday favorites."
And returning is the Turkey Cake. This version of roasted turkey from Baskin-Robbins is topped with a caramel praline glaze, adorned with sugar cone legs, and filled with your choice of delectable ice cream flavor. It's meant to look like it just came out of the oven.
Yes, she mentioned "Turkey Cake," which is triumphantly making an annual comeback. This gorgeous dessert centerpiece is actually an Instagram-worthy ice cream creation, despite looking like a perfectly roasted turkey. The cake is generously coated with a caramel praline glaze after it has been filled with any flavor of ice cream, possibly even the Turkey Day Fixin's variety. Additionally, your guests may quarrel over the drumsticks, just like with its more traditional all-meat counterpart, but these legs are made of sugar cones instead. Cake is an advantage.
It can take up to 48 hours to create, so if you think you'd like to add a Turkey Cake to your Thanksgiving meal, make sure to pre-order it online from your neighborhood Baskin-Robbins. While we don't think it will take the place of the yearly pre-ordered traditional bird, at least you won't lose your mind if it's still frozen when it comes time for dinner.
However, the flavor of the Turkey Day Fixin's will probably only be available until the end of the month, while the Turkey Cake needs to be pre-ordered online. So, if that's your thing, grab it while you can.