RICHARD NYONG: BUILDING A LEGACY FROM THE GROUND UP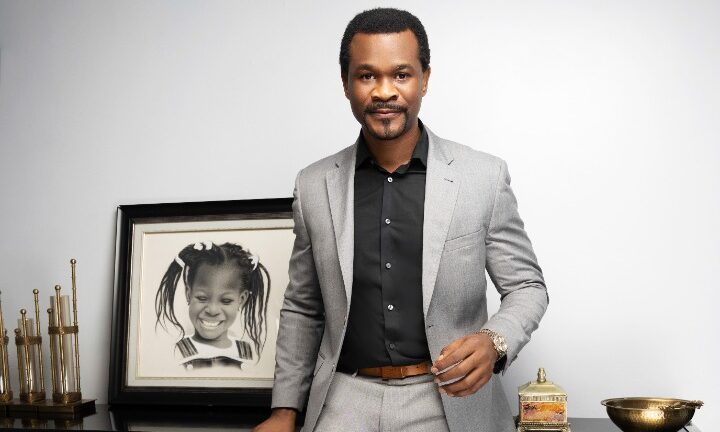 Sometimes, life starts out in a way that makes it seem like being born without a silver spoon isn't enough setback. While some seemingly have a head-start by being born into an already laid out plan, others have to wander, thread the thorny path, and figure things out on their own through the wilderness of life. However, in the words of Dieter F. Uchtdorf, "It's your reaction to adversity, not adversity itself that determines how your life's story will develop."
Inspiring stories aren't fun for the subjects to live through, but coming out on top is what makes them motivational. This can be said of the inspiring story of Lagos based billionaire CEO – Richard Nyong, who is the founder of the fastest growing real estate company in Nigeria – Lekki Gardens Estates. The man who came from practically ground zero, to helping average investors build legacies in form of homes, while also building a timeless legacy for himself.
Richard's entire world came to a quick halt when he lost his father at the tender age of 13 for several reasons. It was not only humiliating, but also inexplicable that they couldn't get their hands on any of the properties his father had invested in before passing. He had started out life, squatting in a distant relative's house and that had formed the foundation of his ideology – "No parent should die without leaving a home for their children to either live in or profit from."
Allanah Hunt once said "It is only when you take responsibility for your own life that you realize how strong you really are". Richard had to take responsibility at a young age and despite his early life challenges, he was self-assured. He acquired a B.Sc. in Economics from the University of Port Harcourt for nearly nothing by demonstrating his ability via hard work and rigor. The foundation had been laid, even though the stage had not yet been prepared. He was adamant about finding his way.
A decade ago, the young and audacious real estate giant was still in total oblivion in the Nigerian real estate sector, but little did the sector know that a gamechanger would burst into the scene like a meteorite, and totally rewrite the narrative of the country's multi-billion Naira property sector. Not only that, but also like a phoenix, pass through the flames to test his rite of passage and emerge on the other side to the adulation of many.
Richard Nyong's story would easily remind any conversant real estate enthusiast of Sam Zell (Chairman, Equity International), the 79-year-old American real estate billionaire worth well over $4 billion. As a son of immigrant parents, Sam started out helping students secure accommodation, coming from the fact he had experienced homelessness himself, as a child. His Jewish immigrant parents hardly had anywhere to stay when they initially moved into the US.
When Richard started, even though he had nothing, all he wanted to do was to help people secure the best landed property deals that afforded them the opportunity to maximize their profit. He raised N7 million in 2011 to this effect and was defrauded. He tried again and once more; he was defrauded. This experience was painful but as someone who had rewired his mind to see the opportunity in every problem, he saw a prevalent problem in the sector and decided to be the answer to an age-long question.
The constant increase in Nigeria's population, makes housing a very dicey conversation and has resulted in a surge in property demand and a corresponding rise in price. As a result, developers and agents were swiping the pockets of investors, and some were getting outrightly defrauded. The priority for Richard then became how to provide investors a fair chance to invest in real estate without palpitations and with almost any available budget, for their own and their children's benefit – especially their children. This gave rise to the payout line – "luxury you can afford." This is the backstory to the birth of Lekki Gardens Estates.
Richard's brainchild, Lekki Gardens Estates, sold over 350 housing units in the first year which was way above the projections, and 2000 in the second, helping real estate investors save hundreds of millions of Naira on their investments. He opened the eyes of several investors to the hacks and tricks that had been labelled as "trade secrets" and pushed the option of a flexible payment plan to help investors own homes without going broke.
From setting up several affordable estates like Meridian Park in Ajah where one could become a homeowner with less than 9 million naira, to penetrating the billionaires' hub – Banana Island with outfits like Foreshore Waters, where a property can be acquired for less than 100 million naira, bringing about a 30% drop in the prices that were previously labelled to the location. Little wonder his 28-Storey IME Heights is aptly described as "The Pride of Banana Island".
Quite a number of things that Richard Nyong did as signs of goodwill, and in the best interest of investors, surely did not go down well with several selfish frontrunners in the sector. However, as someone working with a mindset of service to humanity and posterity, all the oppositions, challenges and hate didn't only leave him unperturbed, but became additional building blocks to the legacy he was building. In his words, "…with every new project, we ask ourselves – What will God like us to do? What is the best way to serve people and provide relevant solutions?"
Thousands of housing units and hundreds of happy investors later, Lekki Gardens Estates has successfully established itself as a major player in the Nigerian real estate sector. There is no such thing as a smooth entrepreneurial journey without its setbacks, and adversity would always be the true test of character. Richard understood this better than anyone, and handled it with grace and dexterity when they came. This solidified Lekki Gardens as a fantastic humane business, at the top of investor's minds.
Across several locations like Port Harcourt, Lagos, Abuja, and so on, Lekki Gardens Estates has supplied over 14,000 affordable housing units to date and is still going strong, assisting real estate investors in the management of over 9 billion Naira in assets, while delivering happiness and financial security to over 3,000 families from around the world. Richard's Lekki Gardens Estates has also created employment opportunities for thousands of young people, flattening the country's unemployment curve.
For Richard, it's not only about building residences for clients; it's about allowing them to leave a legacy for their children. The purpose of resolving the real estate crisis has always been for parents to be able to leave their children a concrete legacy – literarily. It's to give kids a leg up on one of life's most pressing issues: housing.
Richard Nyong, with zeal and laser focus, did take up the housing challenge in Nigeria and did tackle it to magnificent revolutionary standards.