SIRGIBSON: AFTER BANG TO THE TOP TEN – OUT NOW!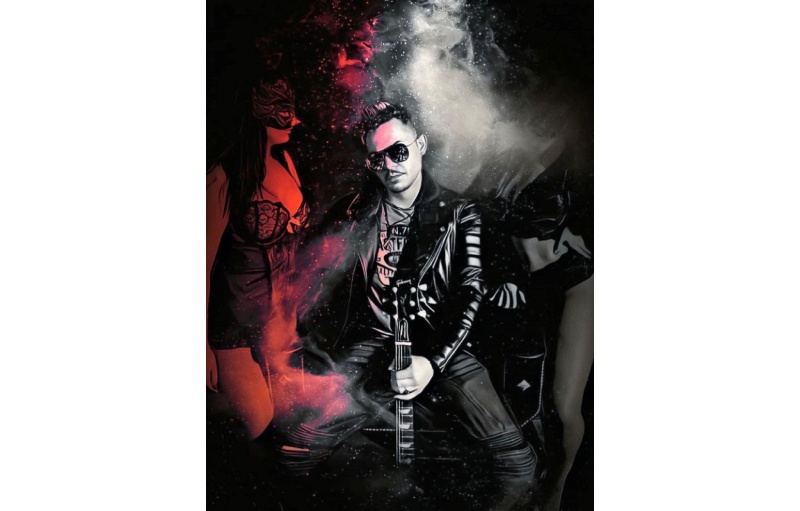 Hailing from Kassel, Germany, the hard rocker SirGibson (born September 3rd, 1995) is making waves in the music scene with his latest track, 'After Bang To The Top Ten,' marking his third release. We had the privilege of sitting down with the artist in the heart of New York City, where he has found inspiration since the release of his album 'Elder Time.'
On a sunny summer day, we found ourselves on the balcony of his girlfriend's New York residence, with the iconic Manhattan skyline as our backdrop. SirGibson, clad in a leather jacket and striking sunglasses, exuded an air of rock 'n' roll charisma. As he lit a cigarette, his girlfriend served us coffee, setting the stage for a conversation about his music and life. SirGibson, a solo hard rock artist from Germany, is known for his unique blend of influences and unapologetic rock 'n' roll attitude. "I made the decision to carve my own musical path a few years ago. What sets me apart is the fusion of diverse influences and a rock 'n' roll ethos. I believe my aesthetic standards distinguish me from other artists," he proudly asserts. He's not one to shy away from frank language, yet he values elegance and aesthetics. "Maintaining that balance is crucial to me," he adds with a smile. SirGibson's musical journey began with his grandfather teaching him to play the guitar, while his mother sang in his grandfather's rock band. "Our family was deeply immersed in music, and I had the freedom to explore it in my childhood. My grandfather saw my potential and encouraged me to practice for hours daily—a tradition I've upheld," he reflects.
His musical influences span from Deep Purple, Queen, and Guns N' Roses to Chuck Berry and Eddie Van Halen. "I'm drawn to Queen's intricate chord progressions, Steve Morse's complex guitar work, and the raw, aggressive riffs of GNR. But I can't forget Chuck Berry and Eddie Van Halen, who left an indelible mark," he enthuses. His earliest musical memory is "Johnny B. Goode," and he confesses to a penchant for classical music, with a special nod to composers like Johann Sebastian Bach, Vivaldi, and Beethoven. Yet, his greatest influence remains his late grandfather, who imparted invaluable musical wisdom before his passing in 2020. When not immersed in music, SirGibson enjoys playing chess and relishes his black coffee. "I'm dedicated to my music daily. I'm also a guitar teacher, so I spend several hours honing my craft. My background in linguistics and literature has provided insights into songwriting, although it may not impress the ladies," he chuckles. "Balancing my music, friendships, and family is essential. It's like nurturing a plant that needs constant care."
SirGibson's latest offering, 'After Bang To The Top Ten,' is a provocative hard rock track that pays homage to the '70s and '80s while maintaining a contemporary edge. "I aimed to capture the essence of those golden eras while keeping it fresh for 2022. I collaborated with some talented musicians but ensured the album stayed true to my vision as a solo artist," he explains. 'After Bang' delves into personal turmoil and the weight of a regretful mistake. The lyrics tell a story of infidelity, a guilty pleasure without remorse. The song resonates with those who have experienced cheating, betrayal, or a similar emotional landscape. The song's atmosphere shifts, from intense energy to calm introspection, before culminating in a tempestuous climax. Highlighted by an emotionally charged guitar solo, it echoes the influences that shaped it. Notably, the song artistically portrays the act itself.
Reflecting on the changing landscape of music, SirGibson laments the nostalgia associated with the pre-digital era when concerts were free from mobile phones and stadiums were packed. "It's been 23 years since the turn of the millennium, and the new generation is increasingly drawn to electronic sounds. 'After Bang To The Top Ten' serves as a reminder of those good old days, but with a 2022 twist. It's a sleaze rock track with glam rock and blues undertones," he declares.
'Elder Time' represents a significant milestone for SirGibson, who had previously played in bands and released music over the years. "My previous works didn't adequately convey my worldview. The key difference is that I stayed true to myself, embracing the call of the wild," he grins. The standout track from his album 'Elder Time', 'Sinners in Paradise,' is a tribute that cleverly references the iconic 'Paradise City' riff while offering a fresh reversed perspective. 'Elder Time' allows me to create music exactly as I envision it. I've always wanted that just like a threesome" he chuckles. Looking ahead, SirGibson promises more live shows in Germany and hints at new material on the horizon. "I don't want to reveal too much, but you can expect a new single later this year. Get ready," he concludes with a wink.
'After Bang To The Top Ten' is available in various formats, including a captivating music video on the official YouTube channel. Fans can order the record and merchandise on CD and vinyl, as well as through digital platforms. The Special Edition even includes an exclusively designed steel-book with SirGibson's signature picks, offering a unique collector's item for his devoted followers. Moreover, an exclusive interview with SirGibson has been featured in the prestigious Powerplay Magazine (ISSUE #259), shedding light on the artist's creative journey and insights. 'Elder Time' has achieved remarkable chart placements, and SirGibson's music has resonated with audiences across the globe, including airplay on Californian radio stations. To top it all off, mark your calendars for September 2nd, when the music video for 'After Bang To The Top Ten' is set to premiere, promising a visual spectacle that matches the power of SirGibson's music.
Web and Social Media
Links:
https://www.instagram.com/sirgibson.official