The Premier Cutz & Lounge Combo – Multitasking with Justin J. Allen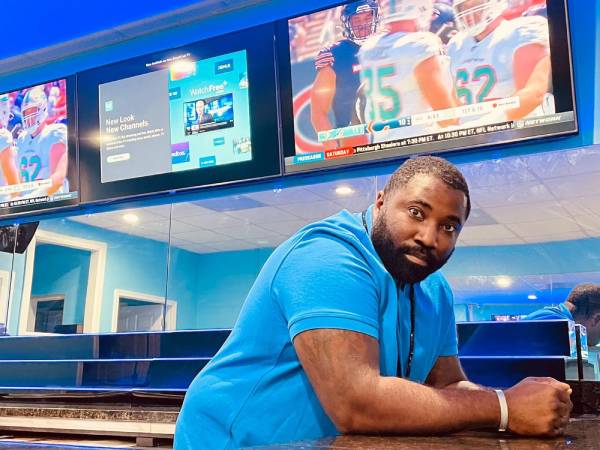 We live in the age of multitasking, which is why it's becoming less and less acceptable to only handle one task at any given time. We tend to devalue tasks that take up too much time, and bar us from doing other things, which is why businesses and clever entrepreneurs have been forced to adapt.
This is the case for Justin J. Allen, one of the most exciting entrepreneurs of our day, whose new barbershop also doubles as a lounge. Does it sound interesting? Yes, we think so, too.
Justin J. Allen has been around for enough time to understand the needs of the current day market. He launched his first LLC back in 2013, which might not seem like a lot of time, but it is, in the current world that's changing so rapidly. Originally specializing in executive private security, Allen rapidly branched out into the sports industry, launching his twin brands DA Method Sports Agency, and DA Method Apparel (with his partners). According to him, DA Method refers to a way of life, one that breeds successful athletes, both in the professional realm, and in the personal one. It's a story about ambition, one that has obviously characterized Allen's own approach towards the business world.
And now, he's looking to branch out again, with another set of twin businesses – Premier Cutz, and Premier Lounge. This is where that multitasking attitude we mentioned earlier really comes in strong. Why? Because Premier Lounge and Premier Cutz are two adjoining businesses, that allow customers to maximize their time, and make every second count, in the spirit of the 21st century.
The Premier Lounge, located in Washington DC, will serve as so much more than just a mere bar. It will be an excellent location where creatives of all stripes will be invited to express themselves and allow their art to thrive. The Premier Lounge will host various creative events, dedicated to showcasing new local artists. Allen sees it becoming a hub for poetry, comedy, spoken word, and other forms of art in the DC area. And then, we have Premier Cutz…
Premier Cutz is set to be an exclusive barbershop, built on an innovative idea. Housed just above the Premier Lounge, it will allow clients to get their hair looking just the way they like it, while the Lounge itself will host exciting hair shows, and events.
Not only that, one of the truly exciting aspects of Premier Cutz is that you will be able to get a drink and catch up with your friend's downstairs in the comfortable atmosphere of the Premier Lounge, while waiting for your appointment. It's literally shooting two birds with one stone, which is a very valuable aspect for busy entrepreneurs like Justin J. Allen himself.
Premier Cutz and Lounge isn't just another business idea. It's a brand-new concept set to revolutionize the way we look at haircuts, and we couldn't be more excited about this – blending creativity with practicality in one gorgeous enterprise!