Business
The sixth edition of Rawada Cricket League kick started at J.K. Pavilion International cricket stadium today. Chairman Mr. Amin Pathan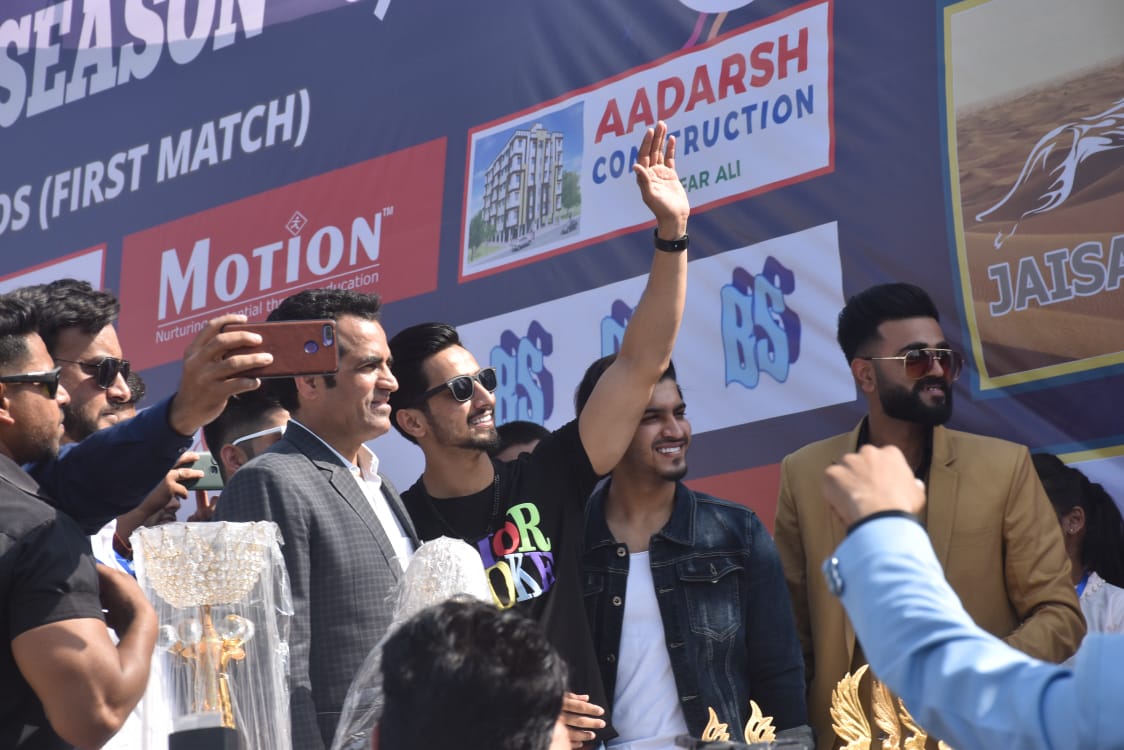 The sixth edition of Rawada Cricket League kick started at J.K. Pavilion International cricket stadium today. Chairman Mr. Amin Pathan told media that first match of the league was played between Ajmer Meru Warriors & Jaisalmer Jaguars, followed by the game between Kota Chambal Tigers & Jodhpur Jodhana Royals.
Ajmer Meru Warriors vs Jaisalmer Jaguars
The coin flipped in favour of Ajmer meru warriors and they decided to bat. Ajmer meru warriors lost Sahil Puri in the very first over. Afterwards, Jeetu Singh & Kapil Yadav scored briskly and stabilized Ajmer meru warrior's innings. Kapil Yadav in particular was in good knick and scored swashbuckling 58 off 27 balls. He was ably supported by Kuldeep Goswami, Jeetu Singh & Arman Malik who chipped in with the scores of 32, 17 & 17 respectively. Ajmer meru warriors posted a respectable 173 on the board.
Jaisalmer Jaguar's openers were on song right from the first ball. The first fifty runs were notched in mere 3.4 overs. Though, Shubham Gadhwal perished for 31 but it didn't impact the flow of runs for Jaisalmer Jaguar's. Skipper Sanjay Bharti was in a murderous mood and almost all of Ajmer meru warrior bowlers took a beating from him. He alongside Tanmay Tiwari , piled up a match winning partnership of 120 runs. Sanjay Bharti scored 79 while Tanmay Tiwari stayed unbeaten at 55. Kuldeep Goswami was the only wicket taker for Ajmer meru warriors. Jaisalmer Jaguar's Sanjay Bharti was adjudged man of the match for his stupendous display of batsmanship.
Kota Chambal Tigers vs Jodhpur Jodhana Royals
`Kota Chambal tigers won the toss and decided to bat first. However, the decision backfired and Kota Chambal tigers lost a wicket on the very first ball of the match in form of Md. Sufiyan. Due to this early tremor, Kota Chambal tigers could never stabilize and eventually were bowled out for a mere 129 in 18.1 overs. Apart from Shiva Chauhan who made a fighting 49 no other batsmen could leave substantial mark. Mayank Kumar 18 & Navneet 13 tried to offer some support to Shiva Chauhan. Alankrit Sharma was the wrecker in chief for Jodhpur jodhana royals and took four wickets conceding just 27 runs.
Kota Chambal tigers tried to make the early inroads and at all times they claimed a Jodhpur Jodhana wicket. Shahrukh Khan however kept his cool and escorted one end. He was nicely supported by the middle order batsmen and that is what helped Jodhpur jodhana royals clinching a remarkable victory. For Jodhpur, Shahrukh Khan, Divya Pratap Singh Hada & Ayush Vashisth chipped in with 53,29 & 19 runs respectively. For Kota, Nadeem Tanwar bowled tightly and took 3 wickets. Naresh Nama, Vikas Meena & Rajat Chowdhary all chipped in with a wicket each.
For his amazing spell of bowling, Alankrit Sharma was adjudged man of the match and was acknowledged by Mr. Jitu Verma (JOJO).
The chairman of the league Mr. Amin Pathan briefed that the day was graced by the presence of Mr. Mahendra Sharma (Hony Secretary RCA), Mr. Bhagwat Singh Hingad (Deputy Superintendent of Police- Kota), Mr. Bhawani Singh (SHO – Nayapura), Mr. Monendra Singh (SHO – Railway Colony), Mr. Manoj Sikarwar (SHO – Gumanpura), bollywood actor Jeetu Verma (Jojo) & tik tok star Faisu & Faiz Baloch.
Furthermore, he said that the second day of the league first game would be played between Ajmer meru warriors & Udaipur mewar royals. The post lunch game would be played between Kota Chambal tigers & Jaipur pink city royals.
Amin Pathan
Chairman – Rajwada Cricket League
+91 8890100899