The Story Behind NAPJITSU and How High Performers Can Benefit From Scientific Breakthroughs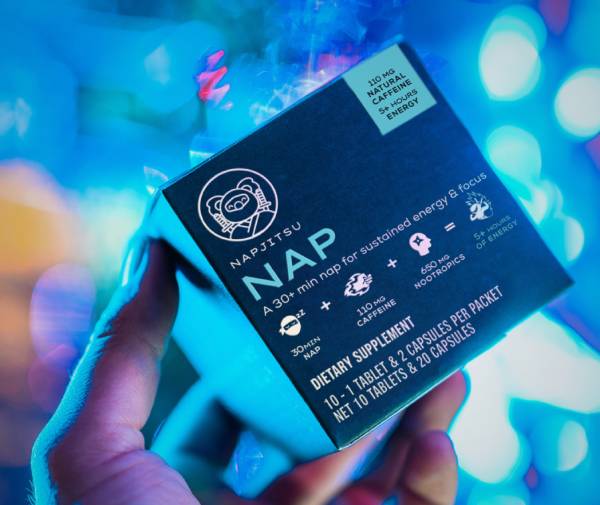 NASA astronauts and elite United States military personnel are undoubtedly some of the highest performing individuals around the world. For years, scientists, health and wellness professionals and workaholics have looked at them for guidance when it comes to making the most of their available energy reserves.
What is the secret? It can be as simple as taking a brief nap at the right moment; However, just napping is not guaranteed to give you the edge you need to remain competitive throughout the day (and the night).
A group of passionate researchers and established brand builders decided to tackle this issue and develop a superior quality suite of products designed specifically to meet the ever increasing energy requirements of this modern generation.
Enter NAPJITSU. Thanks to its cutting edge brain-boosting, patent pending supplement selection which includes NAP, NOW and REST, gamers, traders, working parents and high performers from all walks of life now have a better alternative. Time to let that espresso machine take a breather!
Championed by star athletes like basketball legend Gary Payton, mixed martial artist "Hurricane" Shane Burgos and Super Bowl champion Warren Sapp – to name a few – these ultra effective solutions are known to enhance the regenerative power of a brief nap, and also boost focus and enhance performance even when sleeping is not possible (think a day of classes after a long night in front of the screen).
"At our core, we are solving the energy problem. Everyone wants to be a high-performer in whatever they do, NAPJITSU puts people on the right path to optimized energy. We have a suite of products to keep you optimally energized. We're here to help you perform better when you need it." Chief Executive Officer, Laura Brooks affirms.
By leveraging the power of time-released caffeine and the extensively documented benefits of B vitamins, Guarana, Ginseng, Ginkgo and other highly effective nootropics, NAPJITSU can boost your energy levels and alertness by up to 56% with as many as 90% of users reporting enhanced performance for 6 hours after taking NOW, one of the brand´s best selling products.
In a recent interview, Laura Brooks and the NAPJITSU team shared a few key insights to better understand the virtually limitless potential behind their products:
What is the secret behind NAPJITSU´s superior patent pending proprietary blend?
We leverage sleep science to enhance the rest you get and to mimic the effects of rest when you don't have time to slow down. NOW has 13 nootropics and NAP has 29 nootropics to provide a well-rounded, robust cognitive boost. It's so much more than energy — it's energy plus creativity, alertness, focus, and memory. Paired with caffeine — especially time-released caffeine — our nootropic stacks are super effective (2x as effective as coffee) at unlocking energy and better performance. Both NOW and NAP are patent-pending for their innovative nootropic stacks, and our consumer studies show they unlock more than 5 hours of steady focus and energy.
Please share with our readers the inspiration behind the brand and its product selection.
We wanted to create a better form of energy that's natural, non-habit-forming and effective. We were over sugary energy drinks, we had become practically addicted to coffee, and we knew there has to be a better way to break the cycle of fatigue. We did a ton of research and discovered the myriad benefits of the power nap and the caffeine nap, as evidenced by studies in Japan and by NASA, and we decided to one-up the caffeine nap with a bunch of other nootropics. We like to think of it as empowering your power nap even more.
Is it true that basketball legend Gary Payton recently became a NAPJITSU partner? How was that collaboration materialized?
That is true! We've been a fan of Gary's for a while, and it turns out, he used to take a 3-4 hour nap before every game. That obviously fits within our brand ethos and what we're trying to do, and Gary's the definition of a high performer, so we were excited that he was interested in partnering with us. Super Bowl Champion and Hall of Famer Warren Sapp and 4x NBA Champion Horace Grant are also Nap Ninjas!
Can I use your products even if I have never tried other supplements or nootropics?
Absolutely — and you probably have tried nootropics but maybe didn't realize it. Coffee, matcha, mushrooms, and a lot of superfoods and adaptogens are nootropics! The ingredients in NAPJITSU are third party tested for purity and potency. All products are naturally sourced, non-GMO and free from top 8 allergens, including gluten. Give it a shot. It'll change your life.
Can I stay up late working, studying, gaming or trading and still feel energized by taking NAPJITSU and a brief 30-minute nap?
Yes, that's the idea, and we really see a lot of benefits for the gamers out there — anyone dealing with a lot of screen time, late nights and weird sleep schedules, and a need for fast response times. You can't afford to feel sluggish and tired; NAPJITSU helps you stay focused and sharp.