Union Budget 2019 Highlights: No change in personal tax rates; GST rate on electric vehicles to be lowered; Petrol, diesel to get costlier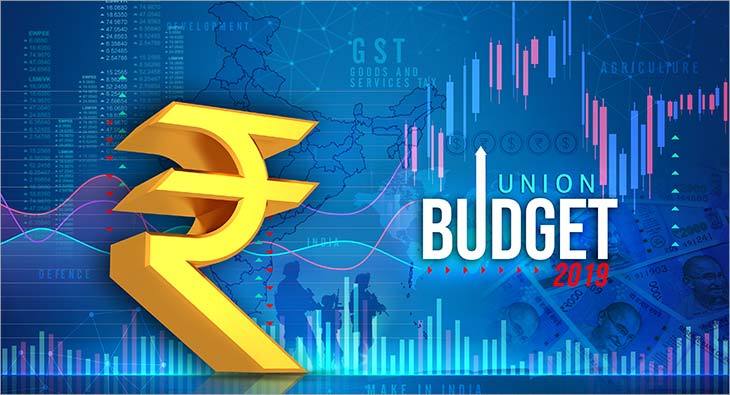 After a pre-election, populist Budget in February 2019, the Modi government today introduced the Union Budget to help infrastructure and foreign investment when the economy is appearing of slowdown. Adopting a pragmatic strategy, Finance Minister Nirmala Sitharaman today reported no changes in close to personal income rates however demanded extra additional charge on the super rich. She likewise looked to goad development with decrease in corporate tax and sops to housing sector, startups and electric vehicles.
Among key declarations, Sitharaman said that digital payments will get less expensive, govt will launch an ATM-like One Nation One Card for pan-India travel and new model rental laws will be disclosed to support reasonable housing.
Here are all the key Highlights from the Finance Minister's speech:
Taxes:
No change in personal income tax rates
Additional Rs 1.5 lakh tax alleviation on home loan for buy of a house up to Rs 45 lakh.
Custom duty climb on fuel by 1 rupee, gold and valuable things; Petrol and diesel to get costlier.
3% additional charge on a income of Rs 2 crore; 7% on Rs 5 crore or more.
Corporate tax with turnover of up to Rs 400 crore sliced to 25 percent from a present rate of 30 percent.
Interchangeability of PAN and Aadhaar for ITR for thosewho don't have PAN cards.
Advises GST Council to lessen tax rate on EVs from 12 percent to 5 percent.
Duty has been raised on: tiles, cashew kernels, vinyl flooring, auto parts, some synthetic rubber, digital and video recorder and CCTV camera.
Moderate housing:
Rental laws to be transformed. Modern tenure laws will be imparted to states to promote house renting.
To promote digital payments:
2% TDS on withdrawals of Rs 1 crore in a year from individuals' bank account for business payments.
Simplicity of living:
Aadhaar card for NRIs on arrival in India.
Rs 3,000 pension per month for workers from the casual area.
Transportation
Inter-operable One Nation One transport card: ATM-like Transport card for widespread travel on different modes of transport (metro, street, railways and so forth).
Govt plans to make MRO (Manufacturing, Repair and Operate) industry.
PPP to be utilized to release quicker improvement and the delivery of traveler freight services.
Comprehensive restructuring of National Highways Program for making of National Highways Grid.
Government envisions utilizing rivers for cargo transport to decongest streets and railways.
Economy:
Fiscal deficit in FY 19 at 3.3% of the GDP.
Govt will begin bringing some portion of borrowing in foreign currency.
Govt external obligation to GDP is among the most reduced in the world.
Women empowerment:
Nari tu Narayani: Women SHG Interest Subvention Program to be extended to all districts in India.
Rs 1 lakh loan to be accommodated SHG ladies individuals.
Every confirmed lady SHG member having a Jan Dhan account can benefit Rs 5,000 rupees overdraft facility.
Banking change:
On buy of high-rate pooled assets of NBFC amounting of Rs 1 lakh core in this FY, govt will give one-time half year credit ensure.
Propose to give Rs 70,000 crore money to PSU Banks.
Regulation of HFCs (Housing Finance Cos) to move to RBI from National Housing Bank.
Divestment:
Govt to alter present policy of holding 51% stake in PSUs.
Govt to proceed with strategic divestment of select CPSEs.
Divestment focus of Rs 1.05 lakh crore for FY 20.
Railroads:
A new PPP model will introduce the a new dawn of Indian railways.
Railways to be urged to invest more in rural rail network via SPVs.
Railway infrastructure will require an investment of Rs 50 lakh crore somewhere in the range of 2018 and 2030.
MSME:
Propose facilitating angel tax for startups.
Angel tax: Wont require scrutiny from I-T department for startup.
2% interest subvention for GST-registered MSME on new or gradual loans.
'Stand Up India' Scheme to proceed till 2025.
New TV channel for start-ups.
Pension advantage reached out to retail traders with yearly turnover not as much as Rs 1.5 crore.
New payment platform for MSMEs to be made.
Education:
Govt to launch 'Study in India' program to attract foreign students in higher education.
Allocate Rs 400 crore for world-class higher education institutions in FY 20 .
To uncover a new education policy.
National research foundation to fund, arrange and to promote research in the nation.
New Higher Education Commission with spotlight on higher autonomy.
New national education policy to propose changes in school, higher education.
The travel industry:
17 famous world-class visitor sites to be created.
FDI:
Local sourcing standards will be relaxed for the single-brand retail sector.
Govt to open FDI in aviation, insurance, animation AVGC and media.
Investment:
Existing KYC standards for FPIs to be rationalized and simplified to make it more investor-friendly.
Long-term securities for market.
To permit FIIs and FPIs interest owing debtors protections issued by NBFCs.
Credit Guarantee Enhancement Corporation to be set up long-term bonds with explicit spotlight on infra sector
Propose Social Stock Exchange under SEBI for listing social enterprises and voluntary associations.
To merge NRI portfolio route with FPI route.
To climb statutory limit for foreign investment in certain organizations.
To set up a credit ensure upgrade corporation.
Govt will take up measures to make RBI and SEBI depositories inter-operable.
SEBI to mull expanding least public shareholding to 35% from 25%.
User friendliness of trading platforms for corporate securities will be surveyed, including issues emerging out of capping of International Securities Identification Number.
To extend corporate tri-party repo market in corporate obligation protections. Plan to empower stock exchanges to permit AA appraised bonds as guarantee.
Annual Global Investors' Meet for attracting global players to come and invest in India.
To permit FPIs to subscribe to listed obligation papers of REITs.
Auto sector:
FAME II scheme aims to support quicker adoption of electric vehicles through the right incentives and charging infrastructure.
For Rural India:
Gaon, Garib and Kisan are the focal point of our government.
New Jal Shakti ministry will work with states to guarantee Har Ghar Jal for all rural houses by 2024.
Pradhan Mantri Gram Sadak Yojana phase 3 is visualized to upgrade 1,25,000 km of street length throughout the next 5 years.
Govt will set up 100 new clusters for 50,000 artisans in FY 20.
To invest Rs 80,250 cr for upgradation of streets under PM Gram Sadak Yojana.
Every single rural family, with the exception of those unwilling, to have electricity by 2022.
Agriculture:
Govt to advance innovative zero Budget farming.
10,000 new farm produce associations.
80 Livelihood business incubators and 20 technology business hatcheries to be set up in 2019-20 under ASPIRE to create 75,000 skilled entrepreneurs in agro-rural industries.
Space:
India has developed as a noteworthy space power. It is time to harness our ability commercially.
An public sector enterprise, New Space India Limited (NSIL) has been consolidated to tap advantages of ISRO.
Sports:
To promote sports at all levels, National Sports Education Board for development of sports persons to be set up under 'Khelo India.'
State of the economy:
Railways will require investment of Rs 50 lakh crore from 2018-30.
Schemes, for example, BharatMala, Sagarmala and UDAN are bridging rural urban partition and improving our transport infrastructure.
'Gandhipedia' is being created to sensitize the youth about positive Gandhian qualities.
The unambiguous order by the general population in the recent election has set the ball rolling for the New India.
NPAs recoup Rs 4 lakh crore over the last four years, NPAs somewhere around Rs 1 lakh crore over the most recent one year.
Rashtriya Swachhta Kendra to be initiated at Rajghat on October 2.
The general population of India have validated their two objectives for our nation's future: National security and Economic development.
' Yakeen ho to koi raasta niklata hai, hawa ki awt(protection) bhi le kar chiragh jalta hai'
It took us more than 55 years to reach $1 trillion dollar economy, but we added $1 trillion in just 5 years.
We can reach $5 trillion in the next few years.
Last mile delivery emerged, residents in each nook and corner of the nation felt the difference; our goal was and keeps on being Mazbooth Desh Ke Liye Mazbooth Nagarik.
Government spreads out 10-point vision for the New India.
India will progress toward becoming $3 trillion economy this year. We have to keep on taking numerous basic changes to accomplish $5 trillion economic objective.
Connectivity is the lifeline of the economy.