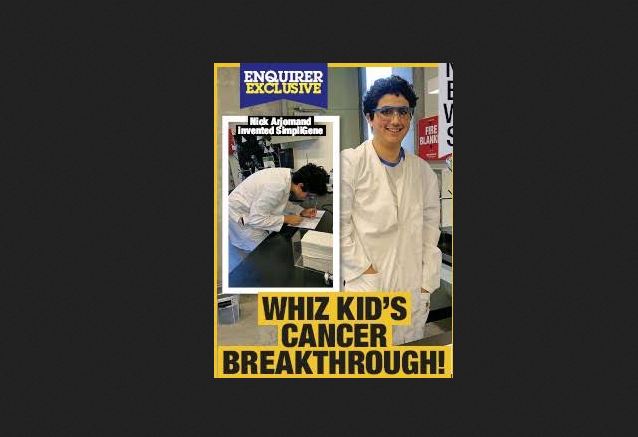 HIGH SCHOOLER CREATES TEST THAT COULD SAVE MILLIONS
Nick Arjomand invented SimpliGene
A SOUTHERN California whiz kid who's just 15 has developed a revolutionary new cancer screening method that's astounding the biomedical industry! "When I created this, I was laughed at, not because of the screening idea, but because supposedly I was too young and inexperienced," Santa Monica high schooler Nick Arjomand exclusively told The National ENQUIRER. "But I never gave up — because this screening has the potential to save millions of lives!"
Nick's brainchild, called SimpliGene, is the first noninvasive detection method for early stage lung cancer.
Using DNA analysis of nail clippings, saliva or blood, it detects early warning symptoms sooner and more accurately than previous tests.
It's also faster, more reliable and less expensive than others on the market, according to the kid genius.
The test is already patented, and Nick — who's also on his school's swim team and plays jazz trombone and piano — is working with several medical groups to get it onto the market.
Nick Arjomand: https://www.linkedin.com/in/nick-arjomand-8686bb185/