Adoring Our Motherland, Allithantha Boomi Is Releasing On 25th July.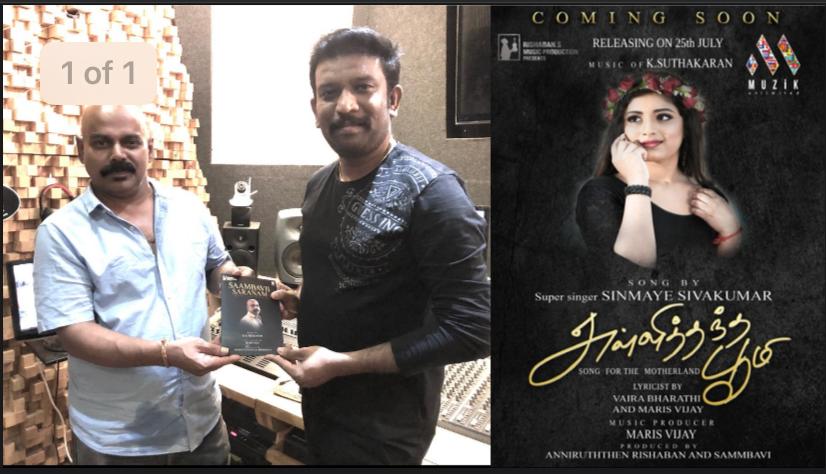 Cherishing the Mother Land, we are proud to draw your attention to the upcoming
release of our new album title Allithantha Boomi on 25th July 2021. This song is
composed by K. Suthakaran (London), with music production and arrangement
headed by Maris Vijay (Indian Film Composer) and song was DOP and Edited by Senthuran Summugarajah Canada. The vocals to this song are Super
Singer Sinmaye Sivakumar (Canada), Super Singer Balaji Sri, and Georginaa Mathew.
With Vaira Bharathi and Maris Vijay as the lyricist. This song is about the beautiful
Thenmarachchi, one of the three historical regions of the Jaffna Peninsula in
northern Sri Lanka.Maris Vijay canvased the scoring of this song like orchestra and
opera choir with powerful anthem song blending it into Indian Jazz, Kerala folk,
adding a new flavor to it. This song is mixed by Sivakumar at the renowned Trinity
Waves Studio in Dolby technical aesthetes in stereo image 3D sound.
Before this scripted idea of patriotism to our beautiful motherland, K. Suthakaran and
Maris Vijay had proclaimed a big hit through the Sambavaii Saranam album, being
rewarded and recognized in the foreign land. Maris Vijay was awarded the Best
Music Producer Award from India. Today coming forth with this soothing concept to
enjoy the unbounded beauty of the motherland, the title Allithantha Boomi is all
about praising and savoring its bounteous beauty.