Apple's new feature to unlock your iPhone with an Apple Watch while wearing a mask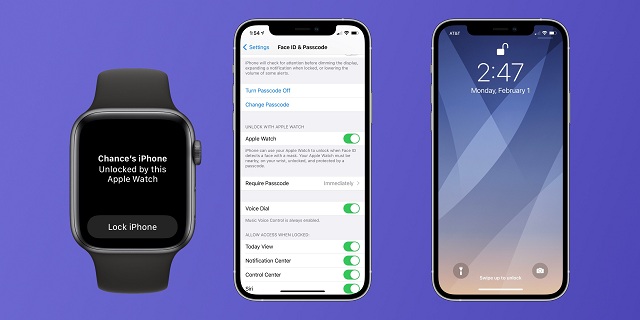 Apple will soon allow you to unlock your iPhone insofar as you're wearing an Apple Watch. That implies it will be significantly simpler to unlock your phone while wearing a mask, which you as of now need to remove for Face ID to work.
The feature will launch at some point this spring when Apple turns out iOS 14.5 for iPhones and the relating Apple Watch update. It necessitates that you have an Apple Watch on your wrist, unlocked, and with its own password.
It functions admirably. You might be comfortable with the process on the off chance that you have a Mac and an Apple Watch – you would already be able to unlock a Mac just by coming close to it wearing your Apple Watch, for example.
The experience is truly comparable with the iPhone. If you have a mask on (or regardless of whether you don't), simply swipe up from the bottom of the screen on your iPhone.
Your iPhone will scan part of your face and your Apple Watch will give a little buzz showing that it was used to unlock your iPhone. It unlocks in a moment, much the same as Face ID does when you don't have a mask on.
Here's the way you'll have the option to set it up when iOS 14.5 comes out.
How to unlock your iPhone with your Apple Watch
This using the iOS 14.5 beta. Yet, when the software is out for everybody this spring, you'll have the option to follow these steps to get it set up.
Open Settings on your iPhone.
Tap Face ID and Passcode.
Enter your iPhone's password.
Scroll down to "Unlock with Apple Watch."
Toggle the button close to your Apple Watch so that it's on.
That is it. Presently when you go to unlock your iPhone with a mask on, you'll feel a delicate buzz on your Apple Watch as it unlocks your iPhone.