Australian GP Results 2023: Johann Zarco Wins MotoGP Australian Grand Prix, Followed by Francesco Bagnaia and Fabio Di Giannantonio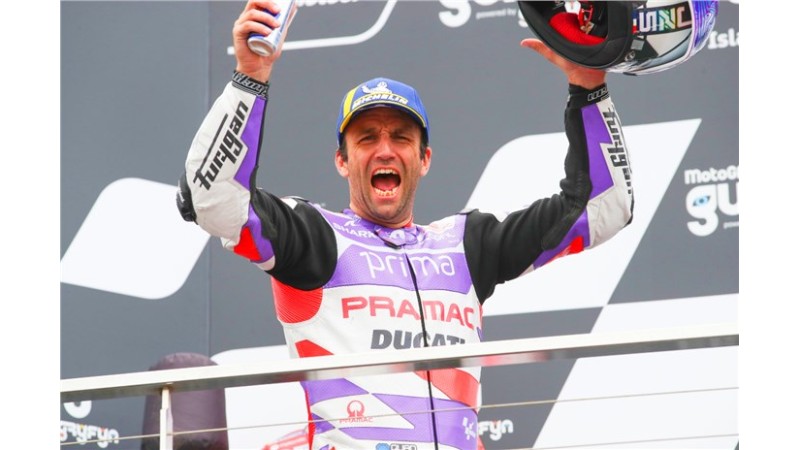 Johann Zarco had finished second eleven times in MotoGP competitions before his dramatic 2023 Australian MotoGP victory at Phillip Island. Reigning champion Francesco Bagnaia finished second, despite spending a large portion of the race at risk of losing his lead.
On the penultimate lap, Johann Zarco skillfully passed his Pramac Ducati teammate Jorge Martin to win his first MotoGP race. Martin won the Phillip Island race handily after taking a chance on the soft Michelin rear tyre. There were 27 laps in the race. But as the laps went on, his tyres began to degrade, making him a target for the other riders. Zarco took full advantage of the opportunity and won his first race at the highest level. Riding for the official Ducati Team, Francesco Bagnaia shocked everyone by taking second place, which greatly increased his chances of winning the championship.
However, Jorge Martin's tyre issues cost him the lead and ultimately dropped him to fifth place overall. Brad Binder of Red Bull KTM Factory Racing and Fabio Di Giannantonio of Gresini Ducati grabbed third and fourth place, respectively.
With ten laps remaining, Martin had established a comfortable two-second lead, appearing unstoppable up front. One of the more dramatic moments came when Joan Mir, the first rider to crash, collided with Luca Marini at turn four. After assessing the circumstances, race officials determined no additional action was necessary.
MotoGP Australian Grand Prix: Results of the 2023 Phillip Island Circuit Race
As Martin's lead increased to over three seconds, the battle for second place intensified, with Di Giannantonio gaining ground on Bagnaia and then aiming for Binder. Di Giannantonio easily passed Binder with nine laps remaining, and in laps 20 and 21, he started to get close to Martin's lead. With five laps remaining, Martin's lead was reduced to less than half a second, despite Binder's incredible ride to take second place.
Binder reduced the lead to 1.2 seconds with three laps remaining, and Zarco overtook Di Giannantonio to take third. Despite Binder's tyre issues on the previous lap, Martin was eventually able to take advantage of Zarco's pass on him.
On the last lap, Zarco challenged his teammate with a bold move into turn four, and Bagnaia did the same. Up until then, Martin had finished every lap in first place, so he dropped to fifth.
Zarco slowed down and executed his signature backflip, a nod to his victory celebration from the 2016 Moto2 days. The Grand Prix was rescheduled for Saturday afternoon due to the bad weather forecast for Sunday.
MotoGP Australian Grand Prix: The Championship
As of Sunday's sprint race, Bagnaia leads the championship by 27 points, with Martin now in fifth place. Behind the leaders, hometown hero Jack Miller finished seventh on his KTM, while Marco Bezzecchi took sixth place on his VR46 Ducati. Aleix Espargaro, the leader of Aprilia, performed remarkably well.
The next two positions were occupied by Ducati riders: Gresini's Alex Marquez came in ninth, and the factory team's Enea Bastianini completed the top 10. Marc Marquez followed in Martin's footsteps and gambled on soft rear tyres, which helped him get off to a quick start on his Honda. However, he eventually faded to a 15th-place finish, well behind the winning Yamaha of Fabio Quartararo.
During the race, Tech3 GasGas' Augusto Fernandez and Marquez's Honda teammate Joan Mir both experienced crashes.
Johann Zarco wins, followed by Pecco Bagnaia and Fabio Di Giannantonio
A thrilling final lap with an unexpected turn in the tail ended the Australian Grand Prix. Jorge Martín took the lead from the first corner until the beginning of the last lap, having started from pole position. Thanks in part to his choice to run a soft tyre, the Spaniard had established a lead of over three seconds. Before the checkered flag, though, he was overtaken and passed by a group of four riders.
Johann Zarco emerged victorious, bagging his maiden MotoGP victory. Pecco Bagnaia, the current leader of the World Championship, and Fabio Di Giannantonio, who secured his first podium in the elite class, trailed behind. Brad Binder came in fourth place, ahead of the remaining nine people in the Top 10: Martín, Marco Bezzecchi, Jack Miller, Aleix Espargaró, Álex Márquez and Enea Bastianini.
Marc Márquez fades and Joan Mir crashes out
Starting from seventh on the grid, Marc Márquez had an excellent start to the race. The rider for the Repsol Honda team moved up a few spots, and he spent most of the race battling it out for positions five through ten. But like with Martín, he lost ground to cross the finish line in fifteenth place because he decided to use the soft tyre near the end.
Joan Mir also got off to a strong start, moving up two spots. He was battling to stay in the points when he was unable to rejoin after crashing at Turn 4 before the halfway mark of the race.
Australian GP Race results (27 laps)
| | | |
| --- | --- | --- |
| RIDER | TEAM | TIME |
| 1. Johann Zarco | DUCATI | 40:39.446 |
| 2. Pecco Bagnaia | DUCATI | +0.201 |
| 3. Fabio Di Giannantonio | DUCATI | +0.477 |
| 4. Brad Binder | KTM | +0.816 |
| 5. Jorge Martín | DUCATI | +1.008 |
| 6. Marco Bezzecchi | DUCATI | +8.827 |
| 7. Jack Miller | KTM | +9.283 |
| 8. Aleix Espargaró | APRILIA | +9.387 |
| 9. Álex Márquez | DUCATI | +9.696 |
| 10. Enea Bastianini | DUCATI | +12.523 |
| 15. Marc Márquez | REPSOL HONDA | +21.118 |
| DNF – Joan Mir | REPSOL HONDA | – |
World standings
| | | |
| --- | --- | --- |
| RIDER | TEAM | POINTS |
| 1. Pecco Bagnaia | DUCATI | 366 |
| 2. Jorge Martín | DUCATI | 339 |
| 3. Marco Bezzecchi | DUCATI | 293 |
| 4. Brad Binder | KTM | 224 |
| 5. Johann Zarco | DUCATI | 187 |
| 6. AleIx Espargaró | APRILIA | 185 |
| 7. Maverick Viñales | APRILIA | 170 |
| 8. Luca Marini | DUCATI | 148 |
| 9. Jack Miller | KTM | 144 |
| 10. Fabio Quartararo | YAMAHA | 134 |
| 16. Marc Márquez | REPSOL HONDA | 65 |
| 22. Joan Mir | REPSOL HONDA | 20 |