Azah Aziz: Google Doodle celebrates the 94th birthday of a Malay cultural figure in Malaysia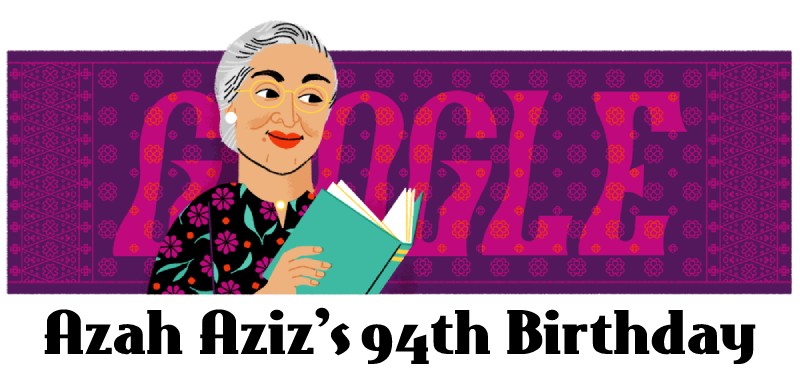 Google Doodle celebrates the 94th birthday of Sharifah Azah Syed Mohammad Alsagoff/Norazah Abdul Aziz or Azah Aziz, otherwise called Mak Ungku, a Malay cultural figure or Tokoh Budayawan Melayu in Malaysia, on August 22, 2022.
Who was Azah Aziz?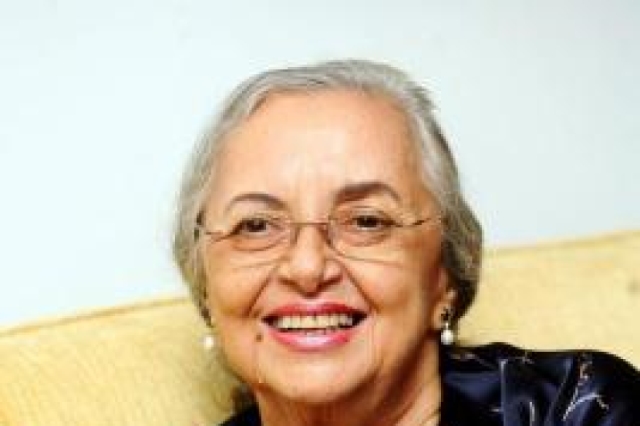 Aziz was born Sharifah Azah Binti Syed Mohammad Alsagoff on August 21, 1928, in Straits Settlements (now Singapore). She was the wife of Royal Professor Ungku Abdul Aziz Ungku Abdul Hamid and the mother of Tan Sri Dr. Zeti Akhtar Aziz, seventh Governor of the Central Bank of Malaysia.
Azah Aziz's enthusiastic interest in language, culture, and the arts had been supported by her mother, Azizah, who was from a recognized Johor family and a pioneer in domestic science studies.
Aziz acquired a fine collection of early Malay textiles and garments from her mother which powered her passion for the culture that lasted throughout her life and made her ready to become a respected Malay culture expert.
From 1941-1951, Azah Aziz worked at the Johor Bahru Welfare Department. Following this, she was employed as Secretary of the Social Department at the University of Malaya Singapore. She continued as Secretary in the Malay Studies Department at the University of Malaya.
Azah Aziz was the founder and President of the Malaysian Women's Journalists Association (1971-1978) and the University Women's Association.
She was among the first women pioneering for the fate and rights of women, particularly the issues of salary equality between men and women, and the issue of separate taxes for working wives. She likewise advocated the Non-Muslim Marriages and Muslim Family Amendments.
Notwithstanding her work as a writer, Azah Aziz was a pioneer for women's rights. She championed salary equality, separate taxes for working wives, and Muslim family amendments and later established the Islamic Women's Action Organization.
From 1957 to 1973, Azah Aziz composed for a few magazines, including Berita Harian. From 1973-1978 she was the editor of Utasan Malaysia and a consultant for women's magazines. She is the first person to present Haiku, a short Japanese poem, to Malaysian culture.
Azah Aziz became a secretary for a newspaper editor-in-chief, ultimately climbing the ladder in the field of journalism. She began Akaz, her own publishing organization, where she raised Malaysian arts and contributed to various publications including Malaysia's first Malay daily afternoon tabloid Harian Metro, and Malaysia's oldest newspaper New Straits Times.
Azah Aziz is likewise among the first women in Malaysia to publish books and children's songs through her own organization, 'Akaz'.
Aziz published books as well as children's songs and poems, becoming the first woman in Malaysia to do as such. Toward the finish of her 10-year career as a journalist, she established the Malaysian Women's Journalists Association and became the president of the National Writers Association of Malaysia.
Azah Aziz attended the Asia-Pacific Women's Writers Conference in East-West Center, Honolulu, Hawaii (1972), Afro-Asian Women Symposium in Alexandria, Egypt, related to International Women's Day (1975). She was a member of the national library advisory board and a member of the advisory board of The Encyclopaedia of Malaysia.
Azah Aziz became a member of the board of trustees of the Tun Abdul Razak Foundation (1977-), a FINAS board member (1981-1984), a member of the national cultural advisory council (dissolved) (1978-1983) (1987-1990), and a member of KARYANEKA advisory board (1987 – until dissolved). She was likewise a member of the Malaysian handicraft development board member and a member of the Copyright Tribunal (1987-1989).
Throughout the years, Azah Aziz gathered antique garments and fabrics from the old Malay world. With her in-depth knowledge of costume, jewelry, and textiles, she lectured about and acquainted Malay culture with art festivals and international seminars. Furthermore, she composed a book regarding the subject named Rupa dan Gaya: Busana Melayu (2006).
Azah Aziz is likewise one of the founders of the Islamic Women's Action Organization (Pertiwi), which actively defends the destiny of women and children in Malaysia.
Azah Aziz is known as 'Tokoh Budayawan Melay'u', or a 'Malay cultural figure', as a result of her side interests and hobbies of gathering traditional textiles, jewelry, traditional clothes, and traditional Malay handicrafts. Since the 1950s, she has composed and lectured on Malay culture and arts and presented dance drama clothing at the Asean University Arts Festival.
Azah Aziz was moreover a talented poet herself and her 'pantun', a Malay poetic form, has been highlighted in Mastika magazine.
On July 9, 2012, Azah Aziz died at the age of 84 from a stroke.
Azah Aziz spent her life contributing to the preservation of Malaysian art and tradition. She spent her life lifting Malaysian traditions so its culture could keep on flourishing all around the world. For preserving Malay heritage, Aziz was awarded an honorary Doctorate degree in arts and education.
On August 22, 2022, Google featured a Doodle on its homepage for celebrating Azah Aziz's 94th Birthday.