Be a fitness trainer with PT Academy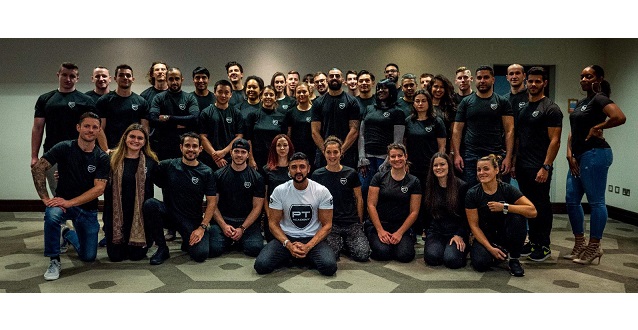 It is said that every good deed is started from Tomorrow. That means, if we want any good change in our life, we use to neglect it and delay it on the shoulders of tomorrow. It is very difficult to bring a good change in our lifestyle. Fitness training is also one such difficult change. It is very difficult to have a regular schedule for fitness training. We need to have one trainer for such change, who can help us for bringing a change in our life. One mentor can change any common person's life. To become a mentor for fitness training, one must have a passion for teaching fitness steps. We, PT Academy, are here, to provide you with the best training for being a trainer.
PT Academy is a UK-based fitness training center. It was established in 2009. Being a fitness trainer is now easier with us. We have partnered with various gym chains like David Lloyd, The Gym Group, Bannantynes, Xercise 4 Less, Virgin Active, Nuffield Health. We are also worried about the ones who spend their money on us. We have also a partnership with the UK's largest and oldest established Jobsite providing access to over 25000 active jobs in the UK. We have literally thousands of sites, where our graduates can find work. On the other hand, you can have the benefit of our centers in different locations for admission. You can choose from a wide range of locations.
PT Academy provides you the assessment from anywhere. You do not need to have gym equipment with you for the assessment. In this practical era, we give importance to practical training. You do not need to go through all the theoretical boring stuff. We fully depend upon the practical training. Practical training is the main reason for our huge success in the field of training centers. Everything you need to become a certified trainer is to fill up a workbook. This could be done via a hard copy or via an app. You can learn to be a trainer by these three simple steps.
Choose your personal training course:
We can tailor make it for you. You can choose from a wide range of 280 venues nationwide.
Choose your method of study:
Here you can choose from 100% physical face-to-face learning or online learning or both combined. You can choose it at your convenience.
Choose the method of payment:
Here you need to pay guaranteed low payments with 0% interest. You can secure your place by paying a small amount. After you pay a small deposit, our team will be in touch with you for the starting dates.
PT Academy provides you different levels of training courses. All the qualifications we offer are OFQUAL regulated and recognized by REPS, Cimspa, and the Fitness Register. We are approved to deliver fitness qualifications on behalf of NCFE and YMCA awards. Learners have the benefit to have one-to-one training from our mentors' team.
PT Academy provides different options of the training levels for the learners to choose from. This increases the ease as per the requirement of the learner. From this wide range of courses available, if you choose the Black label, Platinum or Flexi Packages or Diploma, where you are assigned a one-to-one mentor, both the preparation and assessment will be arranged by the mentor. You can choose the pathways of personal assessment by attending our training center or you have the option of self-taping in a gym or in a training center. You need to keep your recording for the certification purpose.
So what are you waiting for? Book your Training course now on our website or visit us personally and become a professional trainer now.