Birmingham PCR Testing: How To Schedule An On-Site PCR Test When Traveling Via Birmingham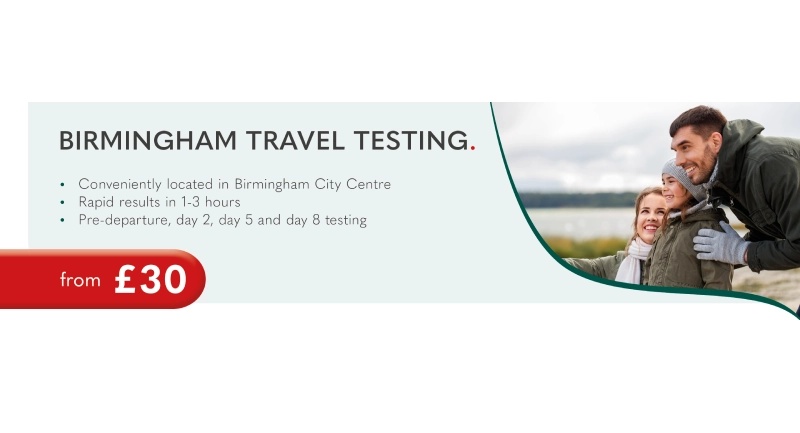 Are you planning a journey and need to book your travel test in Birmingham? Continue reading to gain a better understanding of Birmingham PCR tests and how to schedule one for you and your family.
To prevent coronavirus transmission (SARS-CoV-2), various nations require visitors to show proof that they are free of the virus. It is mostly done using the PCR swab test to detect the virus with the help of a throat and nasal swab.
For these tests to be accepted by the destination country, they must be conducted by a UKAS (United Kingdom Accreditation Service) authorized laboratory. The NHS and Public Health England use these laboratories as well, however, through a different scheme.
Travellers are issued laboratory certificates for travel after the results are completed and. Most airlines will only accept you on board if you have a PCR certificate showing a negative test result.
Birmingham Airport is now one of the UK Government's testing facilities for PCR and lateral flow tests, allowing walk-through, drive-through, and pre and post-travel testing. Continue reading to gain a better understanding of Birmingham PCR tests and how to schedule one for you and your family.
What Covid Tests Are Available In Birmingham?
Birmingham Airport offers several Covid testing options to meet your specific needs, including travellers requiring Fit to Fly certification.
Arrival tests are available at Birmingham Airport for passengers returning to the UK from abroad, apart from those returning from a red-listed country since they have to follow a different procedure.
Walk-in testing is available for members of the public who require a PCR coronavirus test, a lateral flow, or a Fit to Fly certificate. They can schedule their Birmingham PCR and the rapid lateral flow tests at the testing facility which is open from 8 a.m. to 8 p.m.
Between the hours of 8 a.m. and 8 p.m., drive-through testing is also available. TIt is very important to verify what countries accept lateral flow tests and which ones can grant entrance only with a negative PCR test. Since only a few countries allow passengers to enter the country based on a negative lateral flow test, following the most recent and updated sources is advised. All airlines follow the Covid-screening process very strictly, and you could be denied boarding if you present the wrong Covid-19 test.
The most recent Foreign and Commonwealth Development Office travel guidelines contain up-to-date information on entry criteria for various countries and their status on the UK traffic light travel system.
How To Schedule A PCR Test In Birmingham?
Advance arrangements are required for PCR testing performed at most testing facilities. Even if you are going to the airport to have a lateral flow test for travel at the walk-through, it is advised that you schedule ahead of time to prevent long lines and possible delays. Bear in mind that if you do not receive your results in time, you may be required to amend your flight.
What Is The Price For A Birmingham PCR Test?
The cost of a Covid-19 test varies based on which type of coronavirus test you require. Whether you need a Fit to Fly certificate or a rapid lateral flow, you should double-check the price list in advance to avoid any disappointments. Lateral flow tests are available for a £35 price tag per person at the walk-through facility, with your results emailed to you within 15-30 minutes.
PCR tests are considered the golden standard, therefore, are more widely accepted than lateral flow tests. Birmingham PCR tests cost £99 per person for the general public and around £60 per person for passengers travelling from Birmingham Airport. PCR test results, which are more reliable in establishing whether the infection with the Covid-19 virus is present in the body, should be available by 10 p.m. the next day, but this could take up to 48 hours.