Earth Day 2022: Google Animated Doodle Celebrates International Mother Earth Day; Theme and Significance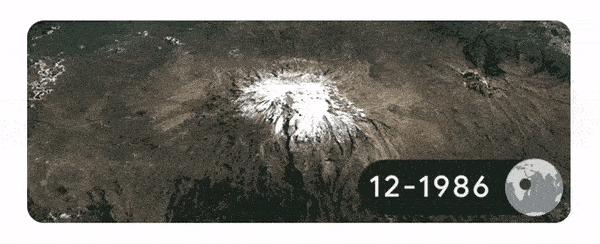 Google animated Doodle celebrates Earth Day 2022. The present annual Earth Day Doodle tends to one of the most pressing topics of our time: climate change. As per Earth Day Organization, the theme for International Mother Earth Day 2022 is "Invest In Our Planet."
Every year people celebrate Earth Day on April 22 across the globe and consolidate to raise awareness about environmental protection and recognize the global climate crisis which is disturbing at present. Otherwise called International Mother Earth Day, this special day concentrates on developing worries of overpopulation, loss of biodiversity, and depleting quality of the environment.
Every year Earth Day is celebrated to bring awareness to the issues influencing the planet and these themes help in surveying the priority concerns the agenda isn't simply to make individuals mindful but to likewise track down solutions, particularly with such quickly changing conditions.
Earth Day 2022 Google Doodle
Friday is Earth Day, the day when our climate anxiety arrives at its peak and we look with sickening dread at how we've treated the planet. Accordingly, Google is denoting the event with a graphic reminder of our failings, publishing a bleak depressing Earth Day Google Doodle which outlines the horrendous impact climate change has already had.
April 22's Google Doodle incorporates a variety of GIFs made from photographs of real locations, all taken over several years. Each time-lapse GIF is shown for a few hours throughout the day, allowing you to marinate in precisely the way that we've destroyed the world.
Using real time-lapse imagery from Google Earth Timelapse and different sources, the Doodle shows the impact of climate change across four different regions all over our planet. Stay throughout the day to see these scenes, each leftover on the homepage for several hours at a time.
However Google was apparently spoiled for choice while observing landscapes attacked by climate change, it benevolently confined itself to only four.
As such, the 2022 Earth Day Google Doodle shows four regions: Tanzania's Mt. Kilimanjaro, Greenland's Sermersooq, Great Barrier Reef's Lizard Island, and Harz Forests in Elend, Germany.
As far as the animations are concerned, Google features real imagery from Mt. Kilimanjaro in Tanzania, Africa featuring the glacial mass retreat at the summit of Mt. Kilimanjaro from December 1986 to December 2020.
The next animation is of a glacier retreat in Sermersooq, Greenland from 2000 to 2020. Another animation is of the Great Barrier Reef in Australia, featuring the coral blanching on Lizard Island from March 2016 to October 2017.
The last animation is of the Harz Forests in Elend, Germany, exhibiting the forests destroyed by bark beetle infestation because of increasing temperatures and extreme drought from 1995 to 2020.
The vast majority of the photos in the Google Doodle were taken from Google Earth, however, the recording of Australia's coral blanching came from The Ocean Agency, a non-profit conservation association. The Doodle is set to go live in the U.S. on April 21 at 9 p.m. PDT.
This International Mother Earth Day Google Doodle is notably drier than the one published last year, which had a more hopeful, tree-planting vibe. However at that point once more, you can't say what is happening doesn't call for it. We want to make a quick and exceptional action to end climate change, any other way, the vanishing of natural wonders such as these will soon be the least of our concerns.
Earth Day 2022 Theme
Well, Earth Day 2022 theme is Invest In Our Planet. The key point here is to act boldly, innovate broadly, and implement equitably.
The healthier our ecosystems are, the healthier the planet – and its people. Reestablishing our harmed ecosystems will assist with finishing poverty, battling environmental change, and preventing mass extinction. In any case, we will possibly succeed if everyone has an impact, says Earth Day's website.
Climate change addresses the greatest challenge to the future of humanity and the life-support systems that make our world habitable.
Earth Day 2022 significance
Earth Day was a bound together reaction to an environment in crisis — oil spills, smog, rivers so polluted they literally caught fire.
On April 22, 1970, 20 million Americans — 10% of the U.S. populace at the time — took to the streets, college campuses, and many cities to fight environmental ignorance and demand a new way forward for our planet, as per the Earth Day website.
The first Earth Day is credited with launching the modern environmental movement and is currently perceived as the planet's biggest civic event.
The first Earth Day in 1970 launched a wave of action, including the section of landmark environmental laws in the United States. The Clean Air, Clean Water, and Endangered Species Acts were made because of the first Earth Day in 1970, as well as the making of the Environmental Protection Agency (EPA). Numerous countries soon adopted comparative laws, says Earth Day's website.
Earth Day keeps on holding significant international importance: In 2016, the United Nations picked Earth Day as the day when the historic Paris Agreement on climate change was signed into force.
International Mother Earth Day is celebrated every year to recognize climate change and to speak awareness about a similar all across the globe. This day is a chance to carry millions to interface and talk about issues like pollution, deforestation, and more.
For the unversed, according to the official website, earthday.org, "EARTHDAY.ORG is the world's biggest recruiter to the environmental movement, working with more than 75,000 partners in more than 192 countries to drive positive activity for our planet.
Likewise, individuals on International Mother Earth Day take part in different discussions on topics like climate and environmental literacy, and schools and colleges conduct tree-planting drives.