Naziha Salim: Google Doodle celebrates the first Iraqi woman artist who anchored the pillars of Iraqi contemporary art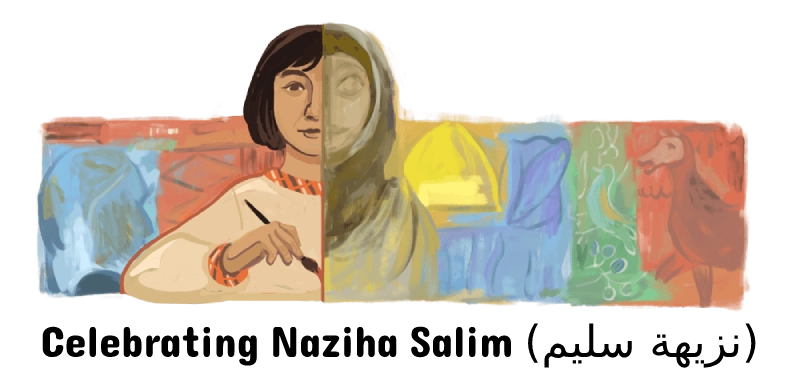 Google Doodle celebrates an Iraqi artist, educator, and author Naziha Salim (نزيهة سليم), characterized by the country's president, Jalal Talabani, as "the first Iraqi woman who anchored the pillars of Iraqi contemporary art," on April 23, 2022.
Who was Naziha Salim (نزيهة سليم)?
Naziha Salim (نزيهة سليم) Naziha Salim was born in 1927 in Istanbul to Iraqi parents, who were initially from Mosul into a family of Iraqi artists living in Turkey.
Her father was a painter and her mother was a skilled embroidery artist. Each of the three of her siblings worked in the arts, including Jawad, who's broadly viewed as one of Iraq's most influential sculptors. From an early age, she delighted in making her art. At the time of her birth, her father was an officer in the Ottoman army, positioned in Turkey. The family returned to Baghdad during the 1920s when Naziha was a small child.
Naziha Salim (نزيهة سليم) was one of the first women to be awarded a scholarship to study art abroad. During the 1940s, she graduated from the Baghdad Fine Arts Institution and, after acquiring the scholarship proceeded with her art education in Paris.
Naziha Salim registered at the Baghdad Fine Arts Institute where she studied painting and graduated with distinction. Due to her hard work and passion for art, she was one of the first women awarded a scholarship to proceed with her education in Paris at the École Nationale Supérieure des Beaux-Arts. While in Paris, Salim specialized in fresco and mural painting. After graduation, she spent a few additional years abroad, submerging herself in art and culture.
During the 1960s Naziha Salim eventually got back to Baghdad to work at the Fine Arts Institute as an educator and stayed at the school until her retirement during the 1980s.
Naziha Salim (نزيهة سليم) was an active participant in Iraq's arts community and one of the establishing members of the art group known as Al-Ruwwad, (otherwise called the "Avante Garde or Primitive group"), a community of artists that study on abroad and integrate modern European art techniques into the Iraqi aesthetic. This group tremendously had a significant influence on later generations of Iraqi artists.
Later in her career, Naziha Salim authored a history of modern Iraqi art, entitled, Iraq: Contemporary Art, published by Sartec in 1977, which keeps on being used as a significant source for the early improvement of Iraq's modern art movement.
Her paintings' themes rotate around depictions of women and family; her own family, rural Iraqi women, peasant women, women at work, Mesopotamian and Arab goddesses. She took part in different experimental movements and her work frequently outlined the progressions occurring in women's lives. Accordingly, Salim, alongside her contemporaries, "contributed to the opening up of news cultural, social and political spaces."
Naziha Salim (نزيهة سليم) suffered a stroke in 2003, which left her paralyzed. She lived for an additional five years, dying in Baghdad at 81 years old. President Jalal Talabani called her death a "big loss to Iraqi art and culture."
Naziha Salim's artwork hangs at the Sharjah Art Museum and the Modern Art Iraqi Archive. There you can see the magic she made from dripping brushes and brimmed canvases.
On April 23, 2022, Google featured a Doodle on its homepage for celebrating Naziha Salim (نزيهة سليم). On this day in 2020, Naziha Salim was highlighted by the Barjeel Art Foundation in their collection of female artists.
The present Google Doodle artwork is a tribute to Naziha Salim's painting style and a celebration of her well-established contributions to the art world!