Lifestyle
Feast of the Throne 2020: History and Significance of the day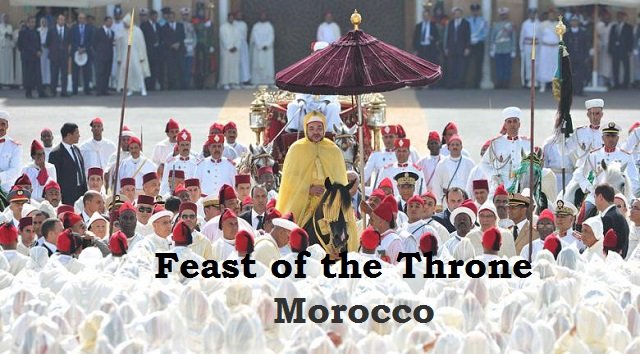 Throne Day, likewise called "Feast of the Throne," in Morocco is a national event celebrated on 30 July of every year, punctuated by a few official and well-known celebrations, it honors the day of the King's accession to the throne. Feast of the Throne in Morocco otherwise called Enthronement or Throne Celebration in Morocco.
What is Feast of the Throne in Morocco?
The Throne Day is a Moroccan function that praises the initiation of the reign of King Mohammed V of Morocco in 1927. It is commonly seen on the 30th of July of every year and is commended with various celebrations.
Feast of the Throne in Morocco: History and Significance
The current Moroccan regal family is from the Alaouite Dynasty. Moulay Ali Cherif, who became Sultan of Tafilat in 1631, was the founder of this dynasty. The Alaouite dynasty claims that they are replacements of Muhammad. The Feast of the Throne is in this way known as Eid Al-`Arch in Arabic to respect the standard of the Alaouite regal family on the empire.
The celebration was first celebrated on November 18 when King Mohammed V was the emperor. Afterward, the date moved to March 3 during the rule of the late King Hassan II. Presently, it is celebrated on July 30, the day when King Muhammad VI was enthroned.
Since 1999, there has been an extreme change in the political and economic conditions under the reign of King Mohammed VI. Even though there are high unemployment and destitution in the country, tourism and foreign investment in urban regions are giving better opportunities to the economy to flourish. Throughout the years there has been a marked improvement in-law supporting human rights making the country a superior spot to live in. Education and extended rights, particularly for ladies, has gotten increasingly conspicuous. Furthermore, a law to secure the rich Berber culture has been passed.
Officially Morocco's parliament has negligible powers. Anyway, the country took a step towards democracy by hosting the country's first municipal elections in 2002. There is solid vigilance on the activities of Islamists and other diplomatic groups. Notwithstanding, some provincial disputes of Ceuta and Melilla, and Western Sahara despite everything stay unsolved under the king's reign.
The date of Throne Day moves with each new ruler since they each generally climb the throne on an alternate date. For instance, the past ruler, Hassan II, had his Throne Day on 3 March; and his antecedent, Mohammed V, had Throne Day on 18 November.
Be that as it may, the date of Mohammed VI becoming king isn't equivalent to his enthronement date. He was best when his dad died on 23 July 1999, yet 30 July of that same year was the date of his enthronement ceremony.
On Throne Day, there are numerous official and well-known festivals all through the nation. It is a day of pride in the country's independence, culture, and government.