Film Actor — Roshni Kapoor's "The Rage-Over Injustice" Is All Set For Cannes Film Festival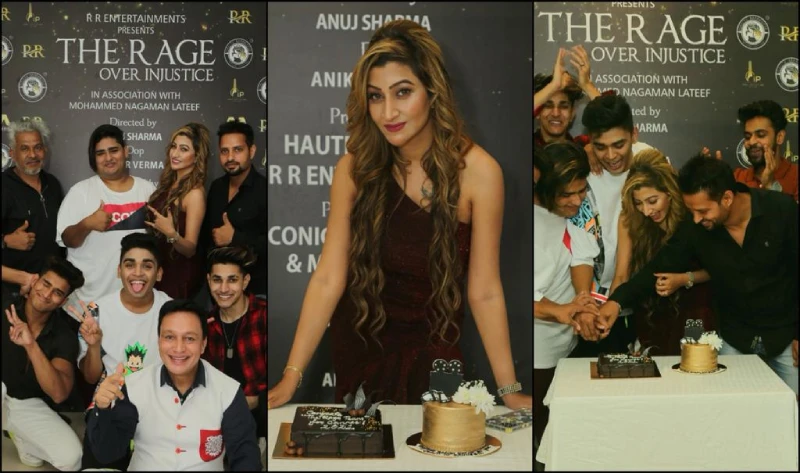 Picture Credits: Roshni Kapoor. Adnan Khan, Aditya Khurana (Guest Appearance), Karan Joshi, Gulfishan Gour, Abhishek Patel, Suraj Jadhav (Other Actors), Director : Anuj Sharma, DOP : Anik R Verma, Associate Director : Aftab Ahmad Khan, Mohammed Nagman Lateef (Production House)
Actor Roshni Kapoor's Film "The Rage-Over Injustice" All Set For Cannes Roshni Kapoor's debut film "The Rage-Over Injustice" is going to Cannes Film Festival this year. Roshni is obviously happy and joyful because of the news. She is looking forward to the response from the audience. This social media star plays an important part in this film. It also stars Adnan Khan. In Association with Iconic Productions Pvt. Ltd. & Mark Studio, this film is produced by R R ENTERTAINMENT & HAUTE MANMZEL.

Talking about how she bagged the part, she says, "In last few years I have gained a lot of fan following on social media. Somewhere I had also made my mind to work in movies. So when the opportunity knocked at my door, I grabbed it and hoped it would be a start on my way to Stardom. I guess more than the script, Cannes was my priority."

Roshni plays the role of a woman, who is strong and kind in The Rage. "She wants to help people facing different demons in our society. Also, the movie touches upon women's empowerment and LGBTQ-related awareness. This role is dedicated to my mother," says the actor.

Praising her co-star Adnan Khan for making things comfortable around her on the set, she shares, "I met him on the sets of the movie and I don't think I could have asked for a better co-actor. He's gracious, charming, witty, professional, dedicated, and a humble soul." About Aditya Khurana & Other Actors She shares, "Aditya is a cute n fun loving person and he acted very well. Karan Joshi, Gulfishan Gour & Abhishek Patel were great in their characters. Working with them gave me a different comfort & family feel. R R Entertainment has been the backbone for playing an important role in this movie.

The actor also has good things to say about Director Anuj Sharma and DOP Anik R Verma. "As this is my first movie so everything was very new to me but Anuj helped me in getting comfortable and mentored me to give my best in the movie," she continues, "When I got to know that Anik R Verma of 'Gully Boy' fame is the DOP. I also felt lucky that my first venture was with him. Both are humble, handled everything professionally, and made a wonderful movie."

Roshni's dream would be the character that does it all. Where connect with the audience. She wants to play something new and amazing that in itself becomes a dream role for many. In certain situation artist are not able to cope up with specific role, other standards but have their way to perform arts.

Everybody wants to work in OTT these days. Just like others, Roshni too is keen on the same. "It's an exciting space where you can showcase your work, and connect with the global audience. "Recently, I have watched Scam 1992 and Criminal Justice. Both are a world apart in theme and characters yet they keep you on the edge of your seat. Great acting by some finest actors and a subject that conveys important info and gives you a reality check," she says, adding that she is open to TV offers too.
Pointing her about her good social media following, 4.5 million on Facebook, and 1.2 million on Instagram, and ask her about the significance of social media and she answers, "Social media helped me build my brand value, connect with my fans and reach out to different businesses online. It has helped me to grow in multiple dimensions and given me the flexibility to work round the clock."

The Actor will be flying out to France to represent the film soon.