Filmmaker Abhik Bhanu tables his Fifth book "Statue of Mahatma" in 8 languages!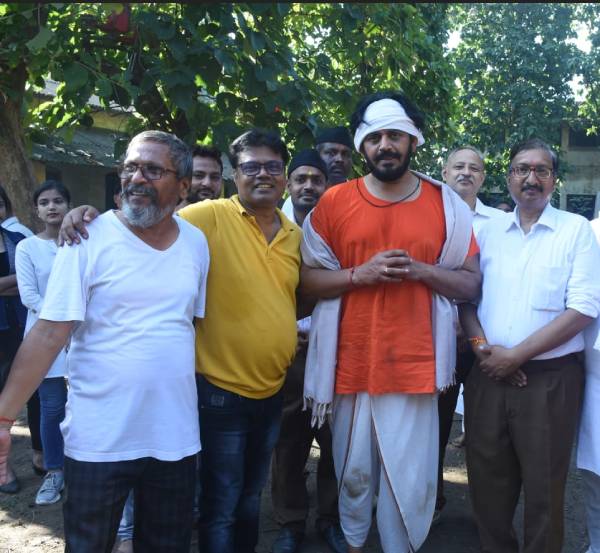 Padma Shri Award winning actor Manoj Joshi plays the main protagonist in this film
Gorakhpur (Uttar Pradesh), India: Noted author and filmmaker Abhik Bhanu has tabled his fifth book. Interestingly titled as "Statue of Mahatma," the paperback is being made available in 8 languages, viz; Gujarati, English, Hindi, Bengali and including all the four South Indian languages – Kannada, Tamil, Malayalam and Telugu. The Gujarati edition has already been released and is available on Amazon.
Taking a step ahead, Abhik Bhanu is gearing up to film this novel for the celluloid. This motivating book is about a retired schoolmaster who is fascinated by the iconic leader 'Mahatma Gandhi' fondly referred to as 'Bapu' and accepts the challenge to re-build his dilapidated statue. Padma Shri and the National Film Award winner for Best Supporting Actor – Manoj Joshi will play the main protagonist in the film. The filming will be held in Bhavnagar (Gujarat) and other surrounding locales.
"Mahatma Gandhi's thoughts are undeniably supreme and can be established to connect with people from all over the world. Last year on 19th October 2019 during the 150th Birth Anniversary of Mahatma Gandhi, our Prime Minister Narendra Modi had appealed writers as well as filmmakers to create films and television shows, etc. that popularize Mahatma Gandhi and Gandhism including his thoughts, ideology and principals. The PM had also urged to channelize its energy and make entertaining and interesting visuals that can motivate ordinary citizens and bring about positive transformation in the society. I was overwhelmed with the idea and that inspired me to write the book and now making a film on the subject too," reveals Abhik Bhanu.
It may be recalled that Abhik Bhanu made his debut feature film "Sab Kuch Hai Kuch Bhi Nahin" on the ideals of Mahatma Gandhi which had an official selection and screening at the Stuttgart Film Festival in Germany. Bhanu's other award-winning books include "Honcho", "A Dark Rainbow", "Stool Pigeon" and "Blind Faith". He had also made many films like "Gun Pe Done", "A Dark Rainbow" amongst many others.
Meanwhile, he is gearing up to release his upcoming historical Hindi feature film "1922 Pratikar Chauri Chaura" in the first quarter of 2022. The film was shot in 50-days and had an ensemble of huge star cast of 127 characters featuring actor-MP Ravi Kishan, Anil Nagrath, Ashok Banthia, Vijay Trivedi, Upendra Pandey and Ravi Shankar Khare in prominent roles. Special sets of police station and courtroom were erected by art director Shambhu Sharma to replicate the scenes 100-years back revolving around the freedom struggle during the non-cooperation movement in Chauri Chaura (a town in Uttar Pradesh) in 1922. Around 50-horses was also the part of 350-strong unit members.
Written and directed by Abhik Bhanu himself under the banner of Sarayu Vision, the film is co-produced by Anju Khare. In major credits the film has Atul Kumar Pandey as the executive producer, Manoj Gupta as the director of photography, Sumit Kumar as the line producer, Jayant Deshmukh as the production designer, Jwala Singh as the production manager and editing by Dhana Shekaran.