From Classic to Custom: Celebrate With These Simple Anniversary Cakes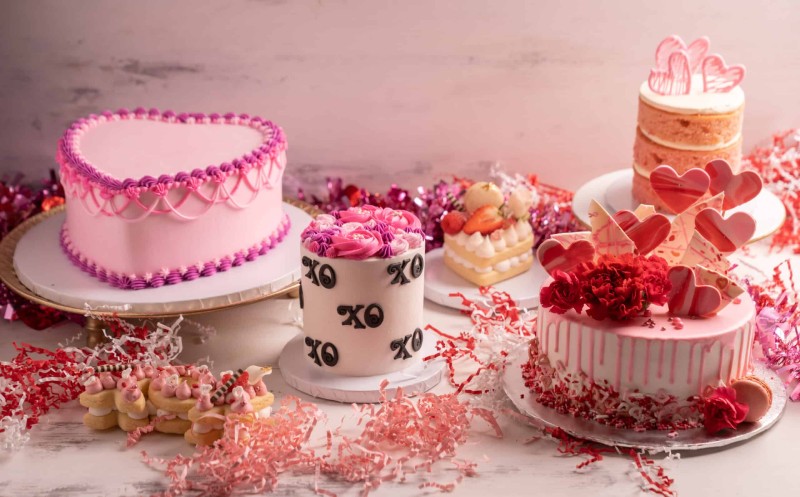 If we say that anniversary celebrations are fun, it is quite a fact, and no one can deny that. Moreover, it brings them back into the couple's life and gives them a chance to invite their dear ones for a memorable evening. But do you know what sets every anniversary celebration apart? Well, no need to guess hard because it's the cake. Having a special cake during the anniversary celebrations makes way for sweet memories and worthy pictures to cheer upon. Here, we are just giving some cake ideas for making anniversary celebrations magical and mesmerizing.
Let's explore the flavours of love & togetherness!
Classic Vanilla Cake
Let's begin our journey with a timeless favourite – the classic vanilla cake. With its light and fluffy texture and subtle flavors, a vanilla cake is an excellent choice for any anniversary celebration. It serves as a versatile canvas for various fillings, frostings, and decorations, allowing you to customize it to suit your preferences. Whether you opt for a traditional layered cake or a trendy naked cake, the simplicity and elegance of a vanilla cake will never disappoint.
Chocolate Cake For Intense Love
For the chocolate lovers out there, an anniversary celebration calls for a cake that exudes richness and decadence. Enter the indulgent chocolate anniversary cakes, sinful delights that satisfy even the most discerning palates. Whether it's a moist chocolate sponge filled with luscious ganache or a velvety dark chocolate cake covered in creamy frosting, this classic choice is sure to impress and leave a lasting impression on your taste buds.
Citrus Cake Brings The Tang In Love
Consider the refreshing citrus options if you're looking for a cake that adds a zing to your anniversary celebration. Lemon, orange, and lime cakes offer a burst of tangy flavors that awaken the senses. From a delicate lemon chiffon cake to a zesty orange sponge adorned with citrus-infused frosting, these cakes bring a bright and vibrant twist to the festivities, leaving you feeling refreshed and invigorated.
Floral Inspired Flavours Because Love Blooms
Opt for anniversary cakes infused with floral flavors for a touch of elegance and beauty. Delicate blooms such as lavender rose and jasmine can lend a unique and enchanting aroma to your celebration. Whether it's a lavender-infused cake with lavender buttercream or a rosewater-flavoured sponge layered with fragrant cream, these floral-infused creations create a romantic ambience and make for a stunning presentation.
Fresh Fruit Cake For Juicy Love
Fresh fruits can elevate a simple anniversary cake into a delightful symphony of flavors and colours. Whether you choose berries, tropical fruits, or a medley of seasonal produce, incorporating fruits into your cake adds a refreshing and juicy element. From a strawberry shortcake with layers of luscious cream and fresh berries to a pineapple-coconut cake that transports you to a tropical paradise, these fruity creations bring a burst of natural sweetness to your celebration.
Red Velvet Cake Is Pure Romance
The red velvet cake is an excellent choice if you're seeking a cake that embodies romance and luxury. With its striking deep red colour and velvety texture, this cake is often associated with special occasions. Covered in a luscious cream cheese frosting, the red velvet cake captivates the eyes and tantalizes the taste buds with its subtle hints of cocoa and tangy creaminess.
Buttercream Cakes For Smooth Love
If you appreciate the beauty in simplicity and a homemade feel, buttercream cakes are perfect for your anniversary celebration. With their rustic and textured appearance, these cakes are adorned with swirls, peaks, or smooth finishes created using rich and creamy buttercream frosting. From a rustic buttercream naked cake to a whimsical floral buttercream design, these cakes evoke a sense of charm and warmth.
Cake-o-Cupcakes
Consider opting for cupcakes instead of a traditional cake for a more intimate celebration or a gathering with close friends and family. These individual-sized treats offer a variety of flavors and designs, allowing each person to choose their favourite. Cupcakes can be beautifully decorated with swirls of frosting, edible toppers, or even personalized messages, making them a delightful and convenient choice for anniversary celebrations.
Personalized Cake For Special Celebrations
Consider ordering a personalised or customised cake to add a truly unique touch to your anniversary celebration. This allows you to incorporate elements that hold special meaning to you and your partner, such as personalized cake toppers, edible photo prints, or intricate designs inspired by your shared interests or memories. A personalized cake becomes a centrepiece of the celebration and tells your unique love story.