Galina Vishnevskaya: Google Doodle celebrates Russian soprano opera singer's 95th birthday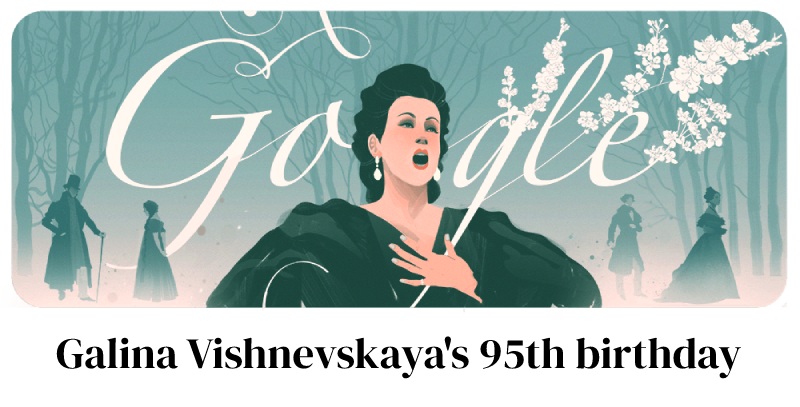 Google Doodle celebrates the 95th birthday of Russian soprano opera singer and recitalist Galina Vishnevskaya (Галина Вишневская), who was named a People's Artist of the USSR in 1966, on October 25, 2021.
Who was Galina Vishnevskaya (Галина Вишневская)?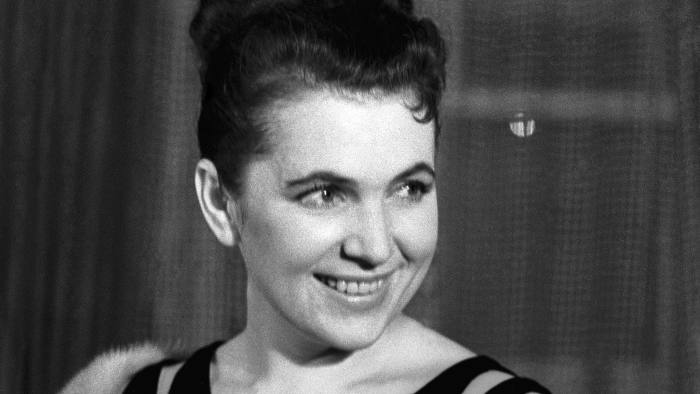 Galina Pavlovna Vishnevskaya (Галина Павловна Вишневская) was born on October 25, 1926, in Leningrad (presently Saint Petersburg). Galina Vishnevskaya was a well-known Russian opera singer and public figure.
Galina Vishnevskaya (Галина Вишневская) made her professional stage debut in 1944 singing operetta. After a year of studying with Vera Nikolayevna Garina, she won a competition held by the Bolshoi Theater in Moscow (with Rachmaninoff's song "O, Do Not Grieve" and Verdi's aria "O patria mia" from Aida) in 1952. The next year, she became a member of the Bolshoi Theatre.
On 24 March 1957, Galina Vishnevskaya made her debut in Finnish National Opera as Tatyana in Eugene Onegin. On 9 May 1960, she made her first appearance in Sarajevo at the National Theatre, as Aida. In 1961, she made her Metropolitan Opera debut as Aida; the next year she made her debut at the Royal Opera House with a similar role. For her La Scala debut in 1964, she sang Liù in Turandot, inverse Birgit Nilsson and Franco Corelli.
Notwithstanding the roles in the Russian operatic repertoire, Galina Vishnevskaya additionally sang roles, for example, Violetta, Tosca, Cio-cio-san, Leonore, and Cherubino.
Galina Vishnevskaya (Галина Вишневская) was married to the cellist Mstislav Rostropovich from 1955 until he died in 2007; they performed together regularly (he on piano or the platform).
In 1974, the couple asked the Soviet government for a lengthy leave and left the Soviet Union. Ultimately they settled in the United States and Paris.
In 1987, Galina Vishnevskaya stage coordinated Rimsky-Korsakov's The Tsar's Bride in Washington, D.C. In 1984, Vishnevskaya published a memoir, Galina: A Russian Story (ISBN 0-15-134250-4), and in 2002, she opened her own opera theatre in Moscow, the "Galina Vishnevskaya Opera Centre".
In 2006, Galina Vishnevskaya was featured in Alexander Sokurov's documentary Elegy of a life: Rostropovich, Vishnevskaya. In 2007, she featured in his film Alexandra, playing the role of a grandmother coming to see her grandson in the Second Chechen War. The film debuted at the 2007 Cannes Film Festival. In the last week of her life, Russian President Vladimir Putin honored her with the First Class Order of Merit for the Fatherland.
On 11 December 2012, Galina Vishnevskaya died at 86 years old in Moscow.
Galina Vishnevskaya (Галина Вишневская) made numerous recordings, including Eugene Onegin (1956 and 1970), Mussorgsky's Songs and Dances of Death (1961 and 1976), Britten's War Requiem (with Sir Peter Pears and Dietrich Fischer-Dieskau, directed by the composer; 1963), The Poet's Echo (1968), Mussorgsky's Boris Godunov (1970 and 1987), Puccini's Tosca (1976), Tchaikovsky's The Queen of Spades (with Regina Resnik, 1976), Lady Macbeth of Mtsensk (1978), Tchaikovsky's Iolanta (with Nicolai Gedda, 1984), and Prokofiev's War and Peace (1986).