Guinness World Record Broken as Australian Man Completes 3,206 Push-Ups in 60 Minutes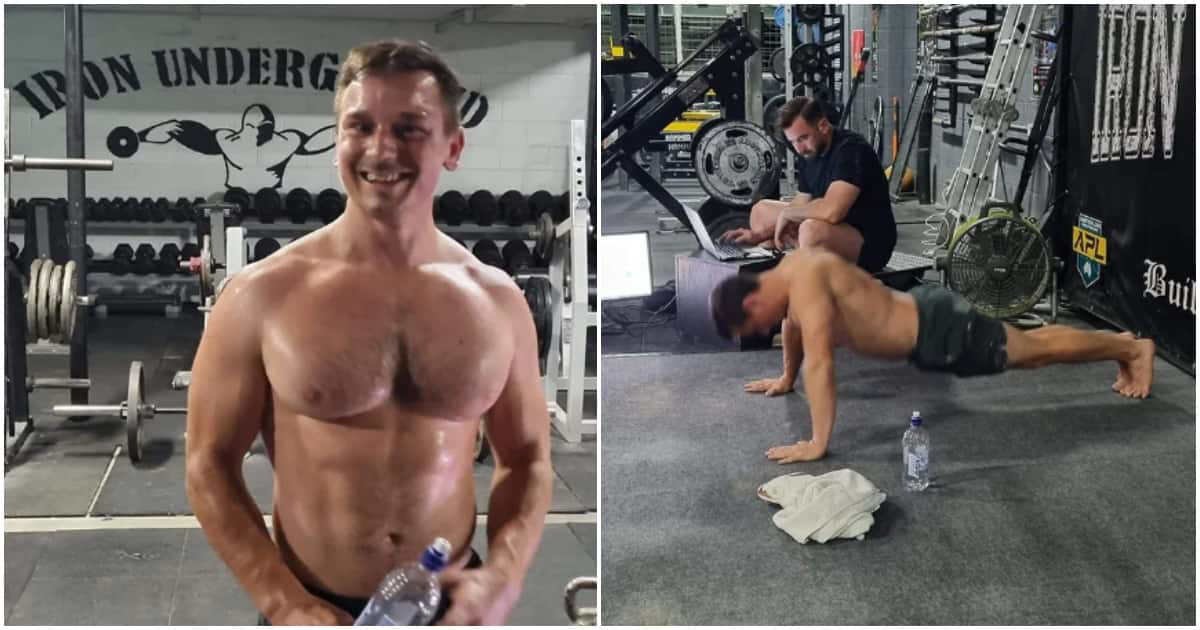 Do you suppose your push-up count is impressive? Wait until we tell you the push-ups that a man in Australia did. Lucas Helmke, 33, did more than 53 push-ups in a minute, not just 20 or 30. But there's more. He then did a staggering 3,206 push-ups to break the world record for the most push-ups performed in an hour. This achievement outperformed the past record set by another Australian, Daniel Scali, who had figured out how to do 3,182 push-ups in 60 minutes.
Push-ups are a great way to strengthen your chest and upper body. When working on their chest, regular gym goers typically perform three to four sets of push-ups. Having said that, have you ever considered how many push-ups a man can do in an hour?
An Australian father has established a new world record for push-ups, finishing in excess of 3,206 in only 60 minutes – that is 53 every minute, or very nearly one per second.
Lucas Helmke, 33, a Brisbane, Australia, resident, set a new world record for the most push-ups performed in an hour by performing 3,206 push-ups within one hour. That is an incredible average of more than 53 per minute.
Lucas Helmke got past the push-ups at his local gym in Brisbane to guarantee the title set by another Australian man simply last year – it's the fourth time a new record has been set for the victory in three years.
The 33-year-old father, who works as an accountant, told Guinness World Records that he wanted to show his one-year-old son that "nothing is impossible" in order to "provide inspiration" for him.
The Guinness World Records posted on their website that Helmke attempted this record to "provide inspiration" for his one-year-old son and "show him nothing is impossible". Daniel Scali, another Australian, set the previous record for most in April 2022.
According to the Guinness World Records website, Helmke worked out for two to three years in order to break this record. Iron Underground in Brisbane, his previous powerlifting gym, hosted the attempt at the record.
Helmke contrived a technique of breaking push-ups into 30-second sets, planning to finish 26 push-ups in everyone. He marginally surpassed this target and completed an average rate of 26.7 push-ups every 30 seconds.
What's more, he won't pause and rest on his laurels From now on, Helmke intends to break at least one record every year. "This will be the first record I wish to set off a number of other push-up records. Then onto other physical records," he is quoted as saying.
Each push-up must be immaculate to fulfill the guidelines expected for an official world record.
Helmke was expected to keep his body straight on his way up, without twisting his knees and waist, while arriving at basically a 90-degree angle at the elbow when he brought down himself.
Because of his bad form, he missed 34 push-ups, but he went on to beat records set by others. In April 2022, Daniel Scali set the previous record with 3,182 push-ups.
Helmke broke the record in November of last year at the Iron Underground gym, and Guinness World Records recently informed him that his record had been accepted. Australians shared the record with two previous holders.
He wrote when he shared the certificate on Facebook last month: "This one finally came through."
Helmke told Guinness World Records it took him two to three years to develop the physical strength to pull off the exceptional accomplishment.
His record may not last very long considering the competition. In March, local media in Florida reported that American Rob Stirling, 60, had completed 3,264 push-ups late last month. However, Guinness World Records has not yet recognized this claim.
Helmke, on the other hand, is already pursuing other records.
"This will be the first record I wish to set off a number of other push-up records," Lucas said. "Then onto other physical records."
The record for the most push-ups in one hour has been broken more than once throughout the past decade. Prior to Helmke and Scali, another Australian, Jarrad Young, held the record, breaking it three times between 2018 and 2021 with 2,806 push-ups (3,054 push-ups).