Honkai Impact 3rd declared an online concert Dreamy Euphony will take place on August 27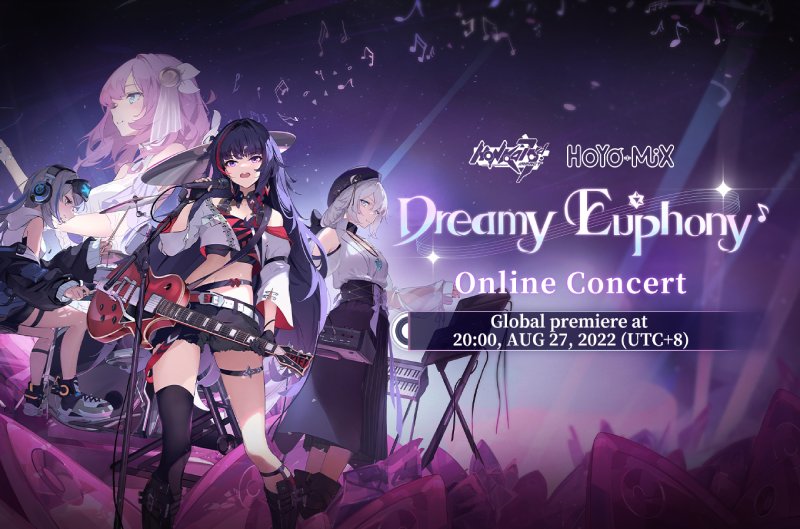 The Honkai Impact 3rd team announced that Dreamy Euphony, an immersive online concert, will happen on August 27, 2022, to treat Captains all around the world to an incredible audio-visual feast! The online concert, which is powered by xR (Extended Reality) and AR (Augmented Reality) technology, additionally incorporates a silky-smooth fusion of symphony, electronic music, and folk music, with guest artists like Yellow Zero, Wink Xy, Hanser, Mika Kobayashi, MARiA, and the Xi'an Symphony Orchestra, and it moves each Captain on a musical journey to relive the most treasured memories and heart-warming moments throughout the in-game story.
Dreamy Euphony will give an immersive virtual experience
As Honkai Impact 3rd's voyage is still underway, HoYoverse's pursuit for greatness continues forever. To make the most ideal immersive virtual experience for the online concert, the team utilized a variety of cutting-edge technologies and rearranged the music. Each audience member can perceive how the musical dreamland was made the in the behind-the-scenes special show that will air on August 28.
One Piece Film: Red becomes the franchise's #1 highest-selling and highest-earning movie
What's more, the HOYO-MiX team, the musical director Arai Soichiro, and the backstage crew will all make that big appearance to examine their artistic impacts and unique ideas. The concert will blur the lines between dream and reality thanks to cutting-edge xR (Extended Reality) technology and its synergy with camera tracking and real-time rendering, giving audience members the most immersive experience.
Honkai Impact 3rd will feature an in-game event during the concert with exciting rewards
At 20:00 (UTC+8) on AUG 27 (UTC+8), the Honkai Impact 3rd Dreamy Euphony online concert will make its world debut through YouTube, TikTok, Twitch, Twitter, and different platforms. A connected themed in-game event will likewise be open simultaneously.
Take part in the event and complete the important missions to procure rewards like a stigma, an iPhone keychain, crystals, and different items, as well as the possibility to win headphones, action figures, and other merch prizes.
Ultimately, Honkai Impact 3rd is accessible now for Android, iOS, and PC.