Interesting and Fun Facts about Ana Mercedes Hoyos, a pioneer in modern art in Colombia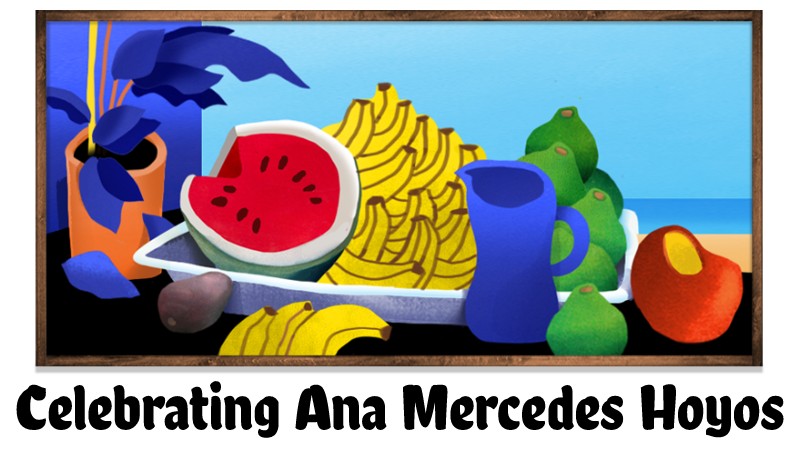 Search engine giant Google celebrates Colombian painter, and sculptor Ana Mercedes Hoyos, a pioneer in modern art in Colombia, with a Google Doodle on December 17, 2022. Here are some interesting and fun facts about Ana Mercedes Hoyos.
Here is a look at the life and work of Ana Mercedes Hoyos.
Who was Ana Mercedes Hoyos?
Personal
Birth date: 29 September 1942
Birthplace: Bogotá, Colombia
Died on: 5 September 2014 (aged 71)
Death place: Bogotá, Colombia
Father name: Manuel José Hoyos Toro
Mother name: Ester Mejía Gutiérrez
Husband name (Spouse): Jacques Mosseri Hané
Nationality: Colombian
Interesting Facts about Ana Mercedes Hoyos
Ana Mercedes Hoyos Meja was born on September 29, 1942, in Bogotá, Colombia, to Manuel José Hoyos Toro and Ester Mejía Gutiérrez. Hoyos was encouraged to pursue an education in art history by her father, who was an architectural engineer.
She attended Colegio Marymount in Bogotá for her primary and secondary education, where she also took private painting lessons from Luciano Jaramillo. Trips to Europe, Mexico, and the United States to learn about other cultures' art served as an alternative to this formal education.
She did not finish her studies in visual arts at the University of the Andes, where she studied with Jaramillo, Juan Antonio Roda, Marta Traba, and Armando Villegas.
At the University of the Andes, where she taught from 1961 to 1965, Hoyos made her teaching debut.
She began exhibiting in 1966, and in 1967, she won the Young Painter's Biennial's second prize at the Museum of Contemporary Art in Bogotá.
She won first place in the "Environmental Spaces" exhibition at the Bogotá Museum of Modern Art the following year.
She married architect Jacques Mosseri Hané in 1967, and the couple spent a month exploring Pop Art exhibits in New York City before returning to Bogotá. Subsequently, their daughter Ana was born in 1969.
She produced Pop Art works in the latter half of the 1960s, and by the 1970s, she was producing abstract works in a minimalist style. Her first series, Ventanas (Windows), which many people consider to be her most significant work, was the result of these.
The framed image becomes more obscure in her later works in this series, making it impossible to tell whether the viewer is looking in or out of the window. At the 22nd Salon of National Artists in 1971, paintings 1–10 from the Ventanas collection earned Hoyos the Caracas Prize.
By the mid-1970s, Hoyos' series Atmósferas (Atmospheres) broke through the window and the images explore the unfettered expanse of light, abandoning the frame entirely.
Hoyos won the first place prize at the 27th National Salon of Visual Artists in 1978 for her Atmósferas works. This was controversial because the Colombian art scene was so competitive, and it eventually led her to make New York City her second home.
She was invited to participate in the Biennale de Paris and an exhibition called "GeometríaSensível" with Roberto Pontual and other Latin American artists hosted by the Museum of Modern Art in Rio de Janeiro as a result of the recognition, which also brought her international exposure.
Hoyo's next evolution came in a series of floral and fruit paintings in which she focused on the flower head of sunflowers and removed the majority of the petals. From these pictures, she moved into a series of still lifes getting back to a window-like photographic frame.
Reworking some of their paintings, Hoyos' study of history inserted her own perspective on magical or mythical and ethnic experiences into the European tradition.
In 1988, she was brought to the consideration of North American audiences with an interview in Newsweek, which highlighted interviews with artists marked "new teachers".
Hoyos came to appreciate her Afro-Colombian heritage through her still lifes, moving from admiring the lush bounty to the cultural contributions and multicultural diversity of the people who lived in Colombia.
She started researching subjection and its partner, the idea of freedom, to come to a comprehension of how those historical events shaped and changed Colombia.
She started collecting testimonials from common people, their herbal knowledge, legends, games, and cultural traditions, and began documenting the history of San Basilio de Palenque through photographs and oral interviews.
She produced a series of works on the Afro-Colombian community for which she is most well-known and gained widespread recognition as a result of this exploration into Colombia's past.
Hoyos accepted an invitation from the Japan Foundation in 1992 to take part in an artist cultural exchange program. Works from her collection on Palenque were shown at the Yoshii Gallery in New York City the following year.
She was invited to the White House conference on "Culture and Diplomacy" in 2000 by President Bill Clinton. She received an Honoris Causa master's degree in visual arts from the University of Antioquia in Medellin that same year.
A traveling exhibition of Hoyos's work traveled throughout Mexico from November 2004 to March 2005, before moving on to Colombia that same summer.
Her images of the multicultural traditions of mestizos and Afro-Latinos reflected both the art movements of her time and her pictorial commentary on Latin American history.
She received over seventeen awards of national and international acclaim during her half-century of artistic works.
Her work moved from the abstract Pop Art style at the beginning of her career to cubism and realism as she explored light, color, sensuality, and the bounty of her surroundings.
Her subsequent works focused on Afro-Colombian and mestizo heritage within the Colombian landscape, and her reinterpretations of master painters led her to an exploration of Colombian multiculturalism.
At the Nueveochenta Gallery in February 2014, an exhibit called Tres D (3-D) featured Hoyos's rarely-seen sculptural works. Throughout her career, her three-dimensional works followed and were consistent with the themes in her paintings.
Hoyos planned to donate her palenqueros-related artifact collection to the United Nations University in Tokyo shortly before her death in July 2014, with a smaller portion going to the National Museum of African American History and Culture, which houses the Smithsonian Institution's African-American history collection.
Hoyos died in Bogotá on September 5, 2014, after a brief hospitalization.
She received over 17 national and international awards during her lifetime in recognition of her work.
Her works are part of the Fuji Art Museum's permanent collection in Tokyo; the Ibercaja Collection in Zaragoza, Spain; the Mexico City Museum of Modern Art; the Nassau County Museum of Art of Roslyn Harbor, New York, as well as the Bogotá Museum of Modern Art and museums in other Latin American cities.
The Google Doodle was dedicated to Hoyos on December 17, 2022, to commemorate her life and work. Hoyos won first place in the 1968 exhibition "Environmental Spaces" at the Bogotá Museum of Modern Arts on this day.