Interesting Facts about Judith Leyster, a Dutch Golden Age painter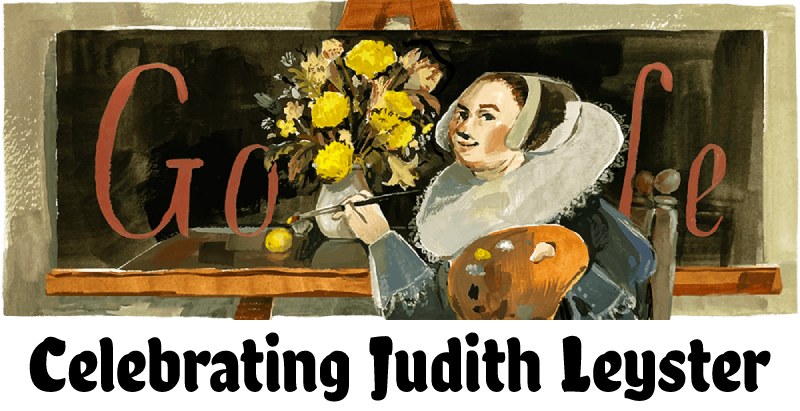 Search engine giant Google launches a Google Doodle on December 19, 2022, to honor Dutch Golden Age painter Judith Leyster, who was one of the first women to be admitted to a Guild of Saint Luke in the Netherlands during the seventeenth century. Here are some interesting and fun facts about Judith Leyster.
Who was Judith Leyster?
Personal
Birthplace: Haarlem, County of Holland, Dutch Republic
Baptised: July 28, 1609
Died on: February 10, 1660 (aged 50)
Death place: Heemstede, County of Holland, Dutch Republic
Nationality: Dutch
Known for: Painting
Notable work: The Proposition, 1631
Interesting and Fun Facts about Judith Leyster
Judith Leyster, a Dutch painter emerged from obscurity as one of the few female artists of her time. Still lives, genre paintings, and portraits are among her most well-known works.
Dutch artist who painted mostly genre scenes. Because her works were wrongly attributed for almost three centuries, she received critical acclaim while remaining unknown.
Judith Leyster was born in Haarlem in 1609, and his name means "lodestar," which means something or someone who inspires or directs.
She was born into a materially and financially comfortable home: Brewing was a respected and lucrative occupation. However, Willemssen was left with four dependent children in 1625 when the business declared bankruptcy for unknown reasons.
Art historians speculate that Judith Leyster's career as a painter was sparked by this reversal of fortune: She was given the chance to study in Utrecht when the family moved from Haarlem to a small town near Utrecht.
With their distinctive use of chiaroscuro, many of her later works demonstrate the influence of the famous Utrecht Caravaggisti.
Judith Leyster was a brewer's daughter. She started painting when she was young, and by the time she was 24, she had joined the Haarlem painters' guild.
She was one of the first to capitalize on the domestic genre scene, and her subject matter covered a wider range than was typical of Dutch artists of the time.
Judith Leyster's works were signed with a star-attached monogram of her initials JL. This was a play on words: "Leister" meant "Lead star" in Dutch, was the common name for the North Star at the time for Dutch mariners. Her father owned a brewery in Haarlem that went by the name The Leistar. Her full name was only occasionally used to sign her works.
In 1628, when poet Samuel Ampzing visited Haarlem to write about the city, he famously said that Leyster, then 19, was a painter with "good and keen insight."
Female professional painters were uncommon in Europe at the time. However, this did not deter Leyster from her.
Leyster was back in Haarlem by 1629, and her works from that time show that she was studying in Frans Hals' shop at the time.
Judith Leyster might have worked in Frans Hals' shop, or, as per the poet Samuel Ampzing, she spent time with portrait painter Frans Pieterszoon de Grebber.
According to historian Simon Schama, many of Leyster's works are "celebrations of unpretentious joys," and The Jolly Toper, one of her earliest known monogrammed paintings, appears to be exactly that.
Leyster finished her first known painting, Serenade, and Jolly Topper, in 1629, capturing everyday life with her spontaneous and free signature brushstrokes. She used a distinct monogram to sign her name: "J.L." crossed by a star—a play on her last name.
She was also interested in the Utrecht school's tenebrist style. In her paintings, like the lamp-lit The Proposition (1631), she used light sources. Between 1629 and 1635, she painted the majority of her dated works.
Judith Leyster moved to Amsterdam with genre painter Jan Miense Molenaer after marrying him in 1636.
In the past, several of Judith Leyster's works were attributed to her male contemporaries. Among her most popular paintings is The Proposition, Carousing Couple (1630; also known as The Happy Couple), and Boy Playing the Flute (c. 1635).
Although her works cover an unusually broad range of subjects—portraits, genre scenes, and flower illustrations—in contrast to the specialization of other Dutch women artists of the time, many of Leyster's paintings contain similar underlying messages.
A few years after completing her first painting, Judith Leyster became one of the first women admitted to Haarlem's esteemed painters' guild. She also established her own studio and began enrolling students during this time.
Training in an artist's studio required copying and working together on the master's works. Through this process, Leyster developed a style which, however comparable enough to have been mistaken for Hals', may be made considerably more outrageous use, notes Schama, of "the Caravaggist style of large and looming figures brought close to the picture edge in dramatic lighting and heroic posture" to represent everyday circumstances.
Judith Leyster's mastery of light is demonstrated in the painting The Proposition, which was completed in 1631. This scene of a man approaching a sewing woman from the side and offering coins is illuminated by a single flame.
Leyster was the first woman to join the Haarlem Guild of St. Luke in 1633. This gave her permission to start her own workshop and take on students the following year.
Judith Leyster's first known signed work is dated 1629. She was admitted as a member of the Haarlem Guild of Saint Luke in 1633. Some sources claim that Leyster was the first woman registered by the Guild in 1633, while others claim that Sara van Baalbergen was the first woman in 1631.
Leyster married Jan Miense Molenaer in 1636, an artist who was more prolific than she was, and worked on similar subjects. The couple relocated to Amsterdam, where Molenaer already had clients, in the hope of better economic prospects. Before moving back to Heemstede in the Haarlem region, they remained there for eleven years. In the small house that is now Groenendaal Park, they shared a studio.
The majority of Judith Leyster's works are dated between 1629 and 1635 predating her marriage. She painted a few known works after 1635, including the following: two illustrations from a book that was written in 1643 about tulips, a portrait from 1652, and a still life from 1654 that was found in a private collection in the 21st century.
Judith Leyster may have been respected by her peers and had financial success as an artist, but art historians later mistook her paintings for those of her male contemporaries, erasing her from history.
In 1892, an observant finally noticed a star insignia on one of Leyster's paintings in the Louvre. The observer commented that the star did not match the male artist's signature. Leyster was able to reclaim her place in history as a result of the art world being forced to confront its decades-long misattribution. Since then, more than 30 Leyster masterpieces have been identified by scholarly detectives.
Until 1893, her entire output was credited either to Frans Hals or to her husband, Jan Miense Molenaer. She wasn't known for her artistic abilities until the late 19th century.
Judith Leyster's other work was similar to that of many of her contemporaries, including her husband Molenaer, the brothers Frans and Dirck Hals, Jan Steen, and the Utrecht Caravaggisti Hendrick Terbrugghen and Gerrit van Honthorst. This was especially true for her work with music-makers.
Judith Leyster died at age 50 in 1660. Her artwork was not recognized as hers for close to 200 years, and she was buried on a farm outside of Haarlem.
Her only known history painting is David with the head of Goliath (1633), which does not depart from her typical portrait style and features a single figure close to the front of the picture space. She only painted a few actual portraits.
Despite the fact that the tulip illustrations are the most recent signed works that have been attributed to Leyster, another painting, the Portrait of a Man, which was painted in 1652, is now known to be by her and is her final work: a simple, chronologically erroneous picture, addressing another Haarlem artist is accepted.
An engraving made after one of Judith Leyster's paintings with the inscription "Frans Hals pinxit" marked the beginning of the misattribution of her work during her lifetime.
The Rijksmuseum in Amsterdam is one museum that has Judith Leyster's works on display; The Hague's Mauritshuis; Haarlem's Frans Hals Museum; the Louver, Paris; London's National Gallery; and the Washington, DC-based National Gallery of Art.
Judith Leyster's work was included in the Rijksmuseum's "Gallery of Honor" in March 2021. The first women to be represented in the gallery are Rachel Ruysch, Gesina ter Borch, and Leyster.
One could say that Judith Leyster, a master painter from the 17th century who was a key figure in the Dutch Golden Age, brought a painting to the easel. However, for decades, art dealers incorrectly attributed her paintings to male artists due to misogyny and a forged signature.
In honor of Judith Leyster, Google displayed a Google Doodle on its homepage on December 19, 2022. In 2009, the Frans Hals Museum and the National Gallery of Art held exhibitions to rightfully honor her legacy on this day.