Interesting Facts about African-American activist Mary Ann Shadd Cary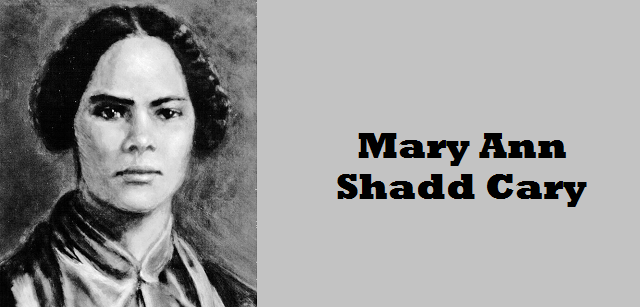 Search engine giant Google celebrates the 197th birthday of African-American activist Mary Ann Shadd Cary, the first black women publisher in North America and the first women publisher in Canada, on October 9, 2020.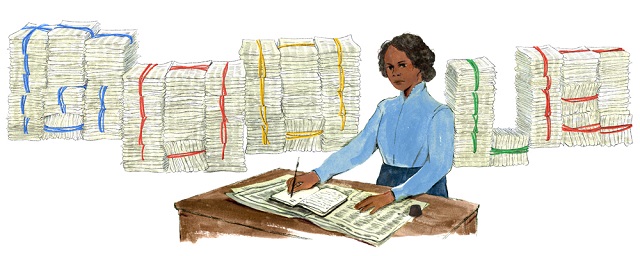 Here's a look at the life and work of American-Canadian activist Mary Ann Shadd.
Personal
Birthdate: October 9, 1823
Birthplace: Wilmington, Delaware
Died on: June 5, 1893 (aged 69)
Death place: Washington, D.C.
Father name: Abraham Doras Shadd
Mother name: Harriet Burton Parnell
Spouse: Thomas F. Cary
Children: Sarah Elizabeth Cary; Linton Shadd Cary
Education:

Quaker Boarding School, Pennsylvania
Howard University School of Law

Known as: Anti-slavery activist, journalist, publisher, teacher, lawyer, abolitionist
Interesting Facts about Mary Ann Shadd Cary
Recognized as Canada's first female newspaper publisher and the North American continent's first woman publisher of African descent, Mary Ann Shadd Cary edited an 1850s abolitionist journal called the Provincial Freeman.
Mary Ann Shadd was born in Wilmington, Delaware, the eldest of 13 children to Abraham Doras Shadd and Harriet Burton Parnell, who were free African-Americans.
The Shadd family moved to Pennsylvania, where Mary went to a Quaker Boarding School.
In 1840, after being away at school, Mary Ann got back to East Chester and set up a school for black children.
Mary Ann Shadd Cary likewise later taught in Norristown, Pennsylvania, and New York City.
At 25 years old, Mary Ann Shadd wrote a letter to Frederick Douglass to say, "We should do more and talk less." Douglass published her letter in his paper, The Northern Star.
Mary Ann Shadd and her brother Isaac Shadd moved to the United Canadas and settled in Windsor, Ontario, across the border from Detroit. This is the place Mary Ann's efforts to make free black settlements in Canada initially started.
An advocate for emigration, in 1852, Mary Ann Shadd published a pamphlet entitled A Plea for Emigration; or Notes of Canada West, in Its Moral, Social and Political Aspect: with Suggestions regarding Mexico, West Indies, and Vancouver's Island for the Information of Colored Emigrants. The pamphlet talked about the advantages of emigration, as well as the opportunities for blacks in the region.
In 1852, Mary Ann Shadd Cary wrote a report urging other African Americans to make the trip north to Canada.
In 1853, Mary Ann Shadd established an anti-slavery paper, called The Provincial Freeman. The paper's motto was "Devoted to antislavery, temperance, and general literature." It was published weekly, and the first issue was published in Toronto, Ontario, on March 24, 1853. It ran for four years before financial difficulties constrained the paper to overlay.
Mary Ann Shadd Cary traveled broadly in Canada and the United States to expand subscription to the paper and to publicly request help for runaway slaves.
In her initial adulthood years, Mary Ann Shadd Cary urged free African-Americans to immigrate to Canada and, to this end, published a powerful 1852 pamphlet.
In 1854, Mary Ann Shadd changed the masthead to include her own name, instead of McArthur and Ward.
Somewhere in the range of 1855 and 1856, Mary Ann Shadd Cary went into the United States as an anti-slavery speaker, advocating for full racial integration though education and self-reliance.
In 1856, Mary Ann Shadd Cary wedded Thomas F. Cary, a Toronto barber who was likewise engaged with the Provincial Freeman. She had a daughter named Sarah and a son named Linton.
Mary Ann Shadd Cary was teaching in Michigan in 1861 when the North and South did the war. She got back to Canada two years after the fact and became a naturalized British citizen.
In 1863, Mary Ann Shadd Cary worked as a recruiting officer for the Union Army in Indiana and urged African Americans to join the battle against the Confederacy and slavery.
After the Civil War, she taught in black schools in Wilmington. She at that point got back to Washington, D.C., with her daughter, and taught for fifteen years in public schools.
During the Civil War years, Mary Ann Shadd Cary selected African-American soldiers to the Union Army. In the post-war period, she studied law at Howard University School of Law and, at age sixty in 1883, became the second American-born woman of African descent to hold a J.D. and just the second black woman in the United States to receive a law degree.
Mary Ann Shadd Cary wrote for the newspaper 'The People's Advocate'. She likewise wrote for a local African American newspaper 'The New National Era' and gave public speeches to urge African Americans to cooperate to recoup from the slavery period.
Mary Ann Shadd Cary was additionally a founder of the Colored Women's Progressive Franchise Association in 1880.
Shadd Cary joined the National Woman Suffrage Association, working close by Susan B. Anthony and Elizabeth Cady Stanton for women's suffrage, testifying before the Judiciary Committee of the House of Representatives and becoming the first African-American woman to vote in a national election.
Mary Ann Shadd Cary passed on in Washington, D.C., on June 5, 1893, from stomach cancer. She was buried at Columbian Harmony Cemetery.
In the late 1950s, about 37,000 buried here were moved to National Harmony Memorial Park in Landover, Maryland.
In the United States, Mary Ann Shadd Cary's previous home in the U Street Corridor of Washington, DC, was proclaimed a National Historic Landmark in 1976.
In 1987 she was assigned a Women's History Month Honoree by the National Women's History Project.
In Canada, she was assigned a Person of National Historic Significance, with a plaque from the National Historic Sites and Monuments Board located in Chatham, Ontario in 1994.
In 1998, Mary Ann Shadd Cary was drafted into the National Women's Hall of Fame.
In 2009, She is included in Canada's citizenship test study guide, released.
There is a Mary Ann Shadd Cary collection at Library and Archives Canada.
On October 9, 2020, Google celebrated Mary Ann Shadd Cary's 197th Birthday with Google doodle.