Interesting Facts about Lily Poulett-Harris, an Australian Cricket Player and Educator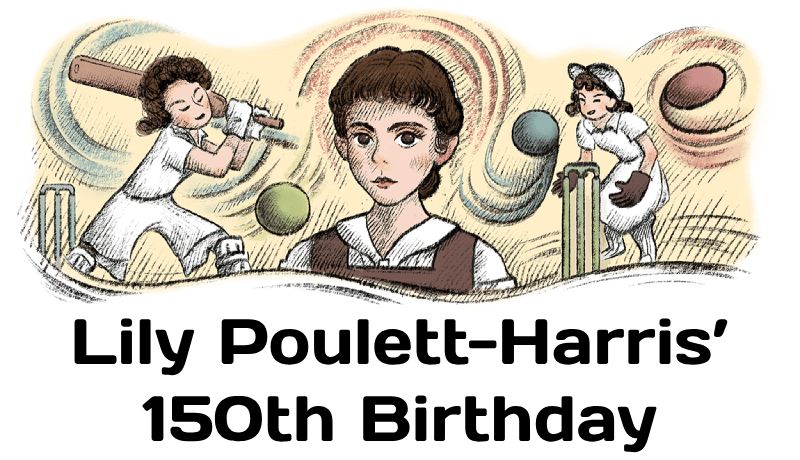 Today's Google Doodle honors Lily Poulett-Harris, an Australian cricket player and educator, on her 150th birthday on September 2, 2023. She was born in Tasmania on this date in 1873 with the name Harriet Lily Poulett-Harris. Here are some interesting and fun facts about Lily Poulett-Harris.
Here is a look at the life and work of Lily Poulett-Harris.
Who was Lily Poulett-Harris?
Quick Look
Birth date: 2 September 1873
Birthplace: Hobart, Australia
Died on: 15 August 1897 (aged 23)
Death place: Hobart, Australia
Famous as: Cricketer, teacher
Father name: Richard Deodatus Poulett-Harris
Mother name: Elizabeth Eleanor (née Milward)
29 Interesting Facts about Lily Poulett-Harris
The first women's cricket team in Australia was founded and captained by Australian sportswoman and educator Lily Poulett-Harris.
On September 2, 1873, Harriet Lily Poulett-Harris was born (but she is always referred to as Lily in later sources).
It is not surprising that she and several of his other children followed him into careers in education as her father was well-known for being the head of the Hobart Boys' High School and one of the founding fathers of the University of Tasmania.
Lily Poulett-Harris spent her early years in Hobart, where her father was a professor.
In addition, Lily's father served as a part-time rector at Hobart's Holy Trinity Anglican Church. Lily was raised in this devout, resolutely low church environment.
Poulett-Harris learned from her father, who oversaw the Hobart Boys' High School and contributed to the establishment of the University of Tasmania, as she grew up.
She took an exam with scholarship candidates even though she wasn't qualified for funding at her father's institution, and she came in second.
In December 1882, Lily Poulett-Harris, who was educated by her father, was awarded a Level II mark.
Lily was permitted to take the major exams in 1884 even though she was not qualified for a scholarship as a "trial of strength." She finished second.
Lily Poulett-Harris was a violinist at the school as well. She continued to play both the piano and this instrument throughout the rest of her life, occasionally giving performances in front of the public in Peppermint Bay and Hobart.
After his retirement in 1885, her father bought a hotel in Peppermint Bay (Woodbridge) and turned it into a house that he called "The Cliffs." Here, Lily Poulett-Harris was to grow up and spend her formative years.
Poulett-Harris was a multi-talented woman who played the piano and violin in addition to competing in sports.
Lily Poulett-Harris' love for the sport was probably sparked by the fact that her older brother played cricket and her father served as a trustee for the Southern Tasmanian Cricket Association.
The Oyster Cove Ladies' Cricket Club was founded by Lily in 1894 as a result of her desire to play cricket.
She suggested in 1894, the Oyster Cove Ladies Cricket Club was established. Many people believe this was Australia's first dedicated cricket organization.
Lily Poulett-Harris led the team as captain and rose to prominence in sports publications as a talented and graceful athlete who encouraged numerous additional female players to join.
As Tasmania's cricket industry grew, other women's teams sprang up in Hobart, Huonville, Ranelagh, and Green Ponds.
Her athletic career was extensively well-documented in the newspapers of the time. She typically batted in the third or opening positions.
Eleanor (also known as Nellie), Lily Poulett-Harris' older sister, had previously taught at the Hobart Ladies' College before starting the Ladies' Grammar School and Kindergarten at 26 Davey Street (opposite Franklin Square) in 1894. There, both Lily and Violet were slated to teach.
Lily, a violinist, attended the school's music classes. She had moved from Peppermint Bay to the city permanently and now resided at the school.
Lily Poulett-Harris was still actively involved in church and social events when she went back home.
She reportedly apparently started attending All Saints Church in South Hobart's Macquarie Street around this time. The church is conveniently located close to the school.
Poulett-Harris continued to teach, play music, and participate in cricket for the rest of her life.
Lily Poulett-Harris died on the evening of 15 August 1897.
Plaques honoring her may be seen at Saint Simon and Saint Jude Anglican Church in Woodbridge and All Saints Anglican Church in Hobart, both of which she frequently performed.
On the rear wall of the All Saints' Anglican Church in South Hobart is a plaque honoring Lily. It characterizes Lily as "bright and lovable" and was donated by the faculty and students of the Ladies' Grammar School and Kindergarten.
Additionally, the Saint Simon and Saint Jude Anglican Church in Woodbridge has a plaque honoring her legacy.
A new article about Lily Poulett-Harris was published in Sydney's Daily Telegraph in March 2016. The article, titled "The Southern Stars Owe a Huge Debt to the Tasmanian Schoolteacher Who Became Australia's First Female Cricket Star," recounts her life and considers how she continues to influence women's cricket in Australia, noting that she has been "responsible for inspiring many other women to take up the sport."
On 2nd September 2023, Google featured a Google Doodle on its homepage to celebrate Lily Poulett-Harris' 150th Birthday.