List of top 20 cars and trucks with the greatest potential lifespan and best new SUVs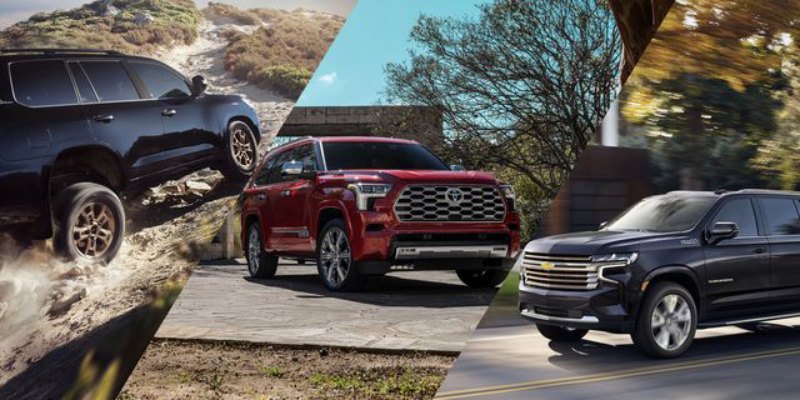 Which automaker makes vehicles with the longest lifespan? Buying a car is beginning to make me feel pretty bad. Finding what you want can be difficult, and even when you do, there's a good chance that it won't sell for what you expected. Not buying a new car is the least stressful way to deal with the situation, but how can you tell how long your current vehicle will last? According to a recent study conducted by iSeeCars, some vehicles are more likely than others to provide a significant number of miles of usable driving. A new report from iSeeCars lists the 20 best new SUVs with more than 200,000 miles on the odometer. The list only includes one Subaru model. Here, you can find the best SUVs.
Does Subaru produce cars with the longest lifespans? A new report from iSeeCars says that Subaru only has one all-wheel-drive model that has the best chance of going over 200,000 miles. Based on its previous longevity records, it is the 2023 Subaru Outback.
Over two million cars from at least 10 of the last 20 model years were looked at in the iSeeCars lifespan study, and each model was ranked according to the cars with the highest mileage. The following models have seen a lot of use over the past 20 years, clearing between 200,000 and 300,000 miles.
The cost of acquiring brand-new automobiles is rising. However, they are also longer-lasting than before, ensuring that motorists will get their money's worth.
According to a joint forecast from J.D. Power and LMC Automotive, the average transaction price for new cars hit an all-time high of $45,872 in November. In addition, a separate report from IHS Markit found that the average age of cars on the road reached an all-time high of 12.2 years in 2022.
Ten years ago, the average age was just over 11 years old. It was 9.6 years in 2002.
According to Edmunds news editor Will Kaufman, advances in technology and materials have contributed, "and it doesn't hurt that today's vehicles have better ways to alert owners when there are maintenance issues."
20 cars and trucks with the greatest potential lifespan
| Rank | Model | Lifespan (among top 1% over 200K miles) |
| --- | --- | --- |
| 20 | Toyota Camry Hybrid | 230,547 |
| 19 | Ford F-150 | 232,650 |
| 18 | Nissan Titan | 233,295 |
| 17 | Toyota Tacoma | 235,070 |
| 16 | Honda Odyssey | 235,852 |
| 15 | Honda Pilot | 236,807 |
| 14 | GMC Yukon | 238,956 |
| 13 | Toyota Sienna | 239,607 |
| 12 | Toyota 4Runner | 244,665 |
| 11 | Ford Expedition | 244,682 |
| 10 | Toyota Highlander Hybrid | 244,994 |
| 9 | Toyota Avalon | 245,710 |
| 8 | Honda Ridgeline | 248,669 |
| 7 | Chevrolet Tahoe | 250,338 |
| 6 | Toyota Prius | 250,601 |
| 5 | GMC Yukon XL | 252,360 |
| 4 | Toyota Tundra | 256,022 |
| 3 | Chevrolet Suburban | 265,732 |
| 2 | Toyota Land Cruiser | 280,236 |
| 1 | Toyota Sequoia | 296,509 |
According to a recent iSeeCars study, which looked at more than 2 million cars from the past 20 years to determine which ones could last the longest, the Toyota Sequoia topped the list of models with the longest lifespans. It can go nearly 300,000 miles, and the Land Cruiser comes in second.
In general, SUVs and trucks are the most frequently ranked vehicles, while the Prius and Avalon, two of the most fuel-efficient passenger cars, earned two spots on the list.
"What we see is a list of highly-durable vehicles, capable of more than a quarter-million miles of use if properly maintained," said iSeeCars Executive Analyst Karl Brauer. "And to be clear, this study isn't reporting the maximum lifespan of these vehicles. This is simply a measure of current odometer readings. Most of these cars are still in use and going strong."
As you can see, the Subaru Outback is the only SUV model of Subaru with a high potential lifespan, with over 200,000 models anticipated. The iSeeCars study suggests that the Outback will last 208,298 miles.
How does the reliability of the Subaru Outback stack up against that of other Subaru models?
IHS Markit, which is now part of S&P Global data, reveals which Subaru models have the longest lifespans in another dependability study. The Subaru Outback, a midsize SUV, wins the title for the longest time, but not by much. According to the data, 97% of the Outbacks that were sold in the last ten years are still in use today.
IHS Markit research on vehicles operating as of June 30, 2022, for model years 2013 to 2022 and the total number of new registrations for those vehicles served as the basis for the data.
The second-longest-lasting Subaru model is the Forester.
With 96% of the compact SUVs sold in the past ten years still in use today, the Subaru Forester comes in second place behind the Outback.
The Subaru Impreza reduced car and hatchback models and the Subaru Legacy sedan are the next longest-lasting models. According to S&P Global, 95% of Impreza and Legacy models manufactured between 2013 and 2022 are still on the road today.
Where do the Subaru Crosstrek and Ascent rank in longevity?
The S&P Global report doesn't rank the Subaru Crosstrek subcompact SUV. We are aware that Consumer Reports has ranked it among the most dependable Subaru models. The 2019 Subaru Ascent 3-Row family hauler was just released, and additional information regarding the midsize SUV needs to be gathered.
Similar to other studies, the Subaru Outback has a history of being the model with the longest lifespan, clocking well over 200,000 miles.
Six of the top 10 were SUVs, trucks, or cars made by Toyota. The three-row SUVs GMC Yukon and Chevrolet Suburban round out the top five contenders.
According to the report, each car and truck on the list can travel at least a quarter-million miles or more.
Although some models clearly have the potential to travel much farther, most drivers consider the 200,000-mile mark to be the upper limit of a car's lifespan.
According to IHS Markit, which keeps track of vehicle registrations in every state, consumers have been using their existing vehicles for longer due to a limited supply of new cars and trucks caused by the ongoing chip shortage.
At the same time, millions of people who used to drive to work reduce the number of miles they put on their cars when they work from home, which makes their vehicles last longer.