Miley Cyrus explains what being an eccentric individual in a 'hetero relationship' resembles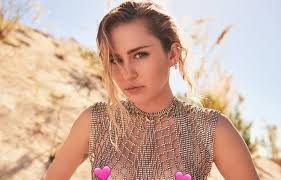 Miley Cyrus has opened up about her ongoing marriage to Liam Hemsworth and what it resembles to be a "eccentric individual" in a "hetero relationship".
As indicated by Cyrus, who disclosed the couple's choice to wed following 10 years in another interview and personal essay with Vanity Fair,, their relationship is rethinking existing cultural and gender norms.
"The reason that people get married sometimes can be old-fashioned, but I think the reason we got married isn't old-fashioned – I actually think it's kind of New Age," the 26-year-old said. "We're redefining, to be f***ing frank, what it looks like for someone that's a queer person like myself to be in a hetero relationship."
Cyrus likewise explained how she encounters love – and how her way of life as an eccentric individual impacts that.
"What I preach is: People fall in love with people, not gender, not looks, not whatever. What I'm in love with exists on almost a spiritual level," the Nothing Breaks Like A Heart singer said.
"Relationships and partnerships in a new generation – I don't think they have so much to do with sexuality or gender."
As for why the couple decided to get married, Cyrus said the decision stemmed from the Woolsey Fire that destroyed their Malibu home in November.
Recognizing that the marriage was "out of character" for her and that she "didn't need it in any way," the pop star clarified that the fire changed them and she realised that she and Hemsworth were "stronger together".
But apart from referring to Hemsworth as her husband now, rather than her "survival partner," Cyrus said their relationship feels "zero per cent different" since they said "I do".
"Just because something changes in my relationship doesn't mean something has to drastically change in my individuality," Cyrus wrote in her personal essay.