NAMM 2022: What to Expect from the biggest music gear show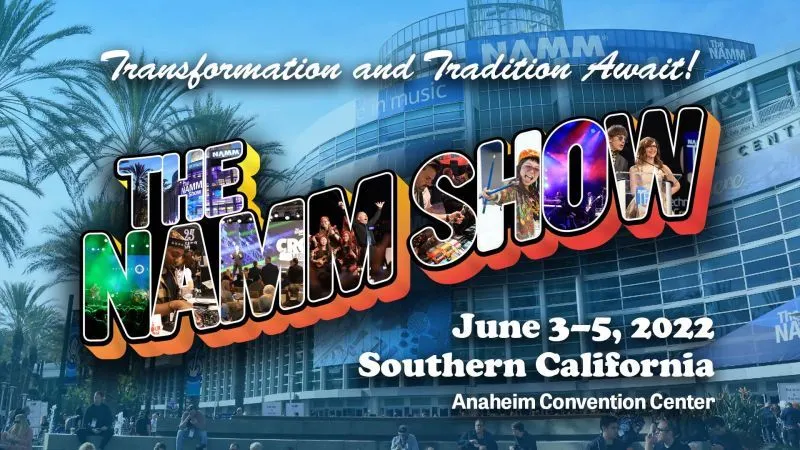 The NAMM show – the biggest music gear show in the world- will soon be back for the Summer 2022. Finally. With the past two giant shows being a no-show, it's making a welcome return. The show begins on June third, running until June 5th, 2022.
It's been a minute, yet NAMM is back for 2022 – and we're close by to present to you all the hottest gear news from the familiar venue of Anaheim Convention Center, in the not-so-familiar month of June.
In the wake of dropping the current year's Summer NAMM show in Nashville and moving the lead January occasion to June 3-5, the National Association of Music Merchants is promising a "greatest hits" gear soiree for NAMM 2022 – which sounds very great to us.
his year's company roster looks a little different from previous shows – there's no Fender, Gibson, or PRS, for starters – so we'll be sharing any big gear releases taking place around the event right here, as well as bringing you the latest action from the show floor on our NAMM 2022 live blog come June 3.
Here's what to expect from your year in gear…
Ernie Ball generally goes huge come NAMM time, and this year is no exception. There are now two striking new finishes for Jason Richardson's signature model. As for what else is in store, expect the unexpected. That's all we're saying…
Do you know who else never fails to launch a new guitar at NAMM? Reverend. The show will stamp the presentation of Billy Corgan's new Z-One mark model, as well.
Rob Scallon has dropped a trio of signature models with Schecter, marking the end of his partnership with Chapman Guitars.
Ibanez is keeping its launches under wraps, but we have to wonder whether the mysterious Talman nylon strings spotted in Polyphia's latest video will make an appearance…
Vintage will be showcasing 'The Boss', its ProShop take on Bruce Springsteen's iconic number one Tele.
There were 43(!) new LTD and LTD Deluxe guitars in ESP's January launch – June's show marks their official debut, but we'd wager there will be more than a few jaw-dropping custom models on display, too.
We're looking forward to acquainting ourselves with Yamaha's revamped Revstar range – and hoping to see a few new models on the stands, too.
Vola has unveiled 6-string versions of its Quentin Godet, and Pierre Danel signature guitars.
Blackstar has appeared in its all-new St. James amp series, featuring "the lightest 50-watt valve guitar amps on Earth", and rammed with smart tech, including Cab Rig software-powered sounds and new Celestion Zephyr speakers.
What will Vox bring to the table this year? More Nutube tech? Fresh variations on its Bobcat semi-hollows? The world will implode if we don't see at least one limited-edition AC30 colorway – UPDATE: It's happened (just about): Vox has unveiled new, limited-edition Rich Blue AC15 and AC10 guitar amps.
The Spark Mini will be the beauty of Positive Grid's NAMM ball, although we'd be surprised if we didn't see another launch or two.
A fresh swarm of Hornet desktop amps has arrived from Mooer, available in green, blue, and pink variations, each with a different set of amp models.
BluGuitar's Amp X – which debuted way back at NAMM 2020 – will be making its first public appearance in its final guise, packing a host of preamps, speaker emulations, and effects in a fully programmable pedalboard amp.
One of this year's biggest launches is the arrival of Two Notes' tube-driven ReVolt Guitar and Bass amp simulator pedals – each one packs three amp types based on popular Fenders, Ampegs, Marshalls, and more, complete with a real 12AX7 tube and Two Notes' acclaimed cab captures.
Universal Audio is aiming to channel "the best vintage guitar amps of all time" with its all-new UAFX Guitar Amp Emulator pedals.
More, more Morley! The company has launched the George Lynch Dragon 2 wah, a smaller, glow-in-the-dark take on the Dokken man's signature wah.
Revv has sought to combine the "greatest amp sounds in history" in its new Shawn Tubbs signature overdrive pedal, the Tilt.
Crazy Tube Circuits has launched the Super Conductor, a four-in-one analog boost pedal.
The Badwater bass preamp and DI marks a dedicated bass offering from Walrus Audio – are more guitar-y launches on hand for the show?
Gamechanger Audio is debuting its innovative Bigsby Pedal in its final form.
Line 6 will be showing off the DL4 MkII in all its glory.
New from Tech 21 is four SansAmp Character Plus pedals, which celebrate iconic pairings of amps and effects.
Old Blood Noise Endeavors and CHVRCHES have teamed up for the Screen Violence overdrive and modulation pedal.
The Plethora X3 is a downsized version of TC Electronic's feature-packed multi-effects pedal – and it looks brilliant.
Taylor has overhauled its 700 Series with new koa Grand Concert and Grand Auditorium models, replacing its traditional spruce/rosewood combo.
Donner has got into the carbon fiber guitar game with the Rising-G Pro – promising a "thinner and more durable" instrument than traditional wooden acoustics – and an ultra-portable, headless silent guitar, the Hush-I Silent.
Cort has added three new Fishman-equipped acoustic-electric guitars to its Core Series, but we're sure that's just the tip of the iceberg…
Martin never fails to launch some spectacular strummers, and there are some lookers on the cards this year…
Ernie Ball has debuted a five-string version of its DarkRay collaboration with Darkglass Electronics, but there's bound to be more…
Seymour Duncan launched new '78, Green Magic and High Voltage humbuckers in early May, inspired by Eddie Van Halen, Peter Green, and Angus Young. Fingers crossed for some fresh stompboxes, too.