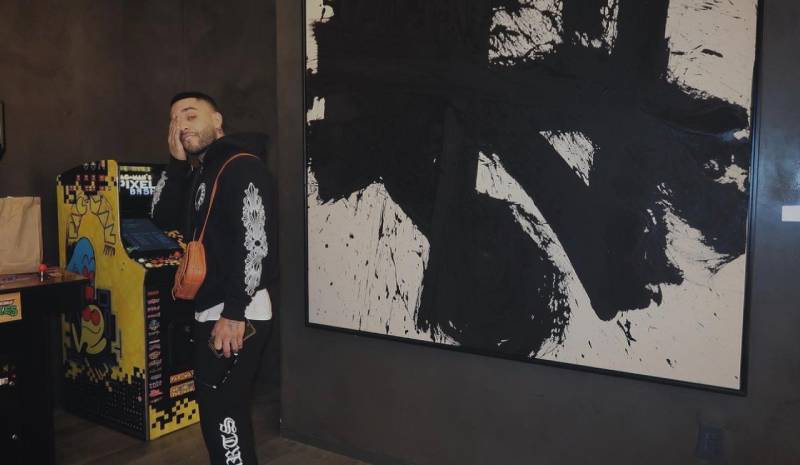 1) WE'RE excited to be interviewing today, KVMRON also known as Kamron Rivera. So, Kvmron, How have you been?
Been blessed my man, thank you.
2) Where are you from?
Originally from Los Angeles my pops is from Puerto Rico and my mom is from Afghanistan.
3) Where did you grow up?
Moved around a lot throughout Los Angeles Mainly from the 818 Valley Woodland Hills to specific.
4) What was the process for you to find what you wanted to do? 
Honestly it's a pretty funny story. One of my childhood friends and I had one of regular discrepancies. We were talking for a couple months but lived across the street from one another. One day we made our peace and he mentioned how he had been recording out of his house. He invited me over and made me get in the booth. We had worked for months. I was a stylist for a store down in Melrose and worked with some artists. The minute one of the bigger named artist said I need to get this music out there I uploaded my first single. Months later here I am…
5) Can you talk to us more about your latest track "Let Me In"?
Yeah most definitely it's pretty much a song for the females. I try to keep a diverse sound. I don't want to be categorized in a specific genre. This was one of the slower jams. It's definitely a song that sets that tone we've been missing since Bryson took a seat.
https://open.spotify.com/track/2ureZgbTydqXudhwQ1KbAi?si=ff866a7c83454793
6) Where did you find the inspiration for the songs?
I get inspiration from life experiences, I'm just trying to give a little more real. Once I hear a beat or melody I just go from there.
7) What is the most rewarding part of your job?
I love to give off energy. Music does a lot for people. I like to give them whatever it is they are in need of.
8) What do you want your audience to know?
I got my first EP coming next year. I have some big features on it too.
9) What is your greatest success so far?
Making it to where I am today is a success itself. I'm grateful for it all.
10) What are some of the challenges you faced along the way?
Nothing worth mentioning we all have our story. We all go through it no need to give attention to anything that isn't pushing you forward.
11) Where do you see yourself in the next five years?
Hard to say. It's been a big 3 months. I just hope that I still can maintain peace in my life. That's all that matters.
12) Who is your biggest inspiration?
My biggest inspiration is my son Goku. He means the world to me. I want to continue to give him the life he deserves.
13) What would be your message for the fans? 
I just want to say thank you. Anything is possible with a little consistency. I love you all and appreciate everyone who has supported the journey or took a listen.
14) What are your future music projects?
Now that I'm in Miami… I'm working with a new team. Can't talk too much about it but I promise we got something huge coming.
It's the start of a new wave. It's been the same sound for years. I'm coming different…
Instagram @kvmron