Santa Tracker 2019 with NORAD and Google is tracking Santa again on Christmas Eve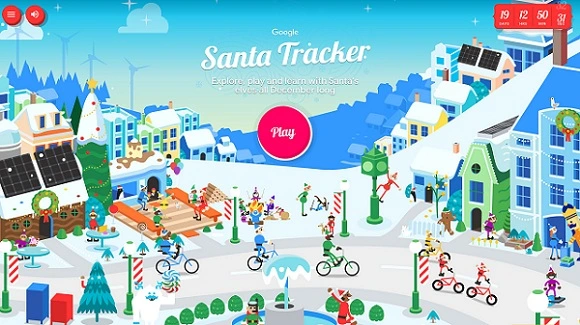 Waiting for Santa Claus to show up can be torturous for kids on Christmas Eve, however luckily, with the North American Aerospace Defense Command (NORAD) and Google, they can discover when he ought to be descending the chimney.
A program that was conceived out of a printing mistake in 1955, NORAD Tracks Santa is one of the Department of Defense's biggest community outreach programs. In 2004, Google propelled its own Santa tracker, offering children an alternate way to a similar end.
On Christmas Eve, children can begin tracking Santa utilizing NORAD's technology starting at 4 a.m. MST and keep tracking him until he finishes up his outing around the world around midnight at the international dateline. Even though NORAD is responsible for defending Canada and the United States throughout the day, each day of the year, Canadian Army Major Andrew Hennessey of NORAD public affairs revealed the association's most outstanding mission is tracking Santa.
An honor the association doesn't take lightly, he said it gets its prompts from the large man in the red suit who decides his very own route. "Santa calls the shots, we just track him," Hennessey said.
Volunteers operate the phone lines on Christmas Eve, working in two-hour shifts. With phones that ring constantly, Hennessey clarified shifts fly by somewhat quicker than certain volunteers would have enjoyed. While children can ask any inquiry imaginable, the most significant data volunteers give kids on the opposite stopping line is that they ought to be in bed before Santa's expected appearance.
"A lot of us grew up with this program when we were kids and we can remember listening on the radio or calling in 30, 40, years ago and being able to still be a part of it now on the other end is enjoyable," Hennessey said.
NORAD additionally partnered with Amazon and OnStar to give kids another approach to find Santa for the day. They can track Santa by asking their Amazon Alexa or push the blue OnStar button on their vehicles.
For those especially excited kids who essentially can't stand waiting until 4 a.m. MST to make sense of where Santa is, Google is the best approach. Google's Santa tracker will commence when the clock strikes midnight on Christmas Eve. His first stop, as per Google, will be in far eastern Russia.
Children can track Santa with their PCs by going to a dedicated site page for the tracker or through the Santa Tracker mobile application that is accessible for Android gadgets.
To help kids with getting in the festive soul, both Google and NORAD have exercises set up on their Santa tracking websites in front of Christmas Eve.
This year, the interface got a bit of an update. Santa Tracker's new trimmings can be found on a new website with different Christmas-themed games and exercises. In the week leading up to Christmas, Santa's Village includes a mythical being creator, a chance to take selfies with Santa, a game called "Gumball Tilt" and more. (That one is in reality quite troublesome.)
You can likewise utilize the Google Assistant to ask inquiries about the North Pole, and use Google Earth to "test your knowledge of holiday traditions around the world, or take a tour of the tasty treats people to eat in various countries this time of year," the organization wrote in a blog post.
Where is Santa at present?
Beginning at 2 a.m. P.T. (that is 5 a.m. E.T.) on Christmas Eve, Google's yearly live tracker lets clients watch out for Santa's travels before Christmas morning. Before that point, you can play games to prepare for the large day.
"On December 24th Santa's Village transforms into a tracking experience where you can follow Santa and his reindeer as they deliver presents to kids around the world," Google's Santa Tracker website says.
Santa's long journey keeps going an entire 25 hours, making his first stop in eastern Russia.
You can use the Santa Tracker online, or download the application from Google Play.
What can the NORAD Santa Tracker disclose to me this year?
For another investigate of Santa's journey over the world, North American Aerospace Defense Command (NORAD) has its version. Even though the office's mission to discover "man-made objects in space," despite everything it sets aside a few minutes for holiday fun, such as searching out Kris Kringle himself.
Presently, notwithstanding its phone service, NORAD's website likewise offers an unmistakable visual delineation of Santa's journey. You can begin tracking Santa online on Dec. 24 at 2 a.m. M.T. (4 a.m. E.T.), or call the project's volunteers at 1-877-HI-NORAD.
The NORAD Santa tracker goes live on Dec. 1 every year, going through the weeks leading up to Christmas teaching kids about geology. A Dec. 10 video demonstrated that Santa was flying above Berlin, and the video expresses that Santa was passing by Berlin monuments like the Brandenburg Gate and the Berlin Television Tower.
What is the true story of the NORAD Santa tracker?
The agency's educational NORAD Tracks Santa program has been around since 1955, when its predecessor, the Continental Air Defense Command (CONAD), had its phone number misprinted in an ad for kids to call Santa. Normally, kids started calling what they thought was a direct line to Saint Nick himself, however, it turned out to be the hotline for CONAD's commander-in-chief.
As opposed to furiously hang up, the director of operations, Colonel Harry Shoup, requested that his staff members "investigate Santa's status." "Children who called were given updates on his location, and a tradition was born," NORAD clarifies on its website.
"In addition to our day-to-day mission of defending North America, we are proud to carry on the tradition of tracking Santa as he travels along his yuletide flight path," Gen. Terrence O'Shaughnessy, commander of NORAD and U.S. Northern Command, said in a press release.
What was the Google Santa Tracker in 2018?
A year ago's Google Santa Tracker likewise included Santa's Village with extraordinary Christmas games and Google Assistant special features.
Google originally made the Santa Tracker in 2005, when Dennis Hwang, the previous chief designer of Google Doodles, designed icons for Google Earth's initial version of the project. The organization has said that more than one million individuals tracked Santa that first year.