Slovenia Statehood Day 2021: Google Doodle celebrates Slovenian national Dan državnosti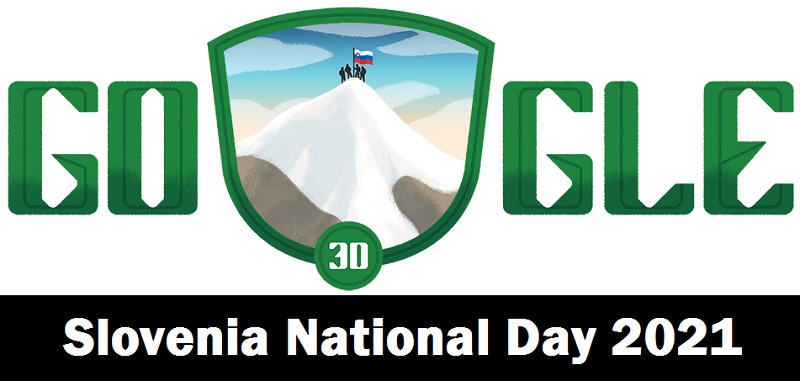 Google Doodle observes Slovenia Statehood Day (Dan državnosti), a national Day in Slovenia to remember the Slovenian declaration of independence from Yugoslavia in 1991, on June 25, 2021.
Statehood Day (Dan državnosti) is a holiday that happens each year in Slovenia to remember the country's declaration of independence from Yugoslavia on June 25, 1991. Albeit the formal declaration of independence didn't come until 26 June 1991, Statehood Day is viewed as of June 25 since that was the date on which the initial acts concerning independence were passed and Slovenia became independent. Statehood Day isn't to be confused with Slovenia's Independence and Unity Day, which is praised every year on December 26.
Slovenia Statehood Day History
Historically part of the Austria-Hungarian Empire until its breakdown toward the finish of World War I, Slovenia was one of the six republics that formed Yugoslavia.
In December 1990, the Slovenian independence referendum had brought about a 94.8% vote for setting up an independent Slovenia.
The formal declaration of independence was on June 26th, 1991, yet since a significant number of the legislation identifying with independence was passed on June 25th, it is this date that is remembered and celebrated on Statehood Day.
Independence of Slovenia was officially pronounced on June 26, 1991, yet the legislation identifying with the independence of the state was passed on June 25, in this way making it the date for the celebration. Statehood Day shouldn't be confused with another public holiday, Independence and Unity Day, that is seen on December 26.
The declaration began the Ten-Day war with Yugoslavia, which brought about victory for Slovenia. Declaration of independence triggered the Ten-Day War with Yugoslavia. The war brought about the signing of the Briony Arrangement. As per this agreement, Yugoslavia withdrew its forces from an area of Slovenia, and the latter suspended activities towards a declaration of independence for 90 days.
At the end of War I the Austro-Hungarian Empire collapsed and Slovenia, as well as other 5 republics, formed Yugoslavia. In December 1990 Slovenia held a referendum on the independence of the country, and 88.5% of Slovenians voted in favor of building up the Republic of Slovenia.
Croatia likewise observes Statehood day around the same day, as it was also a state made from the dissolution of Yugoslavia.
Statehood Day (Dan državnosti) is an official non-working holiday. Schools, colleges, and businesses are closed to celebrate the holiday. Supermarkets and numerous stores will be shut today.
Statehood Day isn't to be confused with Slovenia's Independence and Unity Day, which is celebrated every year on 26 December in honor of 26 December 1990 official decree of the results of the plebiscite held three days sooner in which 88.5% of all Slovenian voters were supportive of Slovenia becoming a sovereign country.
Croatia proclaimed independence from Yugoslavia simultaneously and praises its Statehood Day on 25 June. Notwithstanding, Croatia observes Independence Day on an alternate day, 8 October.
Google Doodle on Slovenia National Day or Statehood Day 2021
On June 25, 2021, Google observes Slovenia National Day 2021, otherwise called Dan državnosti or Statehood Day, with a Google Doodle.
Spreading from the Alps to the Adriatic Sea, the central European country celebrates 30 years of independence, showing the Slovenian flag on official state buildings, private homes, and some other place appropriate for the celebration of national pride.
Take a gander at the Slovenian flag and you'll see the three peaks of Mount Triglav—likewise portrayed in the present Google Doodle artwork—the center of which is the country's highest point at 9,396 feet (2,864 meters)! After picking this flag as the national symbol 30 years prior, it was taken to the top of Mount Triglav as a celebration of Slovenia's independence.
National Day is additionally an ideal event to appreciate Slovenian luxuries like žlikrofi (little potato dumplings), Štruklji (boiled, steamed, or fried rolls loaded up with cheese), and Potica (a ring-shaped nut cake).