SMEBIZZ Vision Is Entrepreneur's Business Growth – SMEBIZZ Business Networking Star Club Member Meeting- 24th July 2021 at Hotel Radisson, Gurgaon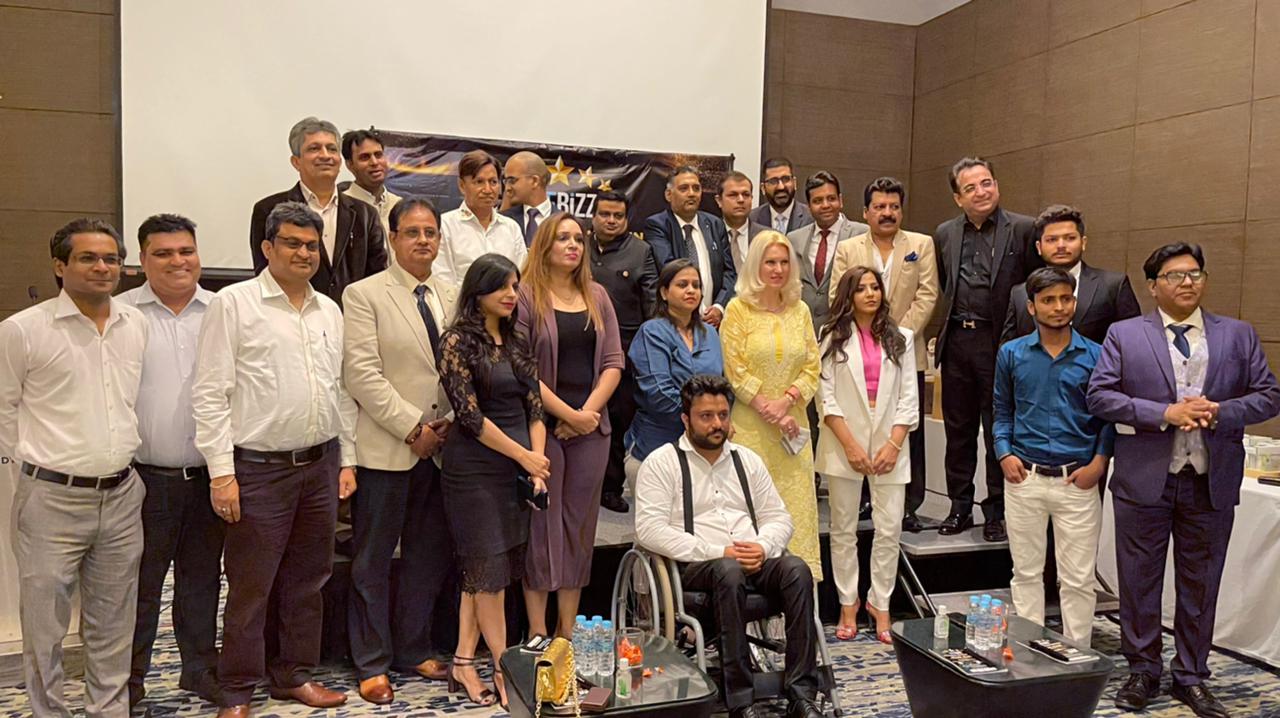 SMEBIZZ Has Organised Premium SMEBIZZ Business Networking Star Club Member Meeting on 24th july2021 at Hotel Radisson,Gurgaon
SMEBIZZ Business Networking Star Club Member Meeting Organised Inwhich Many Entrepreneurs From Across India participated for business growth, promotion of trade and business with the aim of Business Expansion with connecting and business networking with each other to grow business.
SMEBIZZ supports Honble Prime Minister Sh Narendra Modi's appeal of "Vocal for Local", Digital India and Atmanirbhar Bharat. SMEBIZZ Core Vision Is Entrepreneur's Business Growth.
Also,SMEBIZZ Initiative For "Local To Global" For Enterpreneur To Reach Global Market. Many Entrepreneurs Participated From Across India And Focuses On Business expansion on local city ,across india and globe.Event Was Professional Anchored By ms Emcee Jazz.
This Meeting Was Organised With The Aim Of Business networking in which focus on meeting other business owners, potential suppliers, or other professionals who have business experiences—to help you grow your business. Business Networking Helps To Develop relationships as a business owner and offering assistance to others does more than give you potential clients or generate referrals Business Leads.Business Networking assists you in identifying opportunities for partnerships, joint ventures, or new areas of expansion for your business.
SMEBIZZ Business networking Star Club Provide A Fantastic Platform to business people to collaborate with other experts to help them grow their businesses or improve their professional lives.
The benefits of business networking include Opportunities to help other business owners,Receiving assistance from other owners,Additional knowledge and perspective And Communication with like-minded individuals.Many Businessclass from various business category participated and present their vision for business growth.
The event was graced by the following Guest of Honour: Mr Gaurav Gupta(Charter President Of Lions Club Delhi Veg.),Ms. Anca Verma(chairman of Olialia world) and Dr. Indrajit Ghosh(Chairman of MSMECCII),
This Meeting was supported By Lions Club Delhi Veg.,OLIALIA WORLD & MSMECCII.Also, Event Photography Partners Are RWP,THE WEDDING PREMIER,STUDIO THE 19 And Gifting Partners Are V.N INTERNATIONAL,NEMKO GREEN TEA And SUAYU.
This meeting is being organised by SMEBIZZ with the aim to grow business and share their visions from various entrepreneurs from their respective business categories.All Entrepreneur's Shared Their dedication,commitment and best performance to their businesses.Our Intitiative for entrepreneurs growth and recognition with Business networking opportunities.
SMEBIZZ Business Networking Star Club Member Meet is to delevop Entrepreneur's community and a platform of initiatives that offer the opportunity for businessmens to grow.
SMEBIZZ Business Networking Star Club Member Meet Entrepreneurs from all walks of life and from over INDIA Participated Star Members Are Dr.Gaurav Goyal,DR. RAVI R. KUMAR,Ms Rashmi Ahuja,Mr Vinit Jain,MR HARISH CHANDRA,MR PRITHVI THAKUR,Mr Parag Jain,Mr Mukesh Pandey.
Also Star Entrepreneur Participated Are Mr rajkumar Aggarwal,Mr subhash Jindal,mr arjun arora,Mr Shanu Alam,Mr Jony Dhankhar,Mr Pawan Vaish,MR JITEN SHAH,Ms SHYAMLI RATHORE,Mr Amit Chaturvedi,MR PARAG ANAND,Mr Aditya (C.A),
Mr Manish Singhal,Ms Poonam Duneja,MR RAVI JAIN,Mr. Naveen Malhotra,Mr Swetank Sharma,Ms Neetu Singhal,Mr Raj Kumar Aggarwal,Mr Sammir Kapoor,Mr Sanjay Singhal,Ms. NEETI GAKHAR,Mr Pawan Sachdeva,Mr Rahul Saini,Mr Ravi Chawla.
Everyone appreciated SMEBIZZ for their wonderful efforts For SMEBIZZ Business Networking Star Club(www.smebizz.club).
Jitender Chawla,CEO Of SMEBIZZ Shared his Insights The Power Of Business Networking With Digital Technology for Entrepreneur's Growth for every entreprenur.
Also,SMEBIZZ focus Is Businessmen should have their business visible on digital platforms as we all are using digital technology in our life. So, the business will grow on the physical market, and presence in digital platforms will add sales to their businesses. Also, use social media platforms to connect to buyers and for branding, as nowadays social media is a potential platform for growing business and connecting customers, community, and society too.
Businessmen To Focus On Business Lead Generations To Grow Their Business Sales As Sales Are Most Important For All And Business Leads Are Lifeline of Any Business.SMEBIZZ Working passionately for entrepreneurship.Also, we had a strong belief that entrepreneurs are job creators for society.
SMEBIZZ Works As Complete Agency To Serve Various Services For Entrepreneur's Business Growth I.e lead Generations, Branding, Business Consulting, brand protection, sales, business consulting, business coaching, and marketing.
SMEBIZZ Serve The Best Value Added Services To Clients.SMEBIZZ Supporting All Entreprenuers,Entrepreneur's chamber,business associations and industrial associations for all business growth activities to expand business.