The Block 2023 Auction Results: Here is a Full List of the Block Season 19 Winners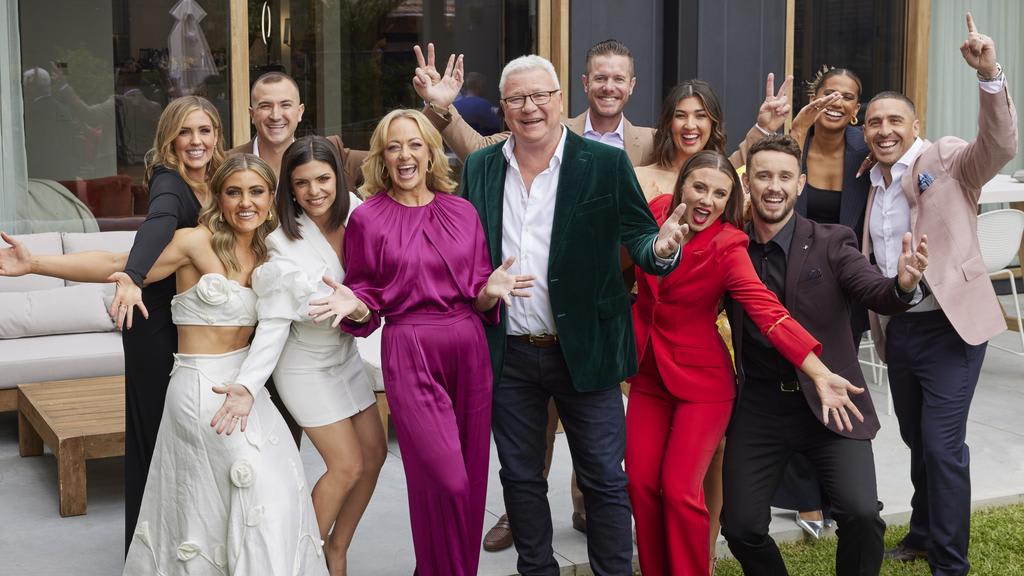 The 19th season of the popular makeover show The Block concluded with a dramatic showdown. House 4 owners Stephanie and Gian struck gold when they sold their remodeled Hampton East house for $1.65 million more than they had originally requested. Other competitors, though, experienced varied outcomes. After turning a $1.65 million profit in the 2023 season of The Block, Steph and Gian made history.
Steph and Gian Ottavio, the Block 2023 winners, have hinted at their intentions regarding their $1.75 million record winnings. When the 19th season's auction day aired on November 5, it went incredibly well, making two teams—Steph and Gian and the sisters Eliza and Liberty Paschke—instant millionaires.
After House Four was purchased by Adrian Portelli for an incredible $5 million, surpassing its $3.35 million reserve, it was evidently the winner. Including the $100,000 prize money, the 27-year-olds have increased their wealth to $1.75 million.
The first house to go under the hammer gave one team the largest auction profit in the history of the show, and this year's Block finale got off to a great start.
And just like the previous year, "Lambo Guy," the flamboyant multimillionaire Adrian Portelli, is the man who gave the team that windfall on auction day.
Last year, Portelli made waves when he showed up at Omar and Oz's auction and paid more than $1.58 million over their reserve, handily winning the season.
In scenes from the Sunday night finale, Portelli used the first house up for auction to pull a similar prank. The judges have been partial to Steph and Gian, a young couple from NSW, for the entire season. Portelli apparently shared their sentiments, as he purchased their home for a whopping $5 million, significantly more than their $3.35 million reserve.
He triumphed over fellow frequent Block purchaser Danny Wallis in an auction that was also witnessed by comedian Dave Hughes, who was reportedly a registered bidder holding a paddle. An attendant young woman fainted and required medical attention shortly after the opening bids, setting up a dramatic start to the auction.
The bidding went on after she drove off in an ambulance, with Portelli winning it all with an astounding $1 million bid against Wallis. Wallis gave in and said, "He can have it."
Steph and Gian broke all Block records with a profit of $1.65 million, winning the season and taking home an additional $100,000 in prize money.
And Portelli's rich streak continued with the second auction of the evening, which featured the home of sisters Liberty and Eliza. They made a tidy profit of $1.05 million when he bought their house for $4.3 million.
In other bizarre scenes, Portelli repeatedly bid against himself at Eliza and Liberty's auction, raising the price by $100,000 even though he had the highest bid.
A shocked Scott Cam remarked, "That's…never happened before," the auctioneer referred to it as "the strangest auction I've ever done."
Then, Portelli purchased his third property of the day, paying $3.1 million for the home of Kyle and Leslie, a couple from Washington who had made $130,000 more than their reserve.
For a day's shopping, three houses at a total cost of $12.4 million are not bad.
The Block 2023 auction results:
Steph and Gian, House 4: Reserve of $3.35 million, sold for $5.000 million = $1.65 million profit + $100,000 prize money = $1.75 million (a Block record)
Eliza and Liberty, House 5: Reserve of $3.25 million, sold for $4.3 million = $1.05 million profit
Kyle and Leslie, house 1: Reserve of $2.97 million, sold for $3.1 million = $130,000 profit
Kristy and Brett, House 3: Reserve of $2.97 million, sold for $3.035 million = $65,000 profit.
Leah and Ash, House 2: Reserve of $2.97 million not met, passed in at auction.
Previous Block winners
2003: BONDI – Adam & Fiona, $256,000
2004: MANLY – Jamie & Andrew, $178,000
2010: VAUCLUSE – John & Neisha, $305,000
2011: RICHMOND – Polly & Waz, $115,000
2012: SOUTH MELBOURNE – Brad & Lara, $606,000
2013: ALL STARS (BONDI) – Phil & Amity, $395,000
2013: SKY HIGH (SOUTH MELBOURNE) – Alisa & Lysandra, $395,000
2014: FANS v FAVES (ALBERT PARK) – Steve & Chantelle, $736,000
2014: GLASSHOUSE (PRAHRAN) – Shannon & Simon, $435,000
2015: TRIPLE THREAT (SOUTH YARRA) – Darren & Deanne, $935,000
2015: THE BLOCKTAGON (SOUTH YARRA) – Dean & Shay, $755,000
2016: PORT MELBOURNE – Will & Karlie, $815,000
2017: ELSTERNWICK – Josh & Elyse, $547,000
2018: GATWICK (ST KILDA) – Hayden & Sara, $645,000
2019: OSLO (ST KILDA) – Tess & Luke, $730,000
2020: BRIGHTON – Jimmy & Tam, $1,066,000
2021: FANS v FAVES (HAMPTON) – Mitch & Mark, $744,444
2022: TREE CHANGE (GISBORNE) – Omar and Oz, $1,686,666.66