Food
The Candid Business of Food & Beverage by Restaurant Entrepreneur Yadhaven Santheran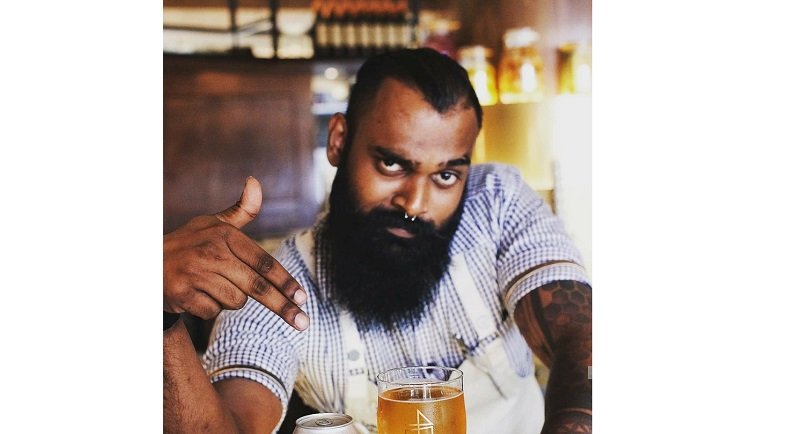 Draper Startup House's Yadhaven Santheran has successfully launched six restaurants/bars including The Summerhouse and The Guild and is now a part of a Global Hospitality chain as the Head of Food & Beverage.
"Behind every success story is a sincere first attempt, a stumble, a setback and an urge to fight back and prove to the world" what one is capable of.
Yadhaven Santheran story of his humble beginning to his self made culinary empire is a testament of this phrase.
He started his career in 2010 as a Teacher if English. Two years later, he realized that teaching was not where his passion lies and he made a crucial decision to take this change of course and join the eve elusive world of Food and Beverage.
It's an ever growing business but not everyone's cup of tea and requires great efforts and several attempts to survive. Santheran too started his phase or struggles by spending the first day of his long F&B experience at The Raffles Hotel as a bar back, where he assisted in dish washing and cutting fruits for preparation.
He felt that he was not what he intended to do . So he went the extra mile by leaving his job and involving in research to explore this industry and it's ways.
He continued his work at a couple of dive bars and pubs to gain various experience. In 2015, Santheran was given the opportunity to work alongside a famous chef as a bartender and quickly progressed to a management role. As a Bar Manager he incorporated cooking elements into their beverage program. It was around this time that he tried his luck in a few competitions including Martini Ex-cocktail competition and the Black Cow Cocktail Contest. He bagged several prestigious awards like The Best Hospitality Establishment and The Best-Gastro Bar and Best Beer Bar at The Guild.
Momentum began to build and shortly after he became an F&B consultant, He started providing his insights for The Hilton and Andaz, where he was hired to redefine cocktail experiences. However, he still felt that his experiences dint really bring him self contentment.
He realized that many aspiring chefs and bartenders were not given the opportunity to be creative and apply fusions with modern techniques. The old school Singaporean training methods were still prevalent that hindered the bright minds to explore
But soon he was given this chance of a life time to work with Draper Startup House, where he went on to pursue his passion of enabling young minds to succeed to progress in their career ladder and doing whatever he can to help empower them, alongside creating a global menu across ten different countries. These menus are tailor made suitable for each region and branching off into Estonia, Manila, and Bangalore to name a few.
The radical change of direction in from beverage sector to the fusion of the both worlds was a huge challenge in Yadhaven's life . It was difficult to completely dissociate from the naysayers and people who constantly questioned his ability to thrive in this business but he eventually did it by channeling the constructive criticism towards his work.
Yadhaven acknowledges the contribution his friends and mentors made in his life. He mentions Ronin O'Malley, a true friend who also shares Yadhaven Santheran's culinary passion. They launched two restaurants/bars alongside – The Guild and The Summerhouse. O'Malley always had his back even when the world had second thoughts about his potential.
Another major influence in his life was Vinny Lauria, A great mentor and friend. Vinny Lauria taught Yadhaven Santheran the important values in life that shaped his personality and character. He exclaimed that he would not have made it to where he is today if not for him.
The founder of Draper Startup House, Vikram Bharati also played a major role in Santheran's life by granting him the opportunity to launch an entirely new concept with Draper Startup House. He also took a leap of faith in him which only allowed Santheran to excel.
Santheran recalls that to flourish in this business was not a cake walk. There were several hurdles, Finance or Capital being one of them. Monetary management had to be tackled very carefully as there is lot to lose if not alert . He also explains the importance of staying focused and not get tempted by what others are doing. One needs to hustle and put certain luxuries at bay to reach their long term goals. Looking out for competitors, building robust strategies etc need to the plans while others look out for fancy places to eat or socialize. To understand that there compromises would only pay off, in the long run, is very important. To survive in this industry that has razor sharp margin and extreme competition, One has to constantly work towards creating a better version of oneself. The agenda is to push your limits. Instead of 10 pushups try fighting to get to 15. This self belief is another key factor that helps you construct your dream life. Looking back at his incredible journey, Yadhaven Santheran's pens down, "Create your rules and live by them even when told to do otherwise. Make sure those rules are worth it, and the only way to make sure it's worth your time is when you add value to it by constantly striving for success and not crumbling under obstacles." And this couldn't make more sense as Success is less a matter of prodigy and more the prophesy of perseverance and willingness to stumble time and again but also having the determination to never stop.
With this hard-hitting message, he wishes everyone "Bon Appetite"!