Which U.S. Regions Hydrogen Hubs Will Receive Federal Funding up to $7 Billion for Hydrogen Production?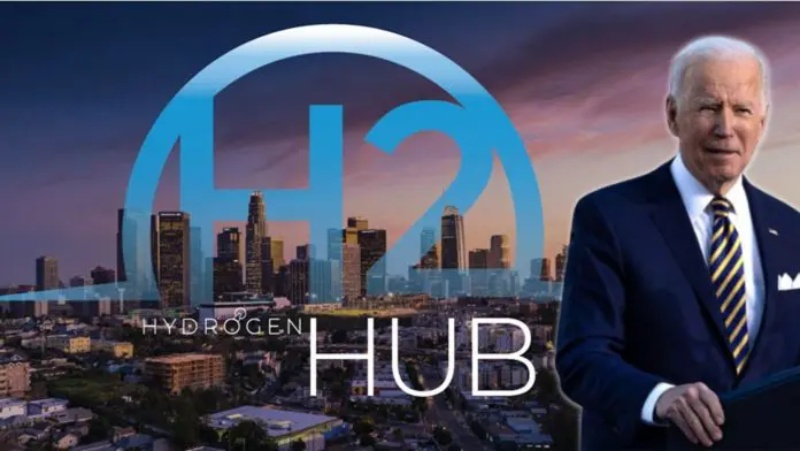 Seven regional "hydrogen hubs" that are together eligible for up to $7 billion in federal funding will be announced by President Joe Biden and Secretary of the U.S. Department of Energy Jennifer Granholm on Friday, according to senior White House administration officials.
The Bipartisan Infrastructure Law, which was signed into law by President Biden in November 2021, includes funding for the hydrogen hubs.
Although it is the simplest element and most prevalent on Earth, hydrogen rarely exists by itself and must instead typically be divided from other atoms (as is the case with water, or H2O). An electrolyzer that is electrically powered can be used for this. Another method for generating hydrogen from natural gas is steam methane reforming.
Currently, hydrogen is employed in the production of fertilizer as well as several industrial processes, particularly in the petrochemical sector. However, as hydrogen produces no carbon dioxide when used to generate energy in a fuel cell, it is an important part of the Biden administration's effort to cut greenhouse gases in sectors including long-distance trucking, maritime cargo shipping, and airplane travel. Additionally, hydrogen is viewed as a potential energy storage vehicle to counteract the cyclical nature of renewable energy sources like wind and solar.
However, hydrogen can only be a useful tool for cutting CO2 emissions if it can be produced with little or no emissions of its own, which is often not the case today. The new hubs will be concentrated around that objective.
The seven hydrogen hubs are distributed throughout 16 states and are set up according to geographical regions that are particularly strong at boosting the growth of the hydrogen industry in the US. The hubs refer to a group of linked assets, not a single facility, that will collaborate to build the domestic hydrogen economy in the United States.
"The hub design in itself is important because it creates clusters of supply and demand that are close to one another, minimizing the need to tackle challenges that would come with moving hydrogen long distances," Adria Wilson, the hydrogen policy lead at Breakthrough Energy, told.
According to statements made by senior White House administration officials during a call with reporters on Thursday afternoon, the $7 billion in federal funding will stimulate an estimated $43 billion in private sector investment.
According to senior White House administrators, the federal funding will be distributed as the regional hubs accomplish successive stage-gate goals. However, all of the manufacturing clusters will promote employment growth, which is a subject that Biden has frequently highlighted as a side benefit of advancing the clean economy.
The seven selectees are as follows:
Appalachian Hydrogen Hub: The Appalachian Hydrogen Hub will exploit the substantial natural gas reserves in the area and span sections of West Virginia, Southeast Ohio, and southwest Pennsylvania. It will supply hydrogen for industrial purposes across the United States and is situated in the country's industrial heartland. Additionally, it is near a transportation hub, making it possible to move the hydrogen quickly.
California Hydrogen Hub: The California Hydrogen Hub includes the ports of Los Angeles, Long Beach, and Oakland and stretches from Southern California to Northern California. Because hydrogen is a leading candidate for decarbonizing the shipping sector, ports are crucial. Hydrogen will also be important for heavy-duty haulage and the delivery of products from ports.
Gulf State Hydrogen Hub:  The majority of the Gulf Coast and southeast Texas will be covered by the Gulf State Hydrogen Hub, which will be based in Houston, Texas. Texas has a lot of energy that might be used to make hydrogen.
Heartland Hydrogen Hub: The Heartland Hydrogen Hub, which has its headquarters in Minnesota and a sizable presence in North Dakota and South Dakota, uses relatively cheap and plentiful wind resources to produce clean hydrogen. Since hydrogen is a crucial ingredient in the creation of fertilizer, the Heartland Hydrogen Hub's hydrogen will at least partially be used for agricultural applications.
Mid-Atlantic Hydrogen Hub: The Mid-Atlantic Hydrogen Hub will make use of repurposed infrastructure along the Delaware River and spans portions of Pennsylvania, Delaware, and New Jersey.
Midwest Hydrogen Hub: This facility will manufacture hydrogen from a variety of sources, including nuclear power, and is located in Illinois, northwest Indiana, and southwestern Michigan. The Midwest Hydrogen Hub was attractive since it was situated near a major American transportation hub.
Pacific Northwest Hydrogen Hub: The Pacific Northwest Hydrogen Hub will create hydrogen for the production of fertilizer, and it includes areas of eastern Washington, northeastern Oregon, and Montana. There's a good chance it'll connect to the California Hydrogen Hub.
According to senior administration officials, carbon capture technology will be used in the hydrogen hubs that use natural gas to make hydrogen. The renewable clean energy sources that are used in the hydrogen hubs will be combined with other clean energy sources already present in the area.
The Inflation Reduction Act's hydrogen tax credit is another important element in ensuring the economic viability of these hubs. Although it has not yet been released, information on how that tax credit will be decided upon is anticipated by the end of the year.
"It's important to see the hubs themselves as a starting point, though; other pieces of the puzzle like the tax credit, further work on connective infrastructure, and additional support for communities and new applications, are going to be necessary to continue to shape the hubs over the next 18-month phase of planning," Wilson at Breakthrough told.