11 Important Mobile App Development Trends That Will Prevail in Dubai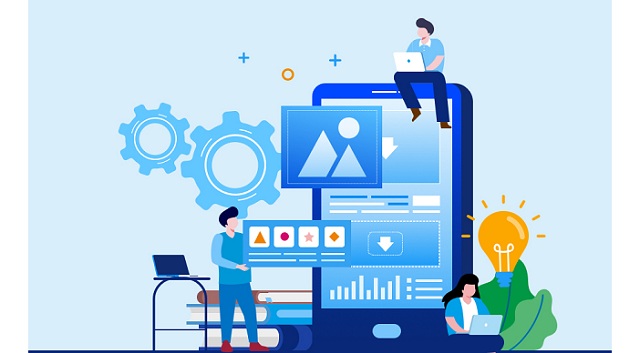 Within no time, our lives have started to revolve around mobile apps. Right from the morning alarm to messaging, entertainment, and health reminders, apps are ubiquitous. More than 2 billion people from the global population use smartphones, and, understandably, a mobile app could be the best way to have them connected to your business. However, you should also pay attention to how these apps evolve. With changing times, the requirements and preferences of users have changed too. Therefore, it would be great to consider prevailing trends while seeking app development services.
How to Recognize Mobile App Development Trends?
Some may question how we recognize that something is part of a trend. Well, trends make themselves known. They are like magnets attracting almost everyone. They seem exciting initially, and within a blink, we may already have them being used everywhere around us. Speaking of mobile app development trends, your experiences are more likely to move beyond your expectations.
These trends lead to a win-win situation by offering great functionality to users and high productivity to businesses. Mobile app development trends foster the cycle of "give and take" among the user and business owners. Enterprises invest in integrating prevailing trends into their mobile apps, aiming to make users' lives easier. Subsequently, when more users jump over to their app, the business base gets more assertive. Overall, strengthening your business and ensuring growth will be easier if you focus on mobile apps and the latest development trends.
Mobile App Development Trends to Consider in Dubai
We have compiled a list of mobile app development trends that are likely to stay all over the industry this year.
1. Create Magic with AR & VR
Augmented and virtual reality seems to have already grabbed their place in the gaming and video sector. This trend could see a rise in 2021. We have a lot of examples to understand how they can enhance user experience. Various games like iOnRoad, Pokemon Go, myNav, and Sky Siege, along with many others, show the best use of augmented reality (AR). However, this popularity or service may not be the same for virtual reality. But some great experiments using AR are indeed expected.
Apart from gaming apps, there are various other examples of apps that have made exceptional use of augmented reality. The "Live View" feature by Google Maps uses AR to show authentic world imagery to the users as they navigate their destinations. By pointing out the nearby buildings and streetlights, the app can figure out the actual location.
2. Make the Best Of Artificial Intelligence
According to studies, there was an approx. 300% increase in artificial intelligence investments in 2019, and the graphs have certainly gone upward since then. With the use of machine learning techs, cognitive interfaces, and advanced analytics AI can help business owners acquire insights they never had. Industry giants like Google, IBM, eBay, and Facebook showed up with many applications of artificial intelligence.
However, as far as mobile app development is concerned, AI can go far beyond virtual assistants like Alexa or Siri. Artificial intelligence can transform how apps are built with intelligent machine learning frameworks.
3. AMP for Web Apps
It's been several years now since Google brought up the concept of Accelerated Mobile Pages (AMP) for web apps. Along with this, Google's announcement of mobile-first indexing, the entire perspective of mobile app development and SEO has changed entirely.
Google AMP-supported web pages tend to load much faster and bring a significant drop in the bounce rates. It is also effective for more visitors and increased ad visibility. Therefore, PWAs and AMPs are supposed to go hand in hand. You will see AMP as a prevalent trend formobile app development in Dubai. You can discuss the same with your app development partner about the same.
4. Cloud Driven Mobile Apps
We are all aware of the seamless benefits that come along with cloud integration. While this concept has been amidst us for quite a long time now, mobile app development still has to see some of its best applications. Cloud storage can ultimately enhance user experience while accessing mobile apps and related data. They can save up a lot of their internal memory and access data more accessible than ever.
There's still a long way to go until we realize and make use of the cloud's greatest potentials. Moreover, it is expected that by the end of 2021, 83 percent of the enterprise workload will be cloud-based. According to a research report, 90% of the total mobile data traffic in 2019 was cloud-driven. Considering the 60% compound annual growth rate, this is expected to increase much more in 2021.
5. Enhancing Security for Mobile Apps
Security has been an essential concern from time and beyond since the existence of the web. According to reports, 75% of mobile apps fail to pass even the basic security test. Also, 94.7% of apps use logging methods, and 70.6% can access external storage. Making the highest benefits of loopholes, hackers will continue to exploit security and get their hands on sensitive, confidential information. Although one of the negatives, this trend is likely to continue further in 2021. JavaScript frameworks could, however, help you with more secure and scalable mobile applications.
6. Significance Of M-Commerce
Overall, these years, mobile commerce has continued to thrive. While everyone's leveraging mobile apps to generate and increase revenue, mobile-commerce functionality isn't going anywhere off the list. Mobile apps with these functionalities give a better edge to mobile app resellers during client pitches.
When most online sellers are trying to compete with industry giants like Amazon, apps become essential. By the end of 2021, around 80% of e-commerce sales are expected to come from mobile devices. Therefore, when you seek services from the best mobile app development company in Dubai, make sure they have considered these functionalities for your app.
7. Enterprise Apps May Be In Demand
Enterprises are now seeking better restructuring, streamlining, and managing essential business processes through mobile apps. Micro-app, on the other hand, works for managing targeted operations and takes less load. However, both fulfill their purpose well and are expected to stay in the picture throughout 2021.
Professional teams can easily collaborate on different projects using enterprise apps like Evernote. Similarly, Facebook messenger and to-do-list apps are examples of micro-apps. According to records, nearly 78% of enterprises have found these to be beneficial. More than 60% of them will be investing in mobile app development services in Dubai for the same.
8. Applications for Wearable Devices
As per the International Data Corporation records, the market for wearable devices is likely to witness a composite annual growth of up to 25% by 2021. Including Apple, Samsung, and Huawei, we saw many fantastic wearable devices making their place in the market.
Healthcare is also moving beyond traditional methods. Therefore, mobile healthcare applications are also going to be a significant concern. Moreover, there are many opportunities beyond healthcare apps that can be taken up based on wearable devices.
9. Beacons and Location-Based Features
We have already known location-based services applications like Google Beacon and Apple's iBeacons. The use of WiFi will not be limited to restaurants, hotels, retail outlets, or health care. It has moved far beyond the standard requirements. Installing beacons in their stores will help entrepreneurs reach out to their customers with customized offers and services for them.
If the retailer app is installed on the user's phone, beacons would connect to their phones through Bluetooth and notify the user about special deals or products in the store. This aids proximity marketing and allows tracking the behavior of buyers in different stores.
10. More Emphasis on Internet Of Things
The emergence of cloud-based mobile apps brings the Internet of Things on the list of prevailing trends. According to predictions, the IoT market is expected to hit $22 Billion by the year 2022. Since IoT is majorly dependent on smartphones, it turns out to be an important trend. Companies in Dubai like Microsoft are now planning to orient their complete app ecosystems based on IoT in collaboration with their different apps.
11. Chatbots
Chatbots can help humans to meet their requirements by stimulating the human way of conversations. There are different types of chatbots: some operate in virtual assistants and others on your websites and web apps. While traditional app interfaces are not enough anymore, chatbots offer interactive conversational experiences. It allows seamless business conversations just like humans.
Summing Up
Mobile app development in Dubai cannot be dependent upon outdated technologies. Therefore, it is crucial to catch up with the latest app development trends. Based on the prevalent trends discussed above, you can look forward to developing successful mobile apps for your business.