25 Interesting and Fun Facts about Dr. Jale İnan; Google Doodle celebrates the first female Turkish archaeologist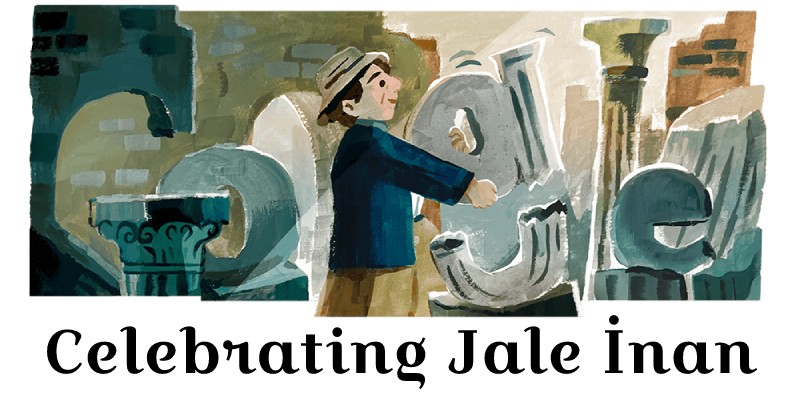 Google Doodle celebrates Dr. Jale İnan, the first female Turkish archaeologist, on September 27, 2022. Here are some interesting and fun facts you should need to know about Jale İnan.
Here is a look at the life and work of Jale İnan.
Who was Dr. Jale İnan?
Personal
Birth name: Jale Oğan
Birthplace: Istanbul, Ottoman Empire
Died on: 26 February 2001 (aged 87)
Death place: Istanbul, Turkey
Nationality: Turkish
Father name: Aziz Ogan
Mother name: Mesture Hanım
Spouse(s): Mustafa İnan
Famous as: Archaeologist, educator
Known for:

First Turkish woman archaeologist,
Known for reuniting pieces of Weary Hercules.
25 Interesting and Fun Facts about Dr. Jale İnan
Jale Ogan was born on 1 February 1914 in İstanbul, Ottoman Empire.
Studying in Germany, with the Alexander von Humboldt Foundation scholarship, Ogan started her archeological training in Berlin, at the German Archeological Institute.
The next year, Jale Ogan was granted a scholarship to keep studying by the Turkish government. Unfortunately for İnan, World War II started soon after she arrived in Germany. Regardless of the war, Ogan was determined to finish her doctorate, and however bombs consistently fell on the city, she took her thesis and notes into a bunker proceeding to work.
Jale Ogan graduated in 1943 in the wake of finishing her doctoral thesis, Kunstgeschichtliche Untersuchung der Opferhandlung auf römischen Münzen (Examination of Art History in Sacrifice Rituals on Roman Coins), alongside Gerhart Rodenwaldt.
After she completed her Ph.D., Jale Ogan returned to Turkey in 1943 and became an assistant to Clemens Bosch, Chair of Ancient History and Numismatics for the University of Istanbul.
In 1944, she married Mustafa İnan, a civil engineer and educator at the Istanbul Technical University, and the next year gave birth to their son, Hüseyin İnan. She spent the next two years taking photos of artifacts and organizing the archive at the university.
In 1946, Jale İnan worked with Arif Müfid Mansel to establish a chair of classical archaeology at Istanbul University, as beforehand the university had no independent archaeological department.
That same year, Jale İnan started excavations with Mansel on the site at Perga working on the Temple of Artemis.
The next year, they started digs at Side, initially working on the site of the Temple of Apollo, proceeding with their excavations until 1966. During this period, in 1962, the transformation of one of the baths on the site into a museum was finished under İnan's direction and the Antalya Museum must be extended two times to house the discoveries.
Jale İnan started publishing articles in both German and Turkish on her studies of sculptures.
In 1967, İnan was placed responsible for the excavations at Perga and that same year, an enormous group of bronze statues showed up in the US with a murky provenance, yet with claims of conceivable origin in southwest Anatolia. Inan started working to try to verify the actual location of origin in 1973.
From 1970 to 1972, Jale İnan worked at a dig site in the ancient city of Cremna in the Pisidia region and afterward somewhere between the range of 1972 and 1979 excavated at Seleucia along the Mediterranean coast north of Manavgat, uncovering the city agora, as well as a few baths and the temple structure.
Dr. Remziye Hisar: Google Doodle celebrates Turkish first modern women chemist
Jale İnan was appointed as a full professor at Istanbul University in 1974, and upon Mansel's death, the next year was raised to the head of the archaeology department.
In 1980, while excavating at Perga, Jale İnan uncovered the bottom half of a second century AD copy of Lysippos' "Weary Heracles". The next year, the missing half surfaced in New York. The bottom half of the statue was shown at the Antalia Museum and the upper half was shown at MFA, after their 1982 acquisition of the piece.
From 1981 to 1990, Dr. Jale İnan led restoration work on the Temple of Apollo at Side, moderating a significant monument of Turkey's cultural heritage.
However Jale İnan retired from the university in 1983, İnan kept on working, starting excavations again in Perga at the Theater in 1985 proceeding with her work there until 1992.
In 1990, Inan uncovered the Sebasteion, or imperial cult temple, in a dig at Bubon, which she credited as the place which had housed the bronze statues she had first known about in 1967.
Jale İnan's discoveries were published in the book, Boubon Sebasteionu ve heykelleri üzerine son araştırmalar in 1994.
Starting in 1995, Jale İnan who had Parkinson's disease, shortened her fieldwork and focused her work on publishing.
Works produced in this period included Toroslar'da Bir Antik Kent: Lyrbe? Seleukeia? (1998) and Perge'nin Roma devri heykeltraşlığı 1 (2000), which recorded the finds made in Perga from 1946 to 1992.
In 1989, to pay tribute to Jale İnan's 75th birthday celebration, a book, Festschrift für Jale Inan, was published by colleagues and companions out of appreciation for her lifelong achievements.
Before her death, on 26 February 2001, Dr. Jale İnan donated her books and compilations to the Antalya Museum.
In her honor, the Antalya Women's Museum established the Woman of the Year Award, given every year to recognize women who have contributed to Turkish culture and the development of women.
Jale İnan famously found the missing half of the Farnese Hercules statue at the Museum of Fine Arts in Boston and worked with the government to return the statue to Turkey. The return of the statue was successfully concluded on September 27th, 2011.
On September 27, 2022, Google featured a Google Doodle on its homepage for celebrating Jale İnan.