A Guide to Luxury Villas in Karjat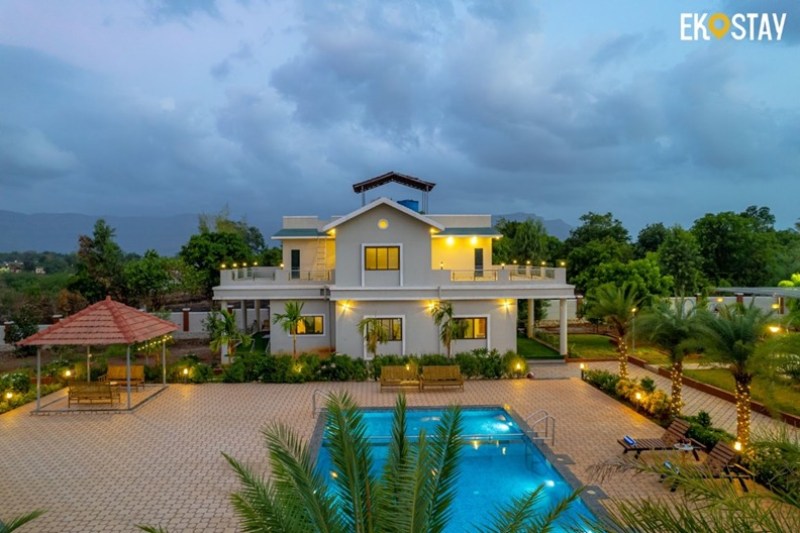 Karjat, tucked away in Maharashtra's gorgeous Western Ghats, is a hidden gem that offers a dreamy retreat from the bustle of city life. Karjat is the ideal location for a restorative retreat because of its verdant scenery, peaceful atmosphere, and selection of luxurious villas. This article will take you on a tour of the world of luxury villas in Karjat, where you may find options for those looking for hillside retreats, private pool villas, and more.
Private pool villas in Karjat are the realization of a lifelong desire for individuals who value seclusion and privacy. These opulent homes provide comfort in addition to the enjoyment of having an own pool retreat. The Ekostay Nest Villa, a magnificent villa that combines contemporary conveniences with unmatched natural beauty, is one such jewel. Imagine spending your days relaxing by your personal pool while taking in the serenity of Karjat's surroundings.
Hillside villas in Karjat offer a singular vantage position from which to take in the mesmerizing views of the Western Ghats. The Ekostay Eclipse Villa a noteworthy choice. This home, which is perched on a hill and provides panoramic views as well as a feeling of privacy, is ideal for a weekend getaway. It's a great option for families or groups of friends because of its roomy interiors and well-kept lawn.
Villas in Karjat are a great option for a weekend escape. There are several villas that can meet your demands, whether you're looking to get away from the bustle of the city or are organizing a brief family vacation. A great example of a weekend getaway is the Ekostay Simba Villa. With a sizable lawn, a private pool, and contemporary conveniences, it offers the ideal balance of leisure and relaxation.
Are you looking for villas in Karjat that are within your budget? Luxury does not necessarily have to be expensive.
Quality and comfort are not sacrificed in these affordable Katraj villas. An illustration of this is the Ekostay Amber Stone Villa. This villa is tucked away in the woods and is reasonably priced without sacrificing comforts. It's a great option for people who want to see Karjat's beauty without spending a fortune.
Mountain view villa in Karjat is what you need this weekend. The spectacular Sahyadri mountains dominate the scenery of Karjat, and staying in a mountain view villa is an experience unlike any other. Beautiful mountain views and a peaceful atmosphere are provided by the Ekostay Palm Estate, which is ideal for a relaxing getaway. Enjoy your surroundings when you awaken to the sight of foggy peaks.
Vacation rentals in Karjat are more than just a place to stay—they're opportunities to have adventures. Karjat's vacation rentals may accommodate a range of preferences, whether you want a tiny cottage or a large villa. These rentals offer the ideal setting for outstanding events, whether they are family reunions or romantic vacations.
Scenic Villas in Karjat during Monsoon
Karjat is known for its scenic beauty, and the villas here are built to take full use of it. You can completely surround yourself in the lush flora around you thanks to the large windows and open areas. Take leisurely strolls in the gardens, savor a cup of tea while admiring the hills, and allow Karjat's stunning natural surroundings to uplift your spirit.
Karjat has a large selection of villas, however some stand out for their remarkable quality and welcoming environments for visitors. The best villas in Karjat are those that provide not only opulent luxury but also a hospitable environment. These villas go above and beyond to make sure your stay is nothing short of amazing, whether it's the breathtaking views, the meticulously kept gardens, or the first-rate service.
Karjat provides a wide selection of luxurious villas if that is your top priority. The magnificence of the luxury villas in Karjat is emphasized by their private pools and Jacuzzis, as well as their individual butler services and superb dining experiences. They are the height of luxury and let you unwind and unwind in elegance.
While beautiful year-round, it takes on a special charm in Karjat during the monsoon season. The surroundings become lush and colourful, as waterfalls erupt into life. The smell of moist dirt permeates the area, and the air is crisp. Photographers and nature enthusiasts should take advantage of the opportunity to capture the region's splendour at its best.
Villas in Karjat during the rainy season transform into inviting sanctuaries where you may enjoy the calming sound of showers on the roof while being warm and dry inside. It's the ideal season for a romantic retreat or a relaxing family vacation because of the foggy mountains and the lush vegetation that creates a dreamlike environment.
There are numerous luxurious villas in Karjat that may satisfy any traveller's needs. Karjat provides everything you're looking for, whether you want a private pool villa, a hillside retreat, or a cheap weekend vacation. And this area becomes a must-visit location for nature lovers when the rainy season turns it into a beautiful paradise. Plan your getaway to Karjat today, and make these opulent villas your home away from home.