Artworks should not be created for museums alone, but rather for the profound interest of the people, says Dr. Gindi, a renowned contemporary sculptor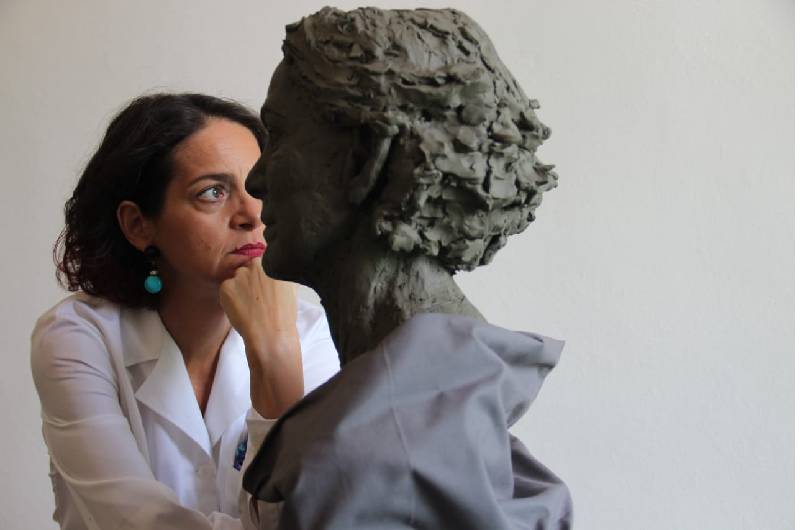 For centuries, sculptures of bronze, marble and other non-perishable materials have played an intriguing role in the creative imagination surrounding visual art. Besides fulfilling their aesthetic purpose, sculptures are timeless. More often than not, they serve as relics for future generations to learn and draw inspiration from. A sculptor always thinks about things – contesting the distinction between thoughts and things, between subjects and objects.
One such renowned sculptor is Dr. Gindi. Her roots of artistic understanding are closely tied to post-modern utopia – namely to its principles of factuality and fallibilism. Through her bronze sculptures, she wants to show the embedded roots and inherent values of humanity —including all abysses, chasms, and lingering qualms. Her creations are evocative of an enigmatic universe, both in their shape and meaning. Originally educated as medical doctor, she has an acute sense of the anatomy of the human form. This experience brings a true human essence to her characterizations. Dr. Gindi battles with infinity and the "capture" of that eternal moment.
Talking about her passion and profession as a sculptor, Dr. Gindi said, "I believe that my understanding of human anatomy helped me in achieving higher levels of detailing in sculptures. As an artist, I apply the intertwined processes that create both human subjects and human objects and therefore my work does not represent the effigy of lifeless specimens; rather I thrive to explore the essence of human nature. My sculptures ultimately want to offer a sense of purpose in an increasingly callous world. And I believe that artworks should not be created for museums alone, but rather for the profound interest of the people."
'Transfigured Immortality' is Dr. Gindi's current focal oeuvre that explores an area that is on the periphery of immortality. It is one that most humans, since antiquity, will no doubt have pondered upon – of bequeathing a legacy. It depicts a graceful lady in the prime of her life, leaning on her last place of rest. Anticipating her death, she is shaping the future with a sense of purpose.
For those interested in her work, you can contact Dr Gindi through her website www.dr-gindi.com, or by following @gindisculptor on Instagram.